Get advice from Wake Up with Jim and Saab, The Linya-Linya Show, and PumaPodcast!
Podcasts are taking over the world. In 2019, Spotify began investing $500 million to acquire various podcasting companies. True crime podcasts like Serial, audio documentaries like ESPN's 30 For 30, and educational content like NPR's Planet Money have dedicated fan bases from different countries. Global brands buy podcasts' ad breaks or partner with production houses to produce podcasts of their own.
Now, podcasting in the Philippines has yet to hit the same peak. But we're on our way! As more and more of our time has been spent indoors, more Filipinos are discovering the joys of listening to podcasts – and even getting into producing their own. Why not learn from Filipinos who have already been doing the work? Here are tips from some of the country's leading podcasters.
What do I make a podcast about?
Jim Bacarro and Saab Magalona began their podcast Wake Up With Jim and Saab in 2017 as a way to bond as a couple after they became parents. It's now a favorite among many Filipino listeners. Their community is so tightly knit, the listeners have taken to calling the hosts "podparents"—and Jim, specifically, "The Podfather."
Jim likens podcasting to "eavesdropping on people you're interested in." The husband and wife duo share life lessons they wish they knew when they were younger, their opinions on current events, and stories from their lives as musicians and parents. There isn't a set program, but they make a point to talk about the things that matter. "As long as the conversation is real and engaging then I think the podcast is a success," Jim said.
Jim's new solo podcast, Finding Happy With Happy Dad, also comes from a personal place. While we know him as a musician and creative, he went through a difficult period of trying to fit himself into the mold of traditional success. He eventually realized that true success for him is being happy with his family. His new podcast shares life hacks for finding happiness in daily life.
Jim was also the one who encouraged his friend and Linya-Linya business partner Ali Sangalang to start his own podcast in 2018. Ali is a writer whose personality is evident throughout Linya–Linya's witty designs. But he didn't initially see himself as a podcaster.
"Ayokong ayoko noong una (I didn't want to do it at first)," Ali admitted. "Wala akong experience sa radio, hindi naman ako celebrity, hindi pa bukas sa akin ang idea na gagawa ka nang wala kang clout." (I didn't have experience in radio. I wasn't a celebrity, and I wasn't too keen on doing this without a large enough clout.)
"Jim said just be yourself. We're not just a t-shirt company. We're trying to build a community of witty, fun-loving Filipinos. Bahagi niyan ang mga conversations. Kaya kung ano yung brand ng Linya-Linya, yun din ang nilabas ko doon. (And, part of that is conversations. Linya-Linya's personality as a brand should ring true in our podcast.)"
Ali first partnered with his friend Victor Anastacio to record episodes about life in the Philippines – hugot, why friends say "susunod ako (I'll follow)" but never show up, coffee culture in the Philippines. Now, as a solo host, Ali has shifted the podcast's focus to interviews: relationship advice with Dr. Gia Sison, philosophy with Ateneo professor Ediboy Calasanz, women empowerment with NU Lady Bulldogs' Christiana Dimaunahan.
The Linya-Linya Show is now one of the most popular podcasts in the Philippines. The secret sauce, Ali, said is that while their conversations are free-flowing, it's never "wala lang" or unstructured.
"Ano ba 'yung bagay o 'yung topic na nagpapangiti, nagpapangiwi, nagpapakilig, o nagpapanginig sa'yo? (What things and topics make you smile, laugh out loud, get you all giddy, or give you shivers?) " Ali asks aspiring podcasters.
"Kailangan, worth bigyan ng oras ng tao para pakinggan. Kung ikaw mismo, hindi convinced dyan, paano ka magbabahagi sa iba, at paano ka tatagal ng ilang minuto o oras pa talking about it? (It should be interesting enough for people to devote their time to it. If you yourself aren't sold on a topic, then how can you share it with others, moreso talk about it for several minutes?)"
How do I make my podcast stand out?
Did you know that there are now over two million podcasts all over the world? The New York Times even wrote about the American podcasting landscape, asking "have we hit peak podcast?" and noting that while 2000 – 3000 new podcasts are created every month, most of these fall victim to "podfade" and fold in less than a year.

Kailangan, worth bigyan ng oras ng tao para pakinggan. Kung ikaw mismo, hindi convinced dyan, paano ka magbabahagi sa iba, at paano ka tatagal ng ilang minuto o oras pa talking about it?
Ali Sangalang, Host of The Linya-Linya Show
PumaPodcast, the first podcast network in the Philippines, was founded in 2018 by a group of journalists and audio production professionals. Since then, the network has developed and produced over twenty podcasts. Their hosts include Fukuoka Grand Prize awardee Randy David, sex and relationships therapist Dr. Rica Cruz, and Rappler's economics columnist JC Punongbayan.
"One way to add value to your own podcast is to interview experts that an ordinary listener may not normally have access to," said Tricia Aquino, PumaPodcast's Chief Content Officer.
"Lahat naman tayo may kaibigan na masarap kausap. Pero hindi lahat sila may "K" to talk about certain topics. (We all have friends that are fun to talk to. But they may not always be the best person to talk about certain topics.) And we can't all be witty and sparkling and compelling hosts on our own, but we can do our research so that we deliver the information our listeners need."
I host two podcasts for PumaPodcast: Go Hard Girls, a documentary series about Filipina athletes and gender equality in sports; and What's AP? Araling Panlipunan Rebooted, a fun take on Filipino history with historian and comedian Sab Schnabel.
What I've personally learned is you need to have a clear perspective on the topics you will discuss. Big celebrities can create a popular podcast without a particular theme because fans tune in for them, but for the rest of us, it's not enough to think, "Well, I'm fun, I can talk about anything."
In my case, there is no shortage of general sports podcasts in the Philippines (even I made one in 2018), but there hadn't been one with an explicitly feminist lens – Go Hard Girls, then, is about reaching an underserved market.
But whether you're making highly-produced narrative podcasts, or hosting more casual conversations, one needs to put real thought into the vision of the program. Rather than simply asking, "What do I like to talk about?" also ask: "What would add value to the lives of listeners and make our podcast worth the download?"
Podcasts are about the super-niche. You don't have to appeal to everyone; you just have to reach the right audience. As long as your content provides real value to your listeners, you don't have to be a celebrity or a social media influencer to have a successful podcast. You may be surprised to know that former Supreme Court spokesperson and human rights lawyer Atty. Ted Te's Te Talks podcast is actually one of the most listened-to shows of PumaPodcast. Te Talks has gained a following among fellow lawyers who tune in for the discussions on current legal issues, and law students who use it to review. Some students even cite it in their papers!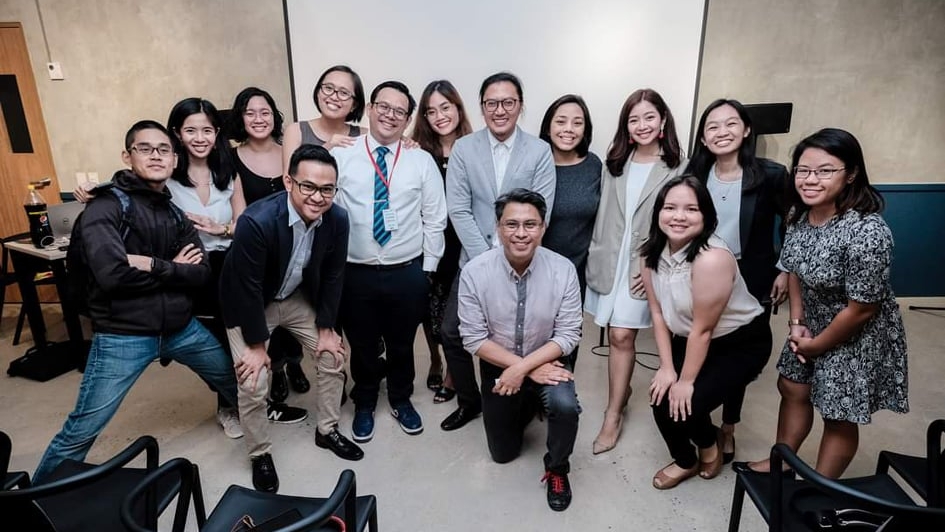 "Listen, observe, research, take notes. That's automatically an advantage when it comes to content and interviews," Ali said. A good podcast, Ali believes, has enough variety and feels relevant, whether it's for the present or future.
"Kung para sa ngayon, gusto kong matawa, kiligin, matakot. Kung para sa future, gusto kong makapulot ng knowledge o aral. Kung pareho lang sa the usual, o kaya puro kabalbalan lang, bakit pa? (Today, it can be funny, romantic, or even scary. Tomorrow, it can be informative or have a moral lesson. If you're putting out more of the same thing every day, or if it's always pure nonsense, why make it?)"
What does a good home setup look like?
Jim and Saab have always recorded their podcast from home. "We filled up the room with sound absorbers like carpets, shelves, and curtains." They use a basic interface with two mics and pop filters for noise protection.
"Ako, mali ko noon is hindi ako nag-invest agad sa equipment. Mag-invest ka, kahit hindi mahal (My mistake was that I didn't invest right way on good equipment. My tip: get good equipment, it doesn't have to be expensive)," shared Ali, who mostly records from his loft. (WATCH: 10 steps to shoot video like a pro)
"Noong una, shoe boxes 'yung mic stand ko. Bukod sa naaamoy ko yung sapatos, nakaka-affect sa buong recording yung equipment. Minsan yung magandang conversations, sayang kung pangit ang audio. (I used to use shoe boxes as my mic stand. Not only did I end up smelling my shoes, but it affects my recording. Some good conversations were wasted because of badly captured audio.)"
Ali now has three Zoom H6 portable recorders and keeps a pen and notebook handy to take notes during the interview. "Kasi may mga maiisip ka isulat! Tubig rin, mahalaga. (You get to write down your thoughts. Also, have water ready.)" he shared.
"The benefit of podcasting from home, you're comfortable, you have no time limit, no rental fee for studio time. The major challenge naman [is] distractions and disruptions. Kung kasama mo family mo, may kakatok, may delivery, may tumitilaok na manok. Nangyari sa akin na may sasabihin akong importante, biglang pumasok kapatid ko, 'kuya kakain na!' (If you live with your family, someone might knock, there might be deliveries, roosters crowing, etc. One time, I was about to say something important, but then my sibling came in to say "time for dinner!")"
Marc Casillan, head of audio production at PumaPodcast, helped the network shift to home recording when the lockdown prevented the team from using their professional studio. Apart from providing their producers with portable microphones, he also helped them set up their home recording areas.
If wala kayong ganoon, i-shoot mo yung ulo mo sa cabinet mong may damit at doon ka mag-record. Medyo tiis ganda nga lang, pero malinis yung recording mo.
Marc Casillan, head of audio production at PumaPodcast
He explained that unwanted noise and echoing are your worst enemies when you record at home. So, as much as possible, record in a small room filled with stuff (to reduce echoes) and with little to no windows.
"If wala kayong ganoon, i-shoot mo yung ulo mo sa cabinet mong may damit at doon ka mag-record. Medyo tiis ganda nga lang, pero malinis yung recording mo. (If you don't have a room, shoot your head in a cabinet with clothes and record there. It's not glamorous but it will do wonders for your recording.)"
Isn't it just turning on a mic and talking?
Not really. On the one hand, it's important to be true to yourself and authentic with your listeners. "Be natural, converse, and listen to your audience," said Jim. "What we enjoy with the 'podkids' is the real friendships we've created through this podcast. Just like any barkada, all the inside jokes and connections we made were completely organic."
At the same time, it's a delicate balance. Being natural is not a license to go in without a plan and simply ramble on.
For me, my interview approach is informed by my learnings as a reporter and segment producer for TV. Putting in the work in pre-production – that's preparing a list of questions and talking points I would like to hit – actually helps me become more authentic because I can fully be in the moment with the subject. Rather than thinking of where to take the conversation next as we're talking, I can focus on reacting to my interviewer with follow-up questions, knowing that I can easily return to the big picture flow later on.
"Be yourself, pero ang being yourself, may kasamang responsibility yan. Isang form ang podcast ng media na may format pa rin. Hindi pwede na basta casual, bara-bara na. Pati yun, kailangan ng practice, (Be yourself, but being yourself also comes with a responsibility. Podcasts have formats. You can't just go full-casual, without a plan. You still need to practice," Ali said.
"May responsibility to your audience to communicate the best way you can. Kung sa rapping, hindi ka pwedeng magsabing 'unorthodox ako, di ako sasabay sa beat.' Ang pagiging unorthodox may disiplina rin." (You have a responsibility to your audience to communicate in the best way you can. Even in rapping, you can't be all 'I'm unorthodox, so I won't flow to the beat.' There's still some semblance discipline .")
Ali added, "At sa lahat ng mga ito, mag-enjoy ka. Kung di ka masaya, paano mo mapapasaya ang iba?" (Above all else, enjoy. How can you make people happy if you yourself are not enjoying it?). – Rappler.com
Ceej Tantengco is a three-time Palanca Award-winning writer, reporter, and gender equality advocate. Working as a courtside reporter for 4 years inspired her to create Go Hard Girls, a podcast that tells the stories of incredible yet underrated Filipino athletes.