Be happy where you are, with what you have, and take active steps to reach what you want to accomplish in your life
MANILA, Philippines – We are sitting in a coffee shop, across each other on the sofas, discussing the topic of unfollowing people on Twitter.
"Just do it," I say.
She looks at me and sighs. It has, after all, been a source of frustration. I am talking to a young, up and coming fashion blogger. Let's call her Anna.
Anna is a quirky writer, with a unique style that represents everything she believes in. She has a carefree spirit, a girl-next-door appeal, and yet she comes to me asking for advice on how to make her fashion blog more successful.
I already think this girl is a success, but she doesn't — at least not like her peers.
After she checks her social media accounts, she gets a sinking feeling that she isn't as good as them. 
Has this ever happened to you?
In the age of social media, everyone knows what everyone else is doing. A lot of people feel the need to compare themselves with others, their life with others'.
How could we not? We see it everywhere: updates on Facebook, blog entries, Instagram posts, and tweets.
It's #allinyourface.
Let's try stepping back from the noise. Do you hear your inner voice? Do you know what you want or are you chasing the same things as other people are? 
Sometimes, if we absorb so many messages that are thrown at us by our peers, family, the media, celebrities, etc, we tend to lose our own ideas and opinions.
How do we know if we are speaking from our authentic selves when our identities become mirror images of the people we follow online? 
I am a big believer that we all have our own path, and to compare is futile. So I'm sharing a few exercises to help you find your own voice and to focus on your own path again. For anyone lost and confused, I hope these help!
1. Clean up your social media sites
Unfollow people on Twitter, fix your RSS feed on blogs, edit your subscriptions on Facebook, and remove the people who are polluting your thoughts.
Unclear messages from other people will be passed on to your own mind. Unfollow the people who complain, brag, or are always angry. Instead, feed your mind with inspiring information. This will help shift your thoughts from comparing to creating.
Let's be motivated by the goals we want to accomplish.
2. Limit your exposure
Apart from cleaning up your accounts, be disciplined about how often you'll check and update them as opposed to fulfilling your daily tasks.
Keep a list of your goals in front of you and every time you are tempted to check your social media sites, ask yourself, "Am I focusing on getting these goals getting done or am I wasting time checking up on other people?"
Stay in action. (Of course, if your work IS social media, then that's another matter. You get the best of both worlds!)
3. Get moving
Always make the most of your time. Read a book, learn how to cook, get your body moving. What else can you do? Or learn?
Watching your timeline can frustrate you because you feel like, "Oh man, I'm stuck and they keep doing things." In reality, you're not.
Get up and get moving. Learn something new everyday.  
4. Say 'My pace is good'
I spoke to Coach Pia Acevedo-Nazareno, a successful life coach who guested on my previous radio show, The Dollhouse. She mentioned how repeating the phrase "My pace is good" can help melt away your anxieties.
Try it, along with other positive affirmations that your unique path is meant for you, no matter how different it seems.
If you want to reach Coach Pia, visit her website.
5. Practice writing everyday
Free write every day on your own journal. Do not edit yourself; just allow your real feelings and thoughts to come out.
Try doing this for 10 minutes every day. Gain clarity by getting all your thoughts out on paper. 
6. Be present 
Many of us daydream to have the kind of life we "see" others living. But that won't change what's around us and what our own reality is.
Be present and appreciate what you have right now. The color of the lamps, the taste of the soup, the weather outside as you read this.
Be present and enjoy what you are given now. This is what you are really experiencing. 
7. Have an opinion 
Do you want your coffee a latte or a cappuccino? Don't care? No. Make a decision, have an opinion.
Do you want to wear black or red today? It doesn't matter? No. Have an opinion.
Sometimes we go along with life saying that we don't mind or we don't care, but make an effort to choose. Find out what you like and what you don't like. Don't sit idly by agreeing with decisions you could "care less about." These are still YOUR decisions, so make them.
Social media is not bad, but know how to balance it and your life outside of it. Be happy where you are, with what you have, and take active steps to reach what you want to accomplish in your life.
Because your pace is good, and your life is beautiful. – Rappler.com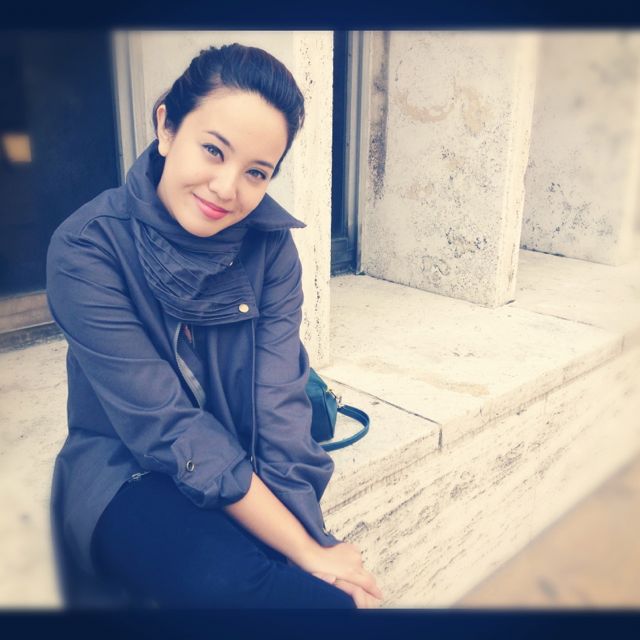 Victoria Herrera is a TV and event host, model, and writer. In 2011, she released her first book, "Unscripted," based on inspiring conversations on her previous radio show. In 2012, she hosted Runway TV Asia where she interviewed international fashion designers and celebrities. Currently based between Manila and Singapore, she continues to explore the world of creativity, design, and fashion as a contributor for several magazines and newspapers.