What is the plight of the Filipino woman working in Japan? Artist Nikki Luna shares a story she encountered on a recent trip.
MANILA, Philippines – The woman, the caretaker associated with the home, is now mobile. Anywhere but the Philippines is the better option. The struggling mother, always with her children's future in mind, cannot bear to see her children go hungry. So she seeks beyond the scarcity she sees. In her dreams, that future can never be built in our own land.
In her dreams, these lands are far away, with strange landscapes and even stranger people.
Japan is one of these perceived panaceas. With over 350,000 Filipinos currently working in Japan (2011), it is a place that most Filipinos are familiar with. Unfortunately, the idea of Japan and the working Filipina has been transformed in the public's perception as a single cursed tragic figure — the Japayuki, the shunned sex worker. 
Kyla is one of the thousands of Filipinos working in Japan. I met her in Nagoya while I was doing my research for an upcoming exhibition in the International Aichi Triennale. My practice is rooted on issues that involve woman, space, and social dynamics. As part of my creative process, I immerse in communities to get to know the women who are living and struggling within specific conditions.
This is how I got to learn Kyla's story.
Back in 2001 when she was barely 18 years old, Kyla found out that she can make money by working as an entertainer in Japan. She wanted to help her family, to support her single-parent mother and her siblings. From 2001 until 2005 she went in and out of Japan, working in a club as an entertainer, going back and forth Japan and Philippines whenever her contract had to be renewed.
It was fast money, and a big one. She thought there was no harm entertaining men tired from work: serving them drinks, lighting their cigarettes, and having a few laughs, even when she didn't have a clue what they were saying. In 2007, Kyla got pregnant with the son of a Japanese. When she gave birth, she only received money from the child's father for her hospital bills. Kyla gave birth to her Japanese-Filipino son alone in the Philippines.
In her eyes, the baby was her ticket to a better future. 
In 2010, the father of her son promised her marriage, a Japanese nationality for her son, and a chance to move to Japan and start a new life. It was an offer that Kyla accepted without any hesitation. When she and her son arrived in Nagoya, she realized too soon that the happy ending she thought was finally within reach was a farce. Her husband started bullying her for her share of the domestic expenses. She relented and found work.
He alternately asked for more financial help and time for their child from her, two conflicting demands as one was time away from the other. He demanded 100,000 YEN monthly. It would have been cheaper if she bought her way to Japan through an agency with such an amount. He reasoned out that this was her way of paying him back for her debts since he gave her a spouse visa, a child with a Japanese passport and a life in Japan.
Meanwhile, he was also venting out his frustration at the boy, hitting the child at the littlest hint of misbehavior even at an early age. In public, he would fondle Kyla and she dared not refuse him lest he throws a fit. Of course, inside their bedroom, Kyla had gone cold. She refused to sleep with him.
After only 10 months under one roof, Kyla's husband was fully dependent on her. He stopped working. On her part, after a grueling day's work, she would find her son abused by the temperamental father. They fought, but the next day she continued to serve him. In one of their confrontations, he finally threw her out of the house.
Kyla found refuge in the apartment of a fellow Filipino and managed to go to work the next day. Her husband came to her workplace with the police and accused her of stealing clothes, a laptop and camera — all of which she paid for; some given as gifts to her. His ultimatum was: accept my apology or get out of Japan. 
Kyla needed to wait for her divorce before she could apply for a working visa as a mother of a Japanese child. Her husband was determined to give her a hard time. Kyla fought back. She found help from a community of Filipinos supporting women like her in Japan.
From peers and counselors, she learned that she did not owe anyone enough to trade her self-respect and values. A piece of paper should never shackle a woman. Kyla, along with the other Filipinas I met around Ikeda Park, the famous night club area of Nagoya, learned this the hard way. 
Most Filipina migrant workers are entertainers, hostesses, singers and dancers working in clubs. Factory labor is reserved for Japanese nationals and there is no urgent demand for domestic work. I asked Kyla if her work ever involved sex. Her answer was a firm "no." This is a fact that is overshadowed by malicious popular opinion.
Kyla knows that she is labeled as a Japayuki. She shrugs it off. She knows the truth, she knows who she is, she knows her limits. She knows that she is doing everything for her family. Filipino communities in Japan are aware of this misconception and are hard at work in creating gentler spaces for their hardworking kababayans.
One such person is Nestor Puno, a Filipino who assists women in the Filipino Migrant Center and Nagoya Youth Center. He put up a school for Japanese-Filipino children like Kyla's son with the help of the Ecumenical Learning Center for Children (ELCC). He dedicates his time in helping the parents of Japanese-Filipino children with day activity schooling for the kids.
These children who reside in a red-light district need an environment that is more conducive to progressive learning. Nestor teaches children the Filipino language as well as Filipino values. 
Kyla and the rest of the Filipinas in Japan who are like her choose to be entertainers by profession. It may not be a profession one can easily be proud of, however honest and dignified they try go about it. But it is legitimate work nonetheless that is fueled by a vicious cycle of need. To be uprooted from one's own country, to learn another language in haste, to live day by day away from loved ones so they can survive — this is a story that is lived in too many Philippine households missing a loved one who is working overseas.
Kyla might have her son with her in a strange land, but her profession and the stigma that is connected to it still manages to alienate her from the home — whether this refers to her homeland or her son. Most women settle down to a quiet life after marriage. They would rather quit so they can look at their children straight in the eye and tell them how they should live life with honor and dignity, like all parents desire for their offsprings.
But Kyla and all the countless Filipinas who have the same plight could always see it this way: Society is a cauldron of opposing forces that could otherwise tear a creature weaker than a woman. The willingness to seek beyond the comforts of family to survive goes against the ancient instinct to stay home.
The ability to adapt to a new profession and environment goes against patriarchal values and traditions prescribed and forced upon her. The capability to muster enough strength to work everyday in a strange land goes against the womanly sensibility to feel when it matters most.
As Nellie McClung once said: 
"The time will come, we hope, when women will be economically free, and mentally and spiritually independent enough to refuse to have their food paid for by men; when women will receive equal pay for equal work, and have all avenues of activity open to them; and will be free to choose their own mates, without shame, or indelicacy; when men will not be afraid of marriage because of the financial burden, but free men and free women will marry for love, and together work for the sustenance of their families. It is not too ideal a thought." – Rappler.com
March 8 is International Women's Day. Read more about inspiring Filipinas here: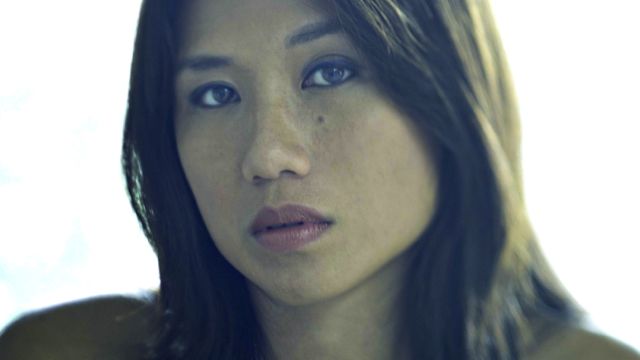 Artist Nikki Luna is a graduate of the University of the Philippines College of Fine Arts. Her works delve on a visual discourse of women's struggles and social consciousness. She is also the founder of StartArt project, a non-profit organization providing art and therapy to women and children who are victims of wars and injustice. Women and children advocacies are endeavors she is currently studying in-depth as she takes her Masters in Women and Development Studies in UP Diliman. Follow her on Twitter: @nikkiluna