'Even without the crown, Patch was able to use the Miss International platform to deliver her message,' tweets one netizen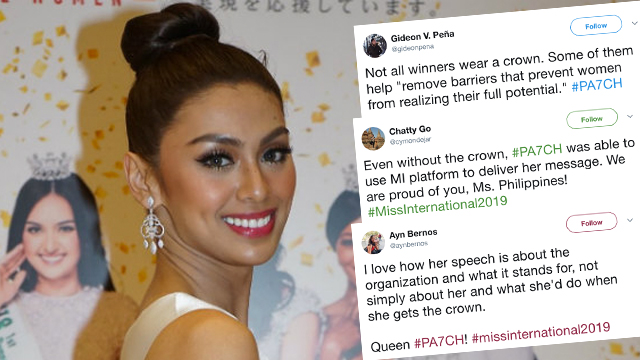 MANILA, Philippines – Philippines' Patch Magtanong might not have won the Miss International 2019 crown, but she captivated Filipino fans with her final speech during the pageant. (READ: IN PHOTOS: Patch Magtanong's Miss International 2019 journey)
On Tuesday, November 12, Filipino fans took to social media to praise Patch for her final speech during the pageant, where she talked about uplifting women and how the pageant has become a platform for women to help each other in reaching their full potential. 
Patch finished as part of the Top 8. Thailand's Sireethorn Leeramwat was crowned as the new Miss International 2019. 
"#PA7CH" and "Philippines" were among the trending topics on Twitter Philippines right after the pageant.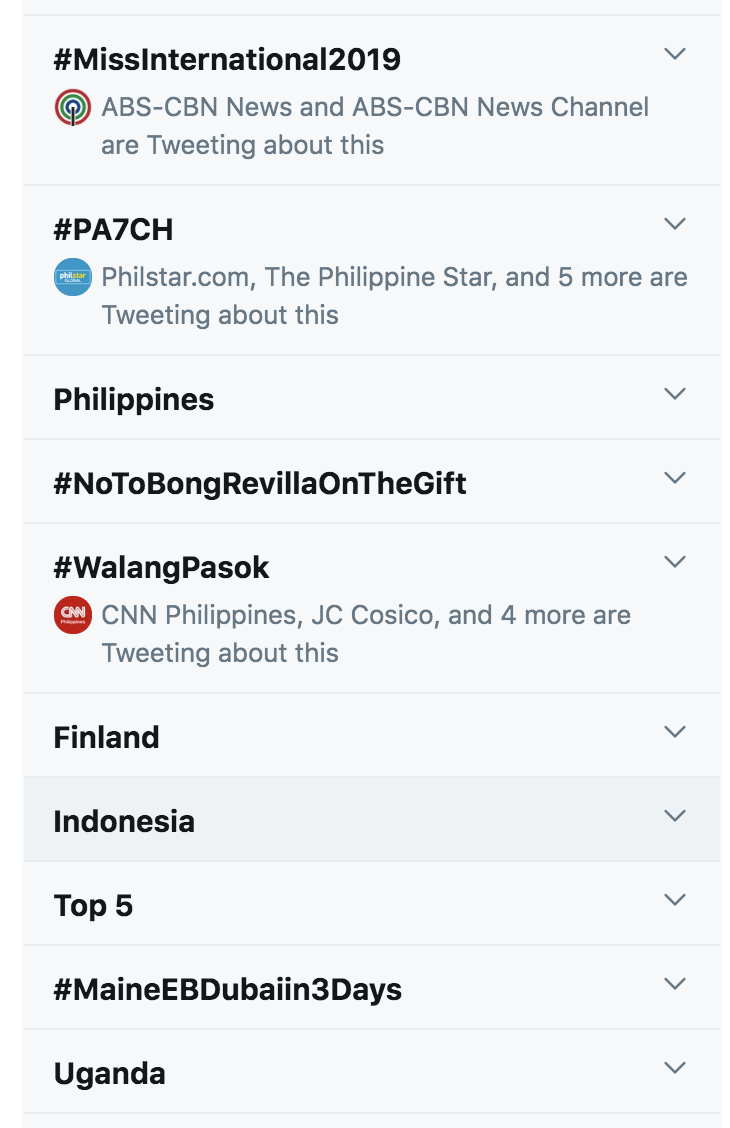 Here's the transcript of Patch's speech:
When I was younger, I found it strange that I was subjected to different standards as other boys my age. When I got older and even more so when I became a lawyer, I began to question these standards and challenge them.
Why should women live in fear of harassment, violence, and discrimination when basic human decency calls for respect, tolerance, and compassion? To cheer all women means to support all women regardless of the race, religion, or background, but not only these – it also means, to remove all the barriers that prevent women [from reaching] their full potential.
Miss International does this by fostering a global culture of women empowerment and gender equality, and through this platform we can ensure that no woman anytime and anywhere is left behind.
For Twitter users Chatty Go and Gideon Peña, even though Patch did not win the crown, the pageant became an avenue for her to deliver her message.
Even without the crown, #PA7CH was able to use MI platform to deliver her message. We are proud of you, Ms. Philippines! #MissInternational2019

— Chatty Go (@cymondejar) November 12, 2019
Not all winners wear a crown. Some of them help "remove barriers that prevent women from realizing their full potential." #PA7CH

— Gideon V. Peña (@gideonpena) November 12, 2019
Meanhwile, for Ayn Bernos, Patch's answer was not about her but about what she could do if she was crowned Miss International.
I love how her speech is about the organization and what it stands for, not simply about her and what she'd do when she gets the crown.

Queen #PA7CH! #missinternational2019 https://t.co/LrajeA7JRk

— Ayn Bernos (@aynbernos) November 12, 2019
Here's what other fans had to say about Patch's final speech:
Fans on Patch's speech – Curated tweets by rapplerdotcom
What do you think of Patch's final speech? Let us know in the comments below! – Rappler.com