Discover the new food strip in Mandaluyong City that's slowly becoming the place to visit for those looking for a delicious bite
MANILA, Philippines – A decade ago, the space near Edsa and Shaw Boulevard — then known as Edsa Central — was far from being called a leisure destination.
A congested wet and dry market served as the hub of commerce for the housewife looking to shop for the week's groceries; ambulant vendors lined the sidewalks. For thousands of commuters coming from the nearby business districts, jeepney terminals provided a way home.
No one would have suggested a laid-back trip to Edsa Central — until now.
A manicured lawn now sits in the center of The Hub, the name the old district has adopted. Located in what is now Greenfield District, several luxury condominiums are in the middle of construction. Nearby, local and international call center agencies have taken office.
The asphalt streets are smooth and clean, and the sidewalk is lined with trees. Retail stores have begun to pop up, as well. Along The Hub, new and old food establishments have found a new home, slowly making what was once an empty and dingy street into the metro's newest food strip. 
Well-loved dishes, new take: Kanin Club
Putting a welcome twist to classic Filipino dishes, Kanin Club has long been giving its patrons something to talk about.
Nothing more succinctly sums up the Kanin Club philosophy than their Crispy Dinuguan. Taking the traditional Filipino stew of pork and pig's blood, they manage to make it even more decadent by replacing the pork pieces with crunchy deep fried slices of liempo and good ol' chicharon. 
Their Sinangag na Sinigang, meanwhile, is a puzzling example of deconstruction. With no sour soup, it's the sinigang-infused sinangang that provides the eye-twitching tangy flavor we've come to love about sinigang. Tempura battered vegetables provide contrast in texture and flavor.  
Crepe central: Café Breton
Since they opened their first branch in 1998, Café Breton has been the place of choice for those looking for a sweet nightcap after a hearty meal or a place to unwind while enjoying a freshly-prepared crepe with a cup of coffee on the side.
While their sweet crepes like Blueberries and Crème or their Cherries Jubilee will always be a favorite of many, their savory crepes are meals worth trying, too.
As its name suggests, the Galette Super Complete is an entire meal served in a little package. A buckwheat savory crepe serves as the base for a combination of ham, onion, mushrooms, tomatoes and cheese. Topping it off is a sunny-side-up egg with a runny yolk that, when broken, creates a beautiful mess on the plate.
For hanging out long: Blackwood Bistro
There's a cozy refinement when you walk into Blackwood Bistro. While the brick walls, warm wooden interiors and cozy seating may be partly to blame, it's their international cuisine of comfort food done with quiet finesse that makes everything come together.
Part-watering hole and part-casual restaurant, the bar area is stacked with a wide selection of wines and spirits, while beer on the tap keeps those watching a football game on the flat screen TV happily inebriated.  
Once you've had your fill of booze, their dishes which range from American and Italian to Filipino will help put your stomach at ease.
Start with a hand-rolled pizza together with a light crab and mango salad. Then for the main course, try their grilled pork belly served with some pickled green mango, and a serving of their pork shank adobo topped with crispy onion rings. 
Perfect for the rainy weather: Ramen Bar
For those looking for a warm of bowl of broth to keep them company, Ramen Bar's selection of authentic ramen will make you feel warm and cozy from the inside.
The Ramen Bar Special Number 1, for example, has everything you want in a noodle dish and a few more. It's a soy-infused Tonkotso ramen topped with braised pork belly, fish sticks, tamago, dried seaweed and spring onions swimming in a savory broth. The noodles are, of course, freshly-made. 
For rice-lovers, meanwhile, the yakiniku beef composed of thinly-sliced beef with a special sauce is both sweet and savory. Served with finely-chopped spring onions over a bowl of steaming white rice, it's a simple but filling meal.
Refresh and cool down: Y-Tree Milk Tea Hub
When you've had your fill from the many restaurants at The Hub, walk off a few calories as you head your way to Y-Tree Milk Tea Hub down the strip.
While you can get your regular milk tea with pearl jelly, wintermelon or hakka fix here, be sure to try their more unique concoctions like their mint green tea with cucumber. It's a refreshing blend of mint with a base of green tea, served with a few slices of cucumber.
They also serve light snacks like pasta and pastries for those looking for something to nibble on while sipping their tea. – Rappler.com
Read our other #FoodTrip stories: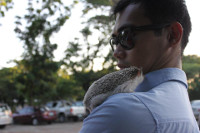 Peter Imbong is a full-time freelance writer, sometimes a stylist, and on some strange nights, a host. After starting his career in a business magazine, he now writes about lifestyle, entertainment, fashion, and profiles of different personalities. Check out his blog, Peter Tries to Write.