This is AI generated summarization, which may have errors. For context, always refer to the full article.
In staging Paul Vasterling's contemporary interpretation of 'Romeo and Juliet,' Ballet Manila transports the audience back to the streets and palaces of old Verona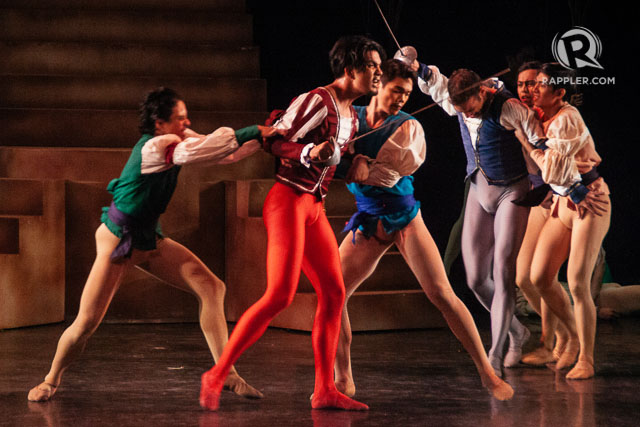 MANILA, Philippines – Centuries have passed since William Shakespeare wrote Romeo and Juliet. Yet to this day, it has been played on many stages and on screen. It has even been reinvented and abridged to somehow keep with the rapidly changing times.
In 1996, the high-octane Baz Luhrmann adaptation, Romeo + Juliet, had moviegoers swooning over the Leonardo DiCaprio and Claire Danes tandem.
Another example: the Royal Shakespeare Company and Mudlark in the U.K. took it entirely to cyberspace through Such Tweet Sorrow. The outrageous and irreverent experiment on Twitter employed improvisation – replying to other users and occasionally referencing current affairs.
Last October 2 to 4, Ballet Manila staged Paul Vasterling's interpretation of the Shakespearean tragedy. (READ: Ballet Manila to stage contemporary spin on 'Romeo and Juliet')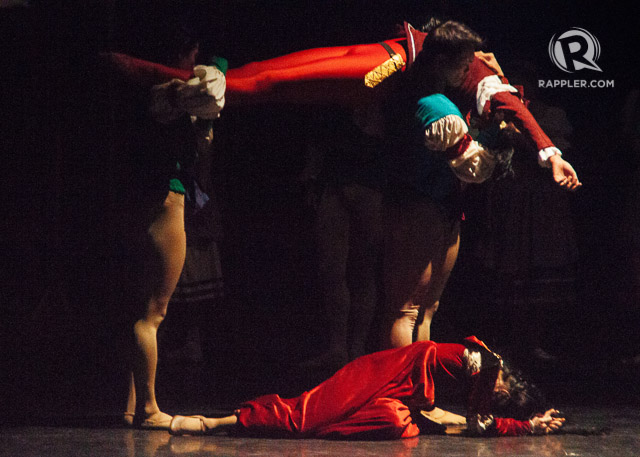 Clear storytelling
Taking it back to a classical art form can seem counterintuitive, at least, in light of contemporary culture.
"Ballet can have this kind of 'unapproachableness' because the movement is so abstract. It can feel unemotional," said Vasterling himself, the artistic director and CEO of Nashville Ballet, to The City Paper prior to the 2004 premiere of his choreography.
He immediately countered this, saying that he can achieve otherwise, "My aim is to always make what the dancers are doing be very true and real to the situation going on."
For Vasterling, it all simply boils down to clarity and authenticity, with help from Russian composer Sergei Prokofiev's "expressionistic" score. He told Nashville Public Television's Arts Break, "My goal was to tell the story succinctly and clearly via gesture, emotion, and classical ballet steps."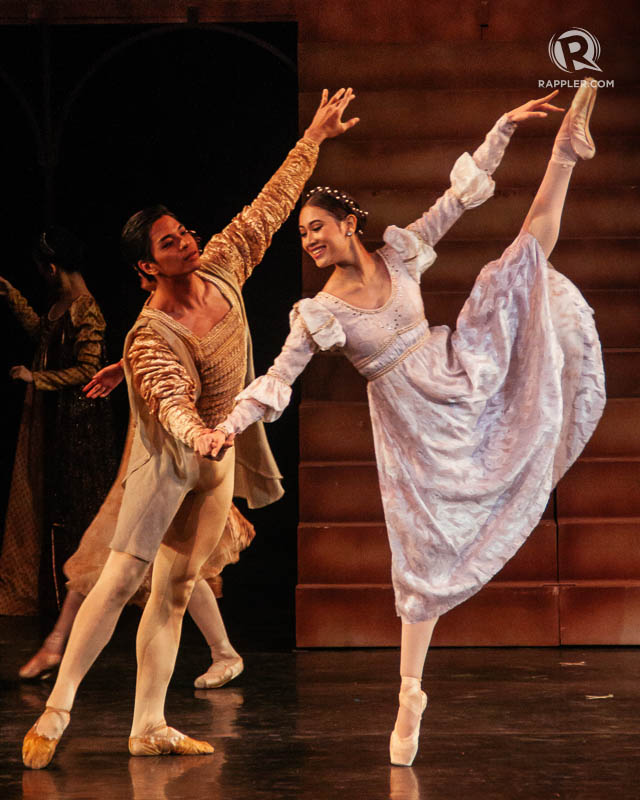 Vasterling gives primacy to storytelling, as he writes in his choreographer's notes, "The individual steps unto themselves become subordinate to the emotional and dramatic point of the theatrical moments that I want to portray."
In a visual and hyper-digitalized culture, there is something innately modern about this minimalist and sensuous aesthetic.
Lisa Macuja-Elizalde, the Philippines' highly esteemed prima ballerina and artistic director of Ballet Manila, said it in a nutshell, "Ballet Manila, as your storyteller on toes, tells the story without having to say a single word. […] [Shakespeare] used words, we use our bodies."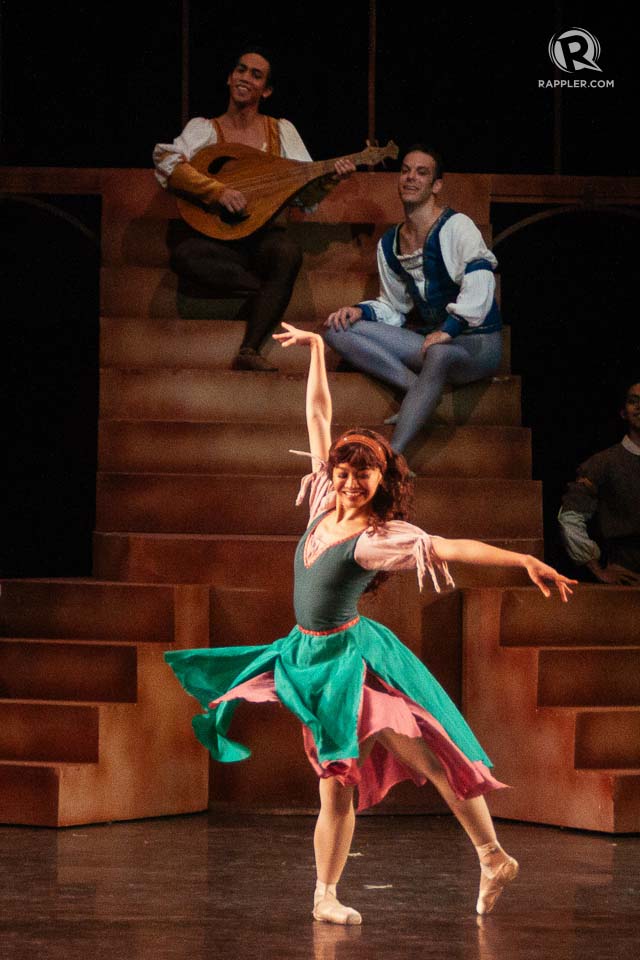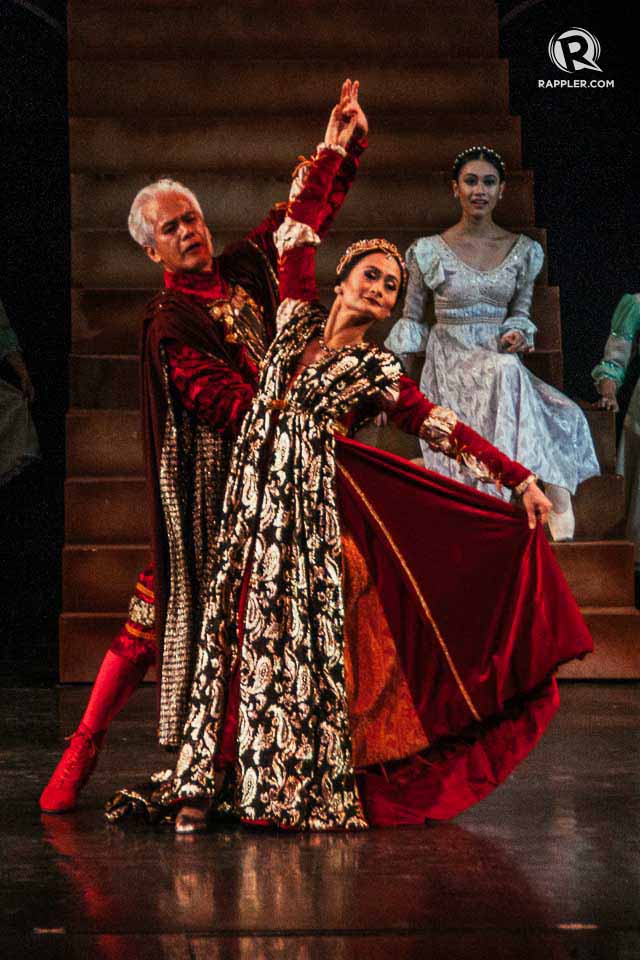 A timeless tale?
However, some critics have dismissed the source material as trite or dated in its naïveté and childishness. So, some might ask, why Romeo and Juliet?
Slate writer Isaac Butler argues, "Romeo and Juliet's whirlwind courtship is not simply a doomed journey through the head rush of adolescent romance. The terrible (but stable) situation in Verona gets shaken up by something as stupid (and innocent) as love."
He adds, "The play would not work if the courtship were a measured, adult affair, which is one of many reasons why the text frequently highlights the absurdity of their romance."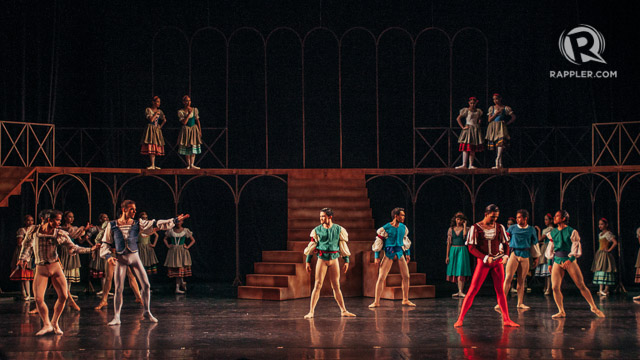 Noah Berlatsky of The Atlantic relates to this matter: "The point of the play isn't so much the exhilaration of young love or the dunderheadedness of young love."
"Rather the point is the language itself: the dazzling, disturbing rhetorical force of old/young, corrupt/innocent, experienced/naïve," he writes, as if urging to scratch beneath the surface of innocence.
Shakespeare wrote a no-frills romantic tragedy with a tight plot, dense with action and bolstered by some of the most nuanced yet lovable characters ever written, Romeo and Juliet has held sway over generations of audiences and creators.
There are the lovers' unforgettable soliloquies. "What light through yonder window breaks?" Romeo says, as he gazes upon Juliet, who opines, "That which we call a rose / by any other word would smell as sweet."
Also, who can forget the amusingly scheming Friar Lawrence and Nurse, or cocky Mercutio?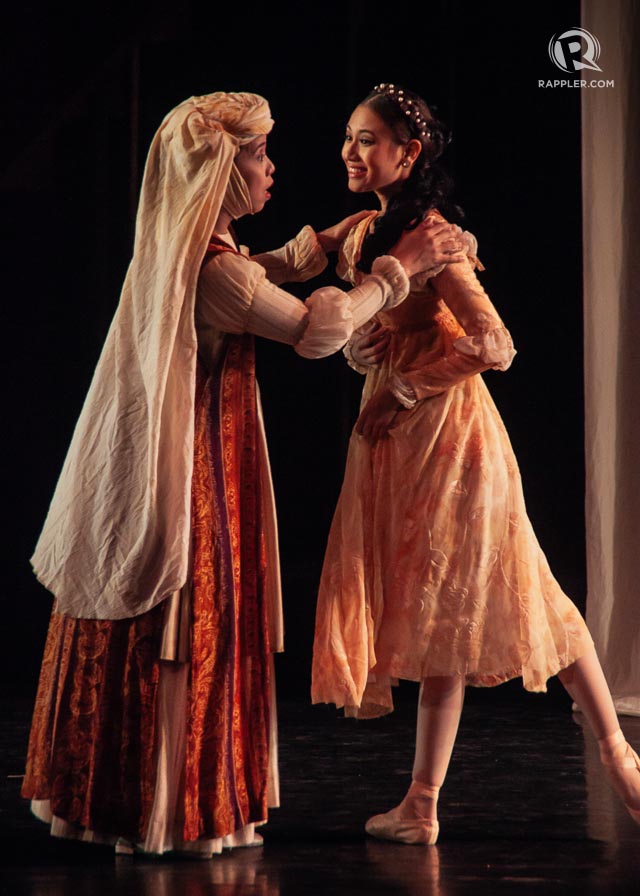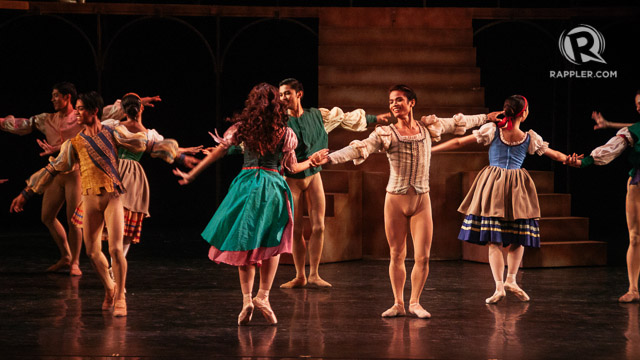 'From page to stage'
Ballet Manila, in their 20th performance season dubbed From Page to Stage, embraces this immortal tale of "star-crossed lovers" – "misadventured" and "piteous" – in all its unbridled passion and rage, without uttering a single word.
"We use the acting of our dancers – the movement to move our audience into believing and reliving the story of Romeo and Juliet," says Macuja-Elizalde. The performance can stir up a visceral flutter – kilig in Filipino – among the audience, "if [they] with patient ears [and eyes] attend."
Like the 1968 Zeffirelli film adaptation that Vasterling has drawn inspiration from, the company casts rising young ballerinas and danseurs (some Asian Grand Prix medalists) in the title roles* for the Asian premiere in Manila. This way, the wide-eyed youths, who fall in love with each other, are as believable as they can be.
Romeo and Juliet's pirouettes become ecstatic dervishes and emanate the desires of young love. Their fluid and expressive pas de deux (a dance duet) in the balcony scene evokes their exchange of sweet words, as written by Shakespeare, but also reflects the absurdity and folly of falling in love so impulsively.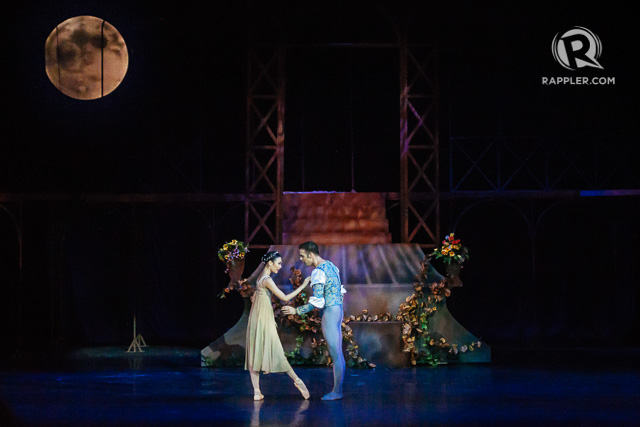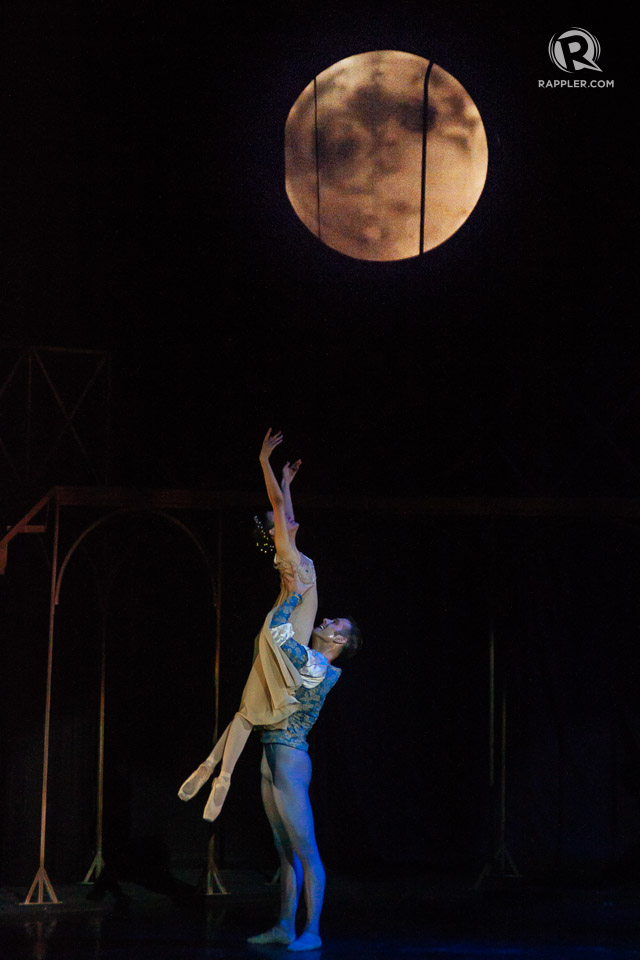 While elegant movements convey the lovers' passion, the Montagues' and Capulets' rapiers clang, echoing with the machismo and rage that has stoked their ancient strife. "Two households, both alike in dignity," thus opens Shakespeare's tragedy, as fine steel clashes with fine steel, but their street brawls are anything but dignified.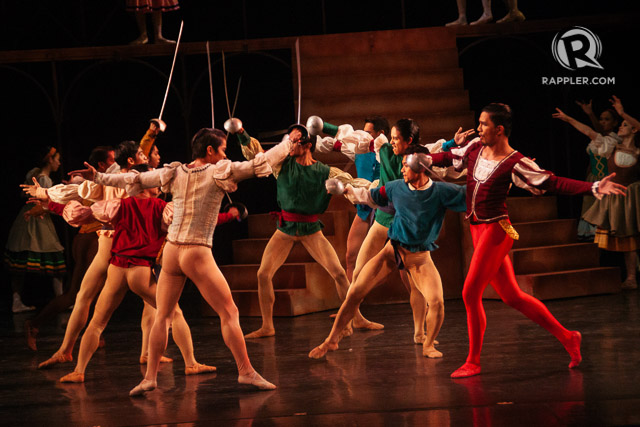 "It is pretty much a guy ballet," Vasterling told Nashville's City Paper. "There is a lot of fighting and pushing around – the two 'gangs' fighting. It's very untraditional in that way. There are no tutus in it at all. It is more of a play – a dance/drama."
At their masked ball, the Capulets are proud and regal in their scarlet and brocaded robes, dancing to the clockwork-like cadence of Prokofiev's sinister music.
The Capulets are proud and majestic dancing to Prokofiev's mesmerizing music pic.twitter.com/NQzAuiUuKH

— Out of Tune (@outoftunelive) October 9, 2015
Lisa Macuja-Elizalde, a larger-than-life figure, is Lady Capulet. One moment, she is doting upon Juliet – her dance as exuberant as her daughter's. In another, she is haughty and stern, but her posture is stately.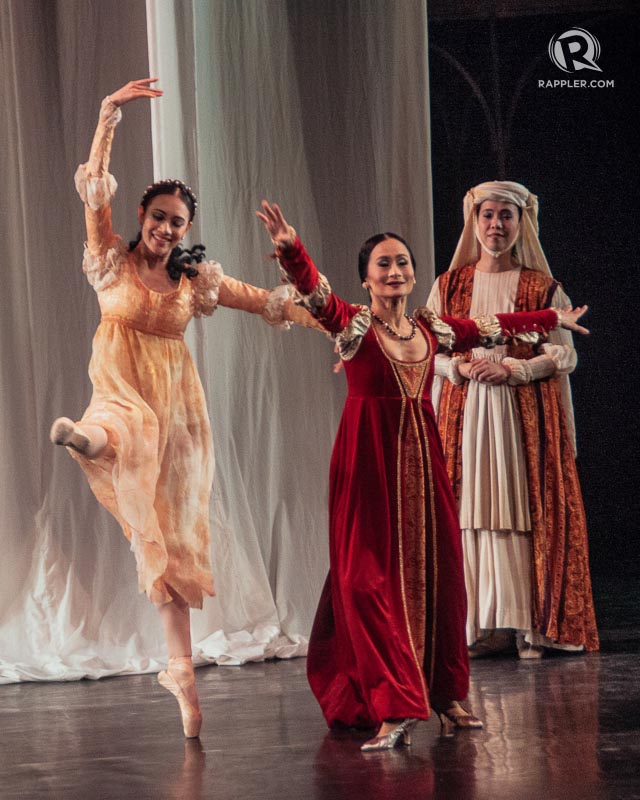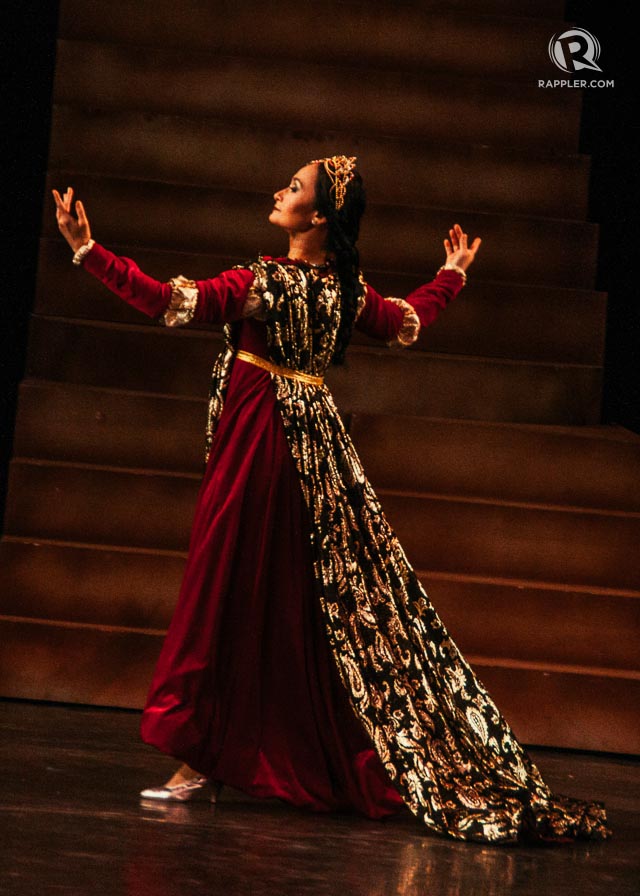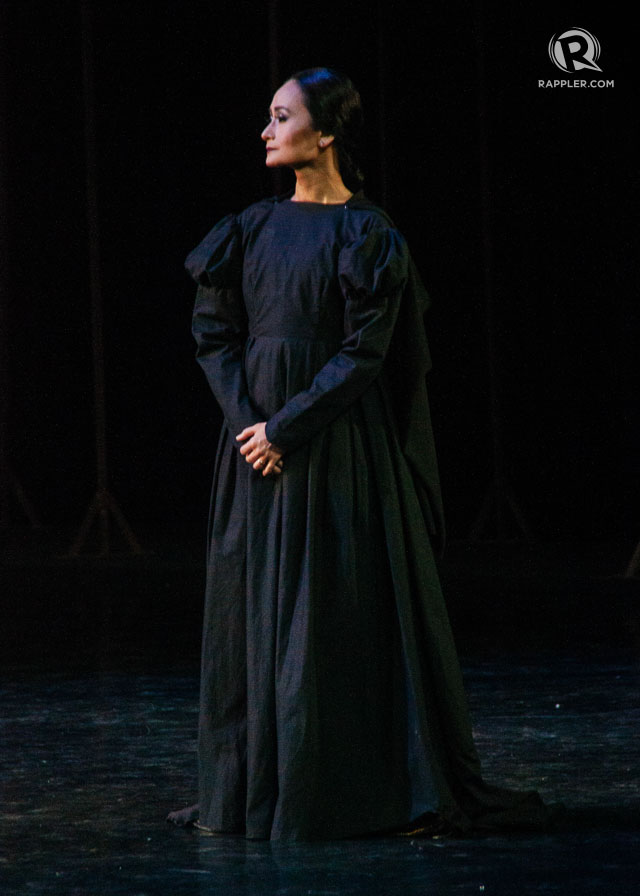 Meanwhile, Romeo is so smitten with Juliet, and he expresses his lovesickness with wide leaps across the stage. When the Nurse delivers Juliet's note to Romeo – a comical moment – Mercutio and Benvolio are skittish on their toes. They goad Romeo on, in almost slapstick fashion, and tease the giddy old lady.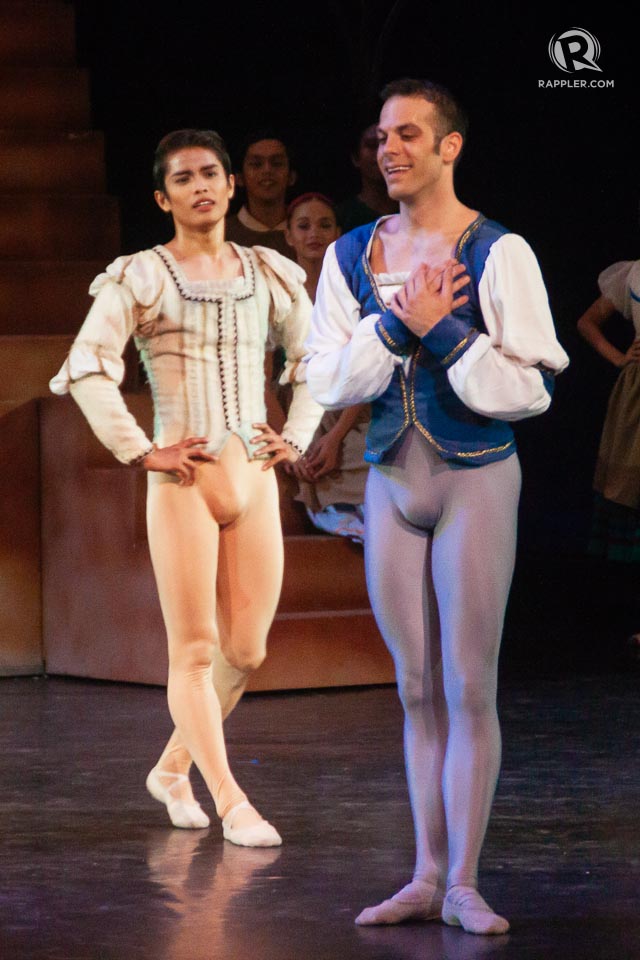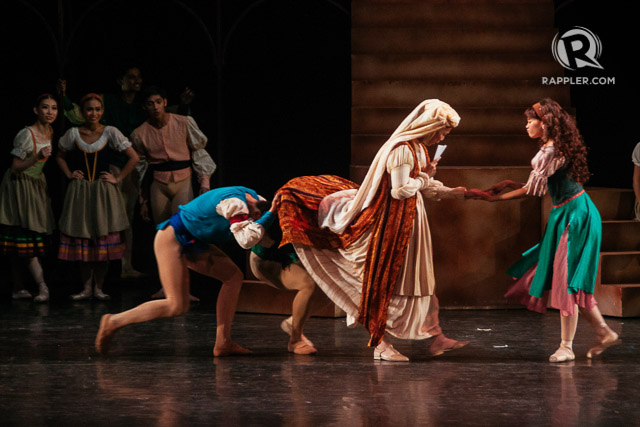 When Romeo refuses to duel with Tybalt, Mercutio's cheekiness would prove to be his own downfall, as he cockily confronts Juliet's cousin.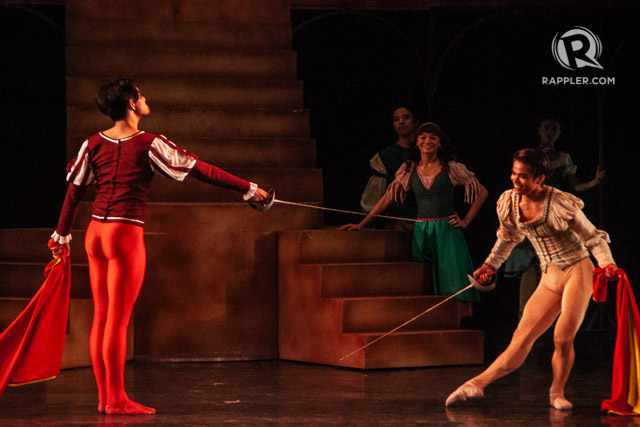 Tybalt pierces Mercutio with his rapier, but he shrugs his gash away ("Ay, ay, a scratch," wrote Shakespeare). His carefree and buoyant motions become staggered as he takes his final bow, cursing both Montague and Capulet with flailing arms, "A plague o' both your houses" ­– setting in motion the dreadful turn of events.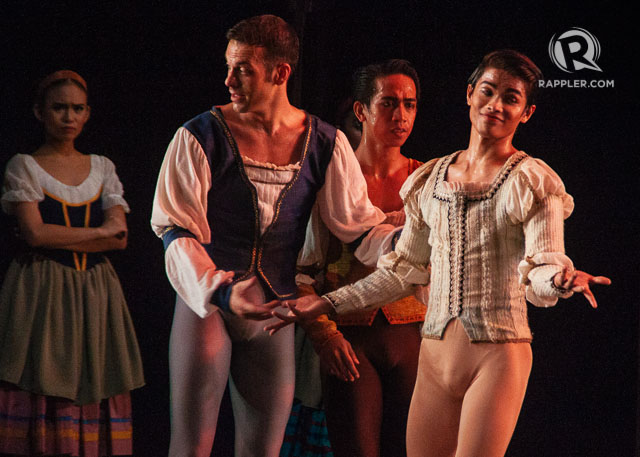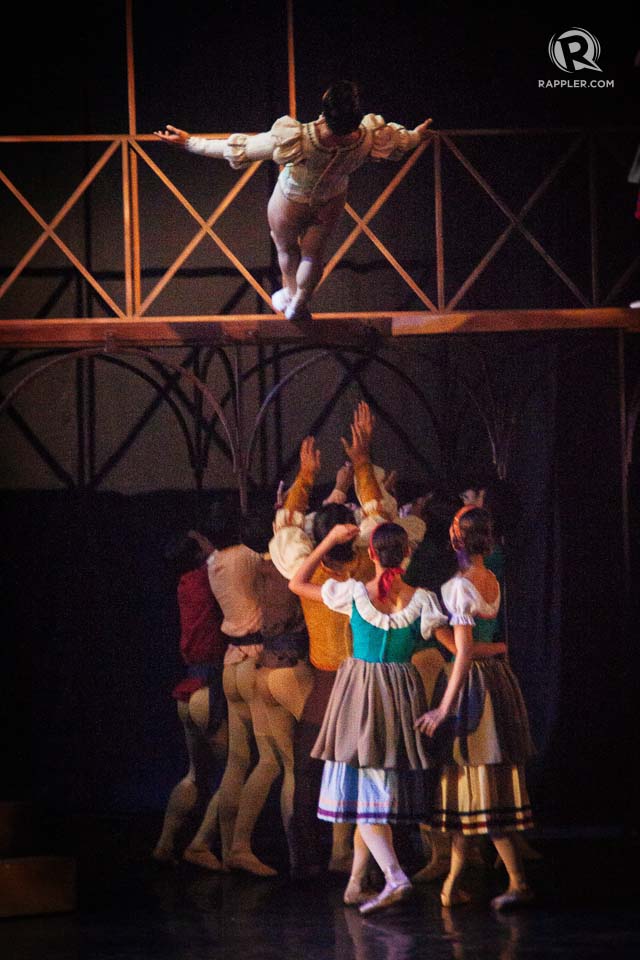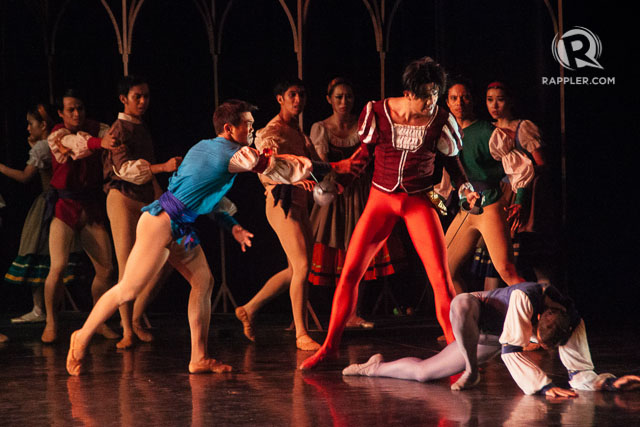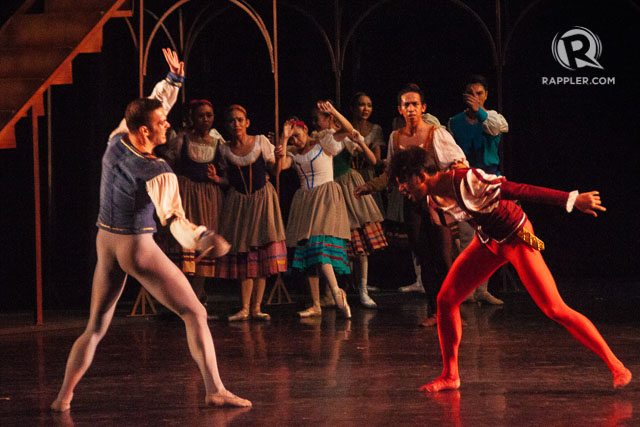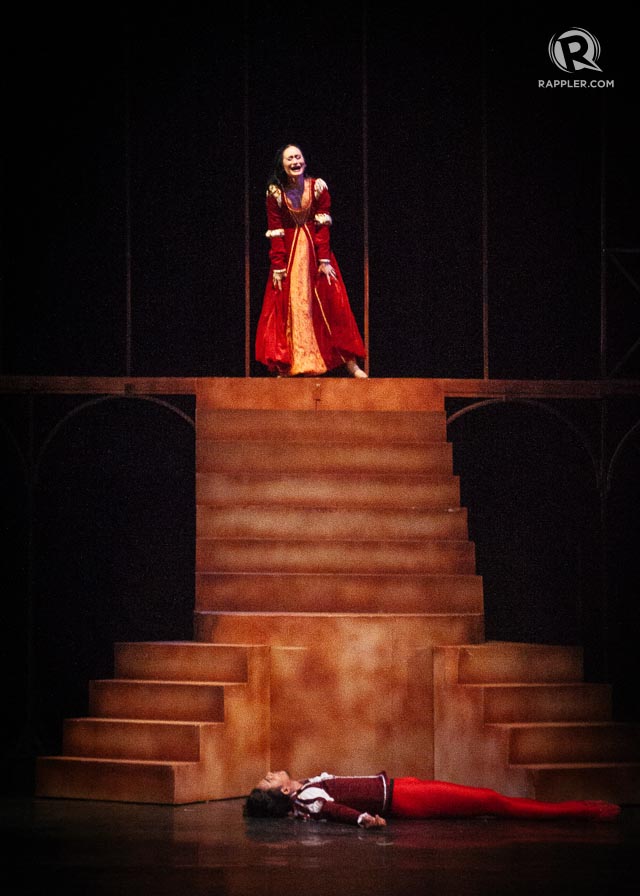 The lovers can't bear to be without one another, and with grand gestures, they take their own life.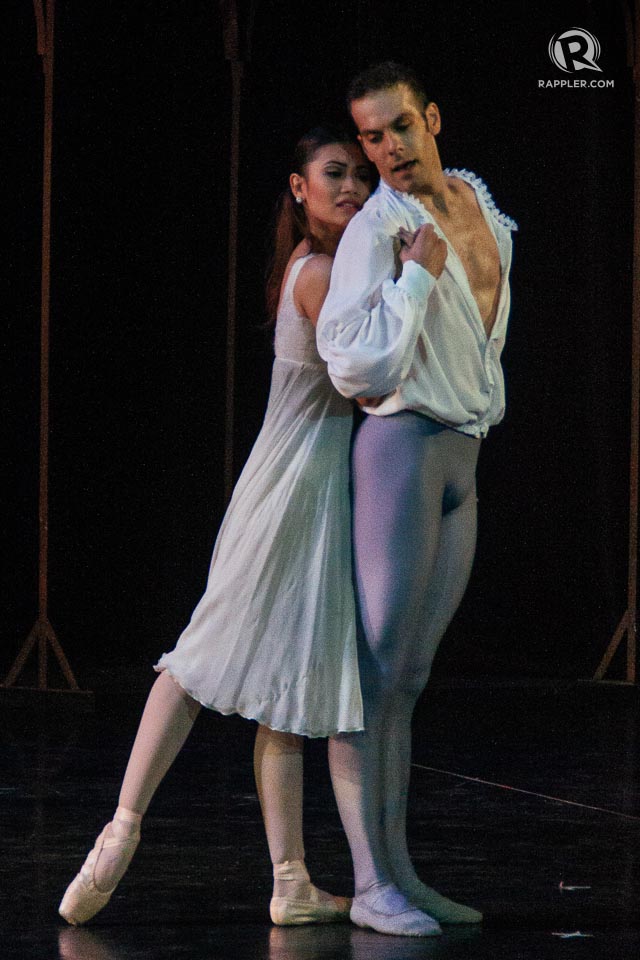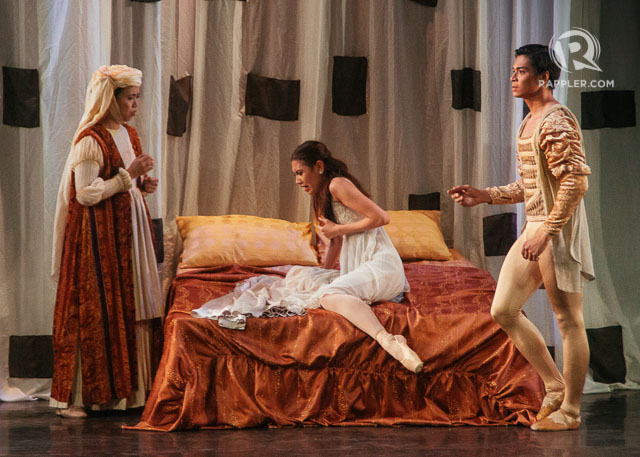 Romeo weeps and cradles a seemingly lifeless Juliet in her deathlike sleep. As the tragedy's great stroke of irony, he downs a vial of poison to join her in death just as Juliet awakens. Distraught, she plunges a dagger into herself and stumbles across the tomb's floor before she finally lies beside her sweetheart forever.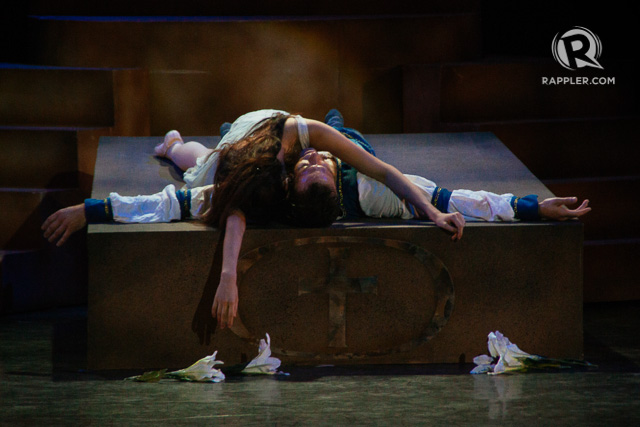 Rediscovery
Ballet Manila knows what makes stories like Romeo and Juliet endure. With graceful movements, they can be sappy and amusing. Romeo and Juliet, as a dancing pair, break hearts as they stretch out their limbs in yearning and in tune with the dirge-like orchestral strains.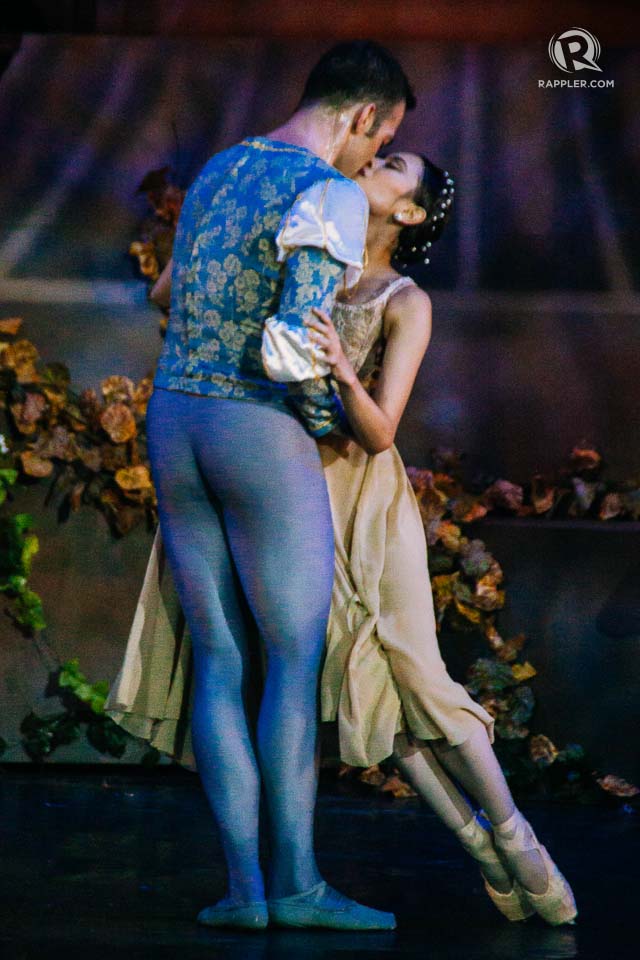 They don't even have to explain themselves or launch into the Bard's soliloquies. Edgy gimmicks, setting the drama in modern times or in a familiar place, aren't necessary, either. Through elegant pirouettes, arabesques, or pas de deux, the dancers are clear and sincere.
This interpretation is a return to roots and a rediscovery of the moments that has made audiences through the ages laugh, swoon, and cry, "for never was a story of more woe / than this of Juliet and her Romeo." – Rappler.com
Paolo Abad is a film/television editor and motion graphic designer. He is also a self-confessed concert junkie. Follow his Instagram for live music @outoftunephoto
*The Romeo and Juliet performers featured in these photos taken at the October 3 show are Brian Williamson and Abigail Oliveiro (Silver Medalist, Senior Division, Asian Grand Prix 2015). 

They alternated with Rudy de Dios and Katherine Barkman (Silver Medalist, Pas de Deux; Grand Prix Award, Asian Grand Prix 2015), and Elpidio Magat (Silver Medalist, Pas de Deux; Bronze Medalist, Senior Division, Asian Grand Prix 2015) and Joan Sia (Bronze Medalist, Pas de Deux and Senior Division, Asian Grand Prix 2015). 

For this performance, Magat and Sia appeared as Mercutio and Rosaline, respectively.