Pray while taking virtual tour of the Taal Basilica in Taal, Batangas
Seventh Station of the Cross 
JESUS FALLS THE SECOND TIME
V/. We adore you, O Christ, and we bless you.
R/. Because by your holy cross you have redeemed the world.
A reading from the first letter of Peter:
"Christ suffered for you, leaving you an example, that you should follow in his steps. He committed no sin; no guile was found on his lips. When he was reviled, he did not revile in return; when he suffered, he did not threaten; but he entrusted himself to the one who judges justly. He himself bore our sins in his body on the tree, that we might die to sin and live to righteousness. By his wounds you have been healed." (1 Pt 2: 21b-24)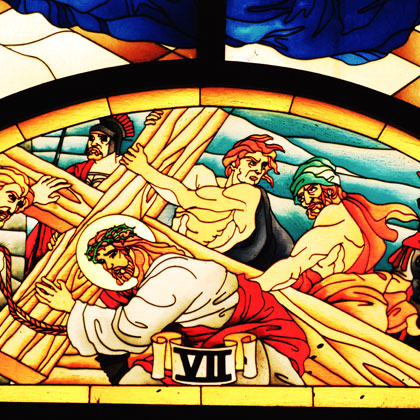 Points for reflection:
Like Jesus, we bear the cross not only of our infirmities but also of life's daily trials.
Jesus bears his burden freely, enduring it "in patience, as a means of instructing our own patience." How well do we bear our burdens?
Let us pray for the grace of Christ's loving patience.
Reflections adapted from a Way of the Cross version posted by the Vatican's Office for the Liturgical Celebrations of the Supreme Pontiff, as written by Sr Maria Rita Piccione, OSA, president of the Our Lady of Good Counsel Federation of Augustinian Monasteries in Italy.
* Instrumental music from the "Vespers" album series courtesy of Jesuit Music Ministry/Jesuit Communications Foundation Inc.
** 360-degree photo of the Taal Basilica (San Martin de Tours) in Taal, Batangas by Fung Yu.
*** Photos of stained glass windows featuring various stations of the cross by Hubert Pacheco, taken at the Shrine of St Therese of the Child Jesus, Pasay City.
Previous Station | Return to Holy Week Online | Next Station

Note: For the full experience, your device / computer should be enabled to support Flash.