'I am only a tool for my subjects to tell their story. It is not my story but theirs that is conveyed through my camera.'
MANILA, Philippines – It may not be pleasant, but we need to see the "ugly" side of the Philippines to know the truth and strive to combat corruption, poverty, injustice and inequality, documentary photographer Rick Rocamora says.
"I think it is important for not only Filipinos but also others to really understand and see reality. These pictures do not please the eye, but they are the truth," Rocamora told Rappler at the opening of his retrospective exhibit "With Passion and Purpose" at the Cultural Center of the Philippines (CCP).
The San Francisco-based photographer believes that it is crucial for Filipinos to "see the truth" so that "collectively, we can work together to help" those in need.
Advocate against injustice
Among the most palpable victims of injustice are the scores of inmates who languish in overcrowded detention centers while they wait to be formally charged with a crime.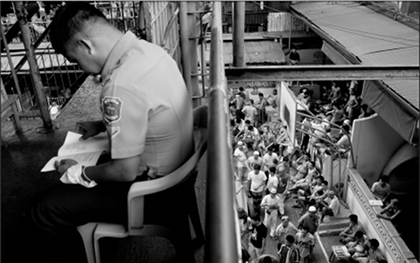 There are also those who struggle for the rights of elderly Filipino World War 2 veterans, those denied a pension by the same US Government they fought with against Japan.
And there are the many anonymous faces of the members of Claimants 1081, a group of victims of torture and abuse under late President Ferdinand Marcos' martial law regime.
Rocamora has observed them all, and strives to tell their stories in his snapshots.
"My role as a photographer is to provide a visual voice for my subjects. I am only a tool for my subjects to tell their story. It is not my story but theirs that is conveyed through my camera."
Story of hope
The subject of Rocamora's last photo-essay is Rodallie Mosende, a homeless girl who lives on Paterno Street in Quiapo, Manila.
Her mother Rosalie is a sidewalk vendor who supports Rodallie and her sister with help from a friend. Together they lives in a stall where they sleep in cots.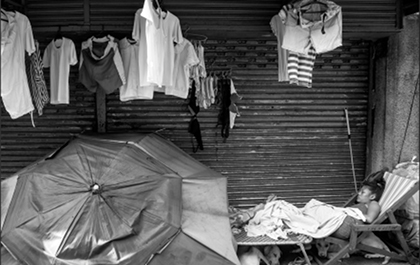 The photographs of everyday moments in their daily life were so compelling to a private benefactor that he offered to pay a full 4-year scholarship so the girl could attend college.
"Choosing a subject is not something particularly planned…I stumbled upon her story. Then I started investigating, more and more, to learn who she was, and thus I was able to convey her story to the broader public, making sure people understand that in the streets of Manila there are people like Rodallie, trying to survive living on the street, but doing their best to raise their situation in life," said Rocamora.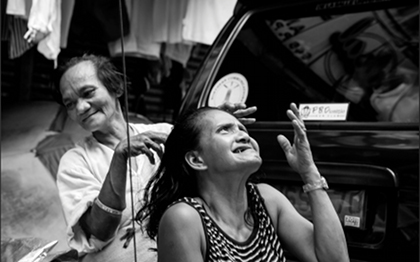 The artist argues that experiences like hers should give us hope for the future.
"Hopefully, also, the people outside will see this work and realize there is an opportunity for us who are in a good situation to help out," explained Rocamora, who noted that in Rodallie's case "somebody volunteered to provide a college scholarship for 4 years."
Martial law
Rocamora's struggle against corruption, poverty, injustice and inequality was born from his rejection of martial law, even if he left the Philippines in 1972 to become a US citizen and returned only in 1986 to document the fall of Marcos.
"My first photograph was given to me by a Maryknoll priest who was deported by Marcos. But even before I started taking pictures, I was already demonstrating against martial law here in the Philippines and in the United States," recalled the artist, who abandoned a successful carreer in the US pharmaceutical industry to become a photographer.
His passion for capturing moments in the lives of his subjects to find the truth took him in his early years to hotspots like war-raged El Salvador and South Africa in the dying years of apartheid, but he kept coming back to the Philippines.
Wherever there is corruption, poverty, injustice or inequality, Rocamora said his real job is "to be an advocate for all these issues, whether I have a camera or not. The camera is secondary, a tool I have been using lately to tell those stories to the public."
And the key is the subject, not the device, to the extent that now he takes most of his pictures with his iPhone.
"I got one as a gift for Christmas. I started playing around with it and realized it is a great tool for capturing moments. For exhibition prints like these you need a big camera, but you can use it very easily for the same requirements of a good photograph: good light, nice framing, composition and the moment." – Rappler.com
[The exhibit is on view at the Pasilyo Vicente Manansala at the CCP Main Theater building from 10 am to 6 pm Tuesdays to Sundays until August 12. Rocamora will hold a talk on June 21.]