Who is the 'sad girl,' and why is she so popular among Gen Z?
For Gen Z, one of the most prominent aspects of social media is aesthetic. With the rise of image-centric social networks like Instagram, Tumblr, Pinterest, and Facebook, no longer are teenage print magazines the gatekeepers of what's in or out. In its place stands large sects of the internet populated by young adults who want to dress, act, or listen to music the same way.
The list of different "aesthetics" is practically endless — you have cottagecore (an aesthetic associated with gardens, romanticized rural life, flora and fauna, and the like), the "clean girl" (often described as those with slicked back hair, minimal or dewy makeup, and a healthy diet and exercise routine), the "e-boy/e-girl" (slightly reminiscent of the "emo" or "scene" aesthetic of the late '90s, early 2000s but with an emphasis on video games and metallic jewelry), just to name a few.
What's helped the rise of these aesthetics among a younger demographic of digital natives is not just the presence of influencers here and there, but social media algorithms that continue to connect users with more pages and content that feed into an aesthetic's popularity.
Enter the "sad girl": one of the most popular and oldest tropes in media. While other, newer tropes focus heavily on fashion and visual markers, the "sad girl" goes beyond that — it's evolved into characterizing a set of (often female) musicians, personality types, mental illnesses, and more. It's a label that has taken a life of its own in internet culture, spawning meme pages that poke fun at those who identify as a "sad girl," and even being fodder for interviews with musicians that have been associated with the "sad girl" genre.
"I think there are two [types] of sad girls: one is the person and the other is the feeling — the genre of music or the mood," shares the admin of Edgar Pinoy Astrology Personality Cultural Philosophical Youth blog, a Filipino meme page with over 110,000 Facebook followers. It caters to a very specific type of humor, blending Filipino pop culture with references to specific Western music, films, and concepts that are traditionally ascribed to people who are fans of non-mainstream media. For those who are within the page's target demographic, they can instantly pick up on the page's obscure references: lyrics to songs of indie-pop musician girl in red, the infamous Cubao Expo hipster crowd, and astrology-crystals-witchcraft enthusiasts.
His definition of "sad girls" (based on his limited observations as a man, he clarifies) are young women who are often online and immersed in social media platforms. "They're influenced a lot by Western culture…from films, TV shows that [often] have themes of coming-of-age, teenage angst, or romcoms…and probably sad, depressing music."
He then rattles off a list of artists and aesthetics he observes are commonly associated with the "sad girl" identity. When it comes to the "sad girl aesthetic," he gets extremely specific with his description, saying, "They probably have bleached hair because it's their way of coping with slight inconveniences in their life. They have glasses and one self-help book. You can google 'sad girl fashion,' and their usual fashion choices would probably show up."
In terms of musicians, he starts off with "their queen, Lana Del Rey," followed by other female musicians such as Mitski, Phoebe Bridgers, Soccer Mommy, Snail Mail, Lorde, and Taylor Swift. This specific set of musicians have come to be known as "sad girl music," most likely for their detailed exploration of a variety of melancholic topics such as heartbreak, estranged relationships with parents, depression, addiction, and loneliness. The page admin chalks this up to Filipinos' fascination with romance, and how "sad girls" often long for relationships and connections — a longing that is frequently referenced in memes for Filipinos in general (i.e., jokes about love and relationships in online communities such as Subtle Clown Traits.)
"We tend to relate to the feelings and accomplishments that we experience as women," shares the page admin of Aling Vickie's Sari-sari Store with Underground Indie Pop Girl's hub, a similar meme page created by a woman for primarily female audiences. "There are times where we can sit and listen to the same artists over and over because we relate with their songs, as if it was written just for us."
The page admin, often lovingly referred to as Aling Vickie, refers to herself as a "sad girl." She says, "The best part of being a 'sad girl' is we enjoy being part of a community. Like sa mga pages like mine…that supports us and makes us feel seen not only on our best days, but [also] on our worst."
"[For me,] 'sad girl music' represents everything — the fear, courage, vulnerability, and tenacity of women. This is the type of music we listen to when we're grieving alone…it's like opening an emotional time capsule. Every time we go back to a song, we're [taken back] by an overwhelming feeling of nostalgia, yet we are no longer bound to it."
When she gives examples of "sad girl" musicians, it's no surprise that she lists down the same musicians referenced by Edgar Pinoy Astrology Personality Cultural Philosophical Youth blog's admin: Lorde, Mitski, Phoebe Bridgers, Clairo, Lucy Dacus, Weyes Blood, and Beabadoobee.
Even Mitski herself has commented on her association with the "sad girl" trope. In an interview with Crack Magazine held earlier this year, she said, "You know, the 'sad girl' thing was reductive and tired five, ten, years ago, and it still is today…let's retire the 'sad girl' shtick. It's over."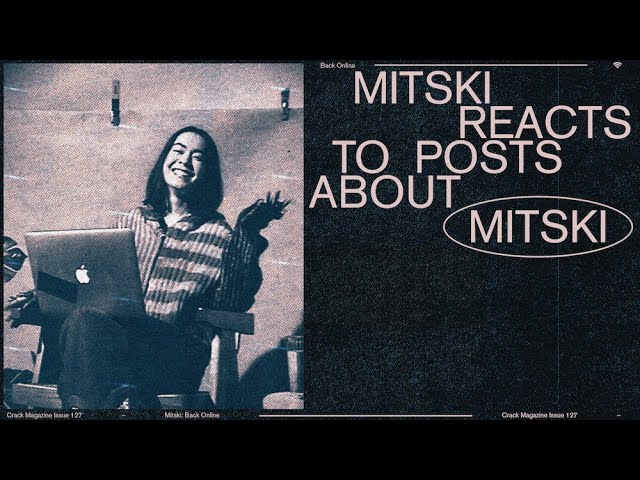 Mitski's aversion to the "sad girl" is not something new. Many have documented the rise of the "sad girl" phenomenon in the past decade, albeit from a Western media standpoint. A 2015 think piece by Alice Hines published in i-D is one example of those who have tried to piece together the history of the term. She says, "Like many things on the Internet, Sad Girl became a brand and a think piece before it was a sentient cultural movement. But it's no health goth — the term describes real people with identifiable qualities. Sad Girls are young women, likely in affluent Western countries, who spend time online and embody a particular paradox: the desire to express their deepest interior feelings through an aesthetic many consider formulaic (waifish frames, cursive tattoos)."
Thanks to globalization, the "sad girl" has been exported worldwide, and its Philippine localization fuses Filipino hipster culture with Western influences. While Hines focuses on the commodification of sadness for profit, the Philippine "sad girl" is less about the spending and more about commentary on how Western media influences our self-image and Filipino society.
This is why it may come as no surprise that the "sad girl" trope has rarely moved out of online spaces that are often populated by those who frequent the local music gig scene and its adjacent communities. The "sad girl" is arguably Gen Z's iteration of Filipino hipsters — still visiting Cubao Expo, causing the 21st century resurgence of Eggboy's 1998 underground classic album 98-05, but doing it online and with the characteristic social awareness of the generation. "Sad girl" memes have touched on mental health, current events, socioeconomic class, feminism, and more, coupled with its signature tongue-in-cheek, satirical humor.
For Aling Vickie, the "sad girl" is relatable, despite its Western influences. "When we reference 'sad girls' in our [meme templates,] it gets a lot of engagement. Maraming natutuwa kasi (A lot of people are amused because) they recognize their favorite artists, and somehow that's the way that creates a community [of people] with the same genre, same taste, interests, and personality."
What then, makes a "sad girl?" The "sad girl" is always on social media, bombarded with news and current events, media, and memes. The "sad girl" marries the West with the Philippines. She's more inside joke than label. At the end of the day, it's an internet niche that encapsulates everything that Gen Z is: self-aware, ironic, and chronically online. – Rappler.com