Should your tattoo have a deep meaning? Can you ask your tattoo artist for a discount? Get the answers to these questions, and more.
While tattoos are no longer as taboo as they were a few decades ago, the decision to get inked for the first time is still very daunting. Tattoos are still permanent, and they still hurt like a mudderfudder. It is not a choice you make lightly (unless you're drunk and feeling adventurous, in which case, our deepest sympathies).
Fortunately, since this form of body art is talked about more openly these days, inked folks are more than happy to give advice to those who want to face that big, buzzing needle once and for all.
We asked our tatted-up readers on social media the most important things to remember or consider, and here's what they had to say:
On choosing a design
Choosing the design is the first and probably hardest step you'll have to take. The possibilities are endless, and you might get paralyzed trying to decide and not go through with the deed.
Some readers feel you should think long and hard about what you want to have on you:

Others take a more liberal approach – whether it has a deep meaning or not, what matters is that it's what you want!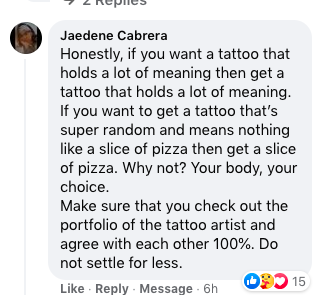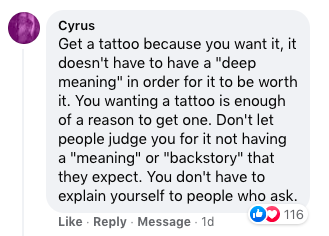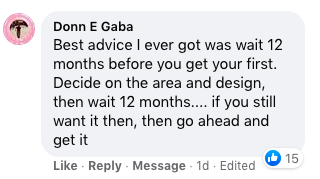 Absolutely no names!
When it comes to designs, though, readers have one piece of advice in common: Do NOT have a loved one's name inked! It doesn't matter how much you love them at that moment! You just can't risk it! #NoRagrets!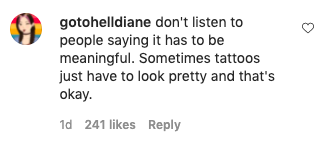 Spell-check!
If you're going for a text tattoo, quadruple-check the spelling – including when the outline is already on your skin. Also, avoid getting tats in a language you don't speak, or in symbols you can't read. As cool as it may look, if you're not 100,000% sure of what it says, avoid it and save yourself from potential embarrassment.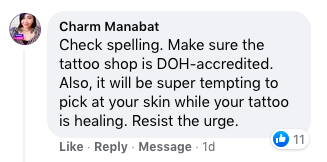 Do research on your artist
There's a reason tattoo artists are called artists – it takes real skill, expertise, and passion to do a good tattoo. Fortunately, most artists worth their salt have social media accounts you can check to assess their works for yourself. Besides checking whether their tat work looks clean and professional, also check if the style of their work matches up with what you want. Some artists are great at lettering but terrible at portraits. Some do realism well but are not as strong with illustrations. Pick the one who seems hiyang to you.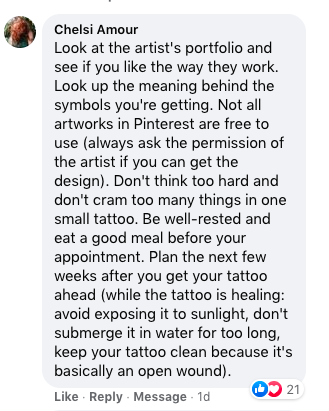 Now is not the time to be cheap
There is also no way around this: Good tattoos are expensive. Like we said earlier, you're getting work done by an artist, someone who went through years of experience to do what they do well. So when you do your canvassing of prices among artists, don't choose someone just because they're the cheapest and don't ask for a discount either. In the tattooing world, cheap instantly means low quality, period. These artists know what they're worth!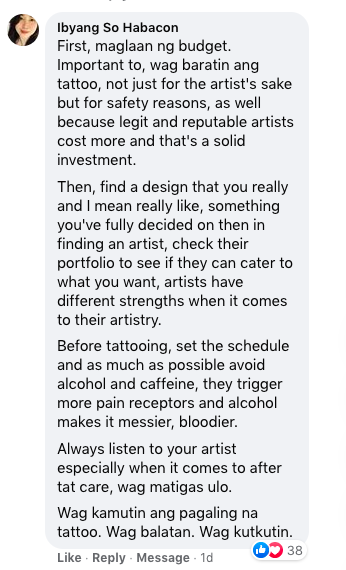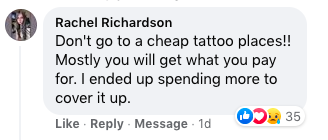 Prepare yourself
Finally, once you have your design down pat and your artist picked, make sure you are healthy and rested before your first-ever tattoo day. Going through pain isn't fun, but it's even more excruciating when you're tired or not feeling 100%. Remember: Tattoos are basically open wounds that will need to heal over the next few weeks. If you're not physically healthy during this time, then the whole process will be more painful in the long run.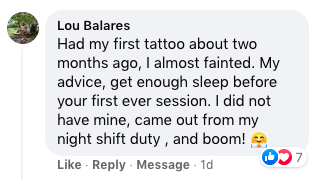 Every first-time tattoo experience is unique, but the process of getting art permanently etched onto your skin will always be exhilarating. So don't overthink it! Do your homework, save up a bit of cash, and go out and have that life-changing experience! – Rappler.com