Why not do away with a lavish year-end party and just start a Christmas fundraising activity?
Christmas is the most wonderful time of the year. As early as September, we Filipinos are already looking forward to wrapping our gifts, organizing (virtual) year-end parties, and preparing for Noche Buena.
But not everyone gets to enjoy the festive holiday season. For some families, it's just another challenging time – with the pandemic and long lockdown making it worse.
So as we celebrate this season of giving, why not take this chance to give back to the community? After all, what better way to spend the holidays than by sharing your blessings?
To really help you get into the holiday spirit, we've rounded up a list of organizations and centers that you can consider donating to:
World Vision Philippines
World Vision Philippines is a global Christian organization that provides education and health needs, as well as disaster response, to children, ultimately to help them overcome poverty.
For the holiday season, they have the annual Noche Buena campaign to ensure that more families can enjoy a simple feast on Christmas Eve. In 2020, the campaign was able to sponsor the meals of over 30,000 families.
A one-time donation of at least P1,000 to their Noche Buena campaign will provide two families with a special meal package this holiday season. On their website, interested donors can also opt to donate a higher amount if they want to sponsor more families.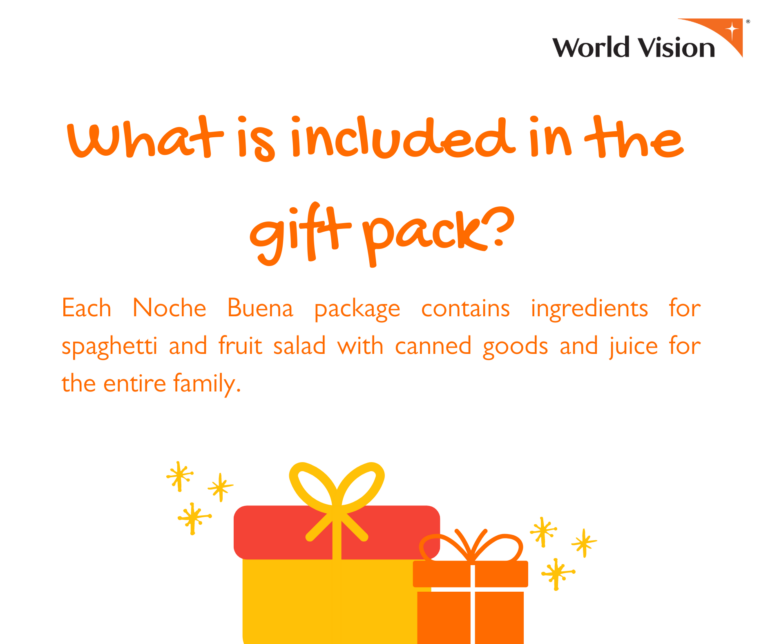 World Vision Philippines also assures that in case the total amount of donations exceeds what is needed, they will redirect the extra funds to similar activities to help more children and families in need.
Project Pearls
Project Pearls is a non-stock, non-profit, and non-partisan organization that aims to provide a better life to poor children and families by helping them with their education, nutrition, health care, and livelihood.
With their annual Adopt-a-Family project, a monetary donation of at least P1,000 translates to a Noche Buena grocery pack good for a family of six to eight, gifts for children, and personal protective supplies such as face masks and hand sanitizers.
"Our Christmas goal is simple: To ensure that the thousands of children and families in the communities we serve have decent meals on Christmas Day and not food scavenged and recycled," Project PEARLS said.
For more details about donation and transparency reports, check out their website.
Negrense Volunteers for Change Foundation, Inc.
Negrense Volunteers for Change (NVC) Foundation, Inc. is a non-stock, non-profit organization that aims to help in providing a better future for Filipinos.
This Christmas, they have two campaigns – Project Joseph and Artisans of Hope.
Project Joseph is their initiative to provide resources to skilled and talented people for their livelihood. "With just a little bit of help, they could fulfill their dream of earning more and living a better life," NVC said.
Donors can choose from a list of Project Joseph tools – a drill set for carpenters, a sewing set for seamstresses, or even a pedicab and motorized tricycle. NVC assures possible donors that selected beneficiaries have the skill and talent to earn a higher income. They'll also be responsible for assigning the donation to a waiting beneficiary.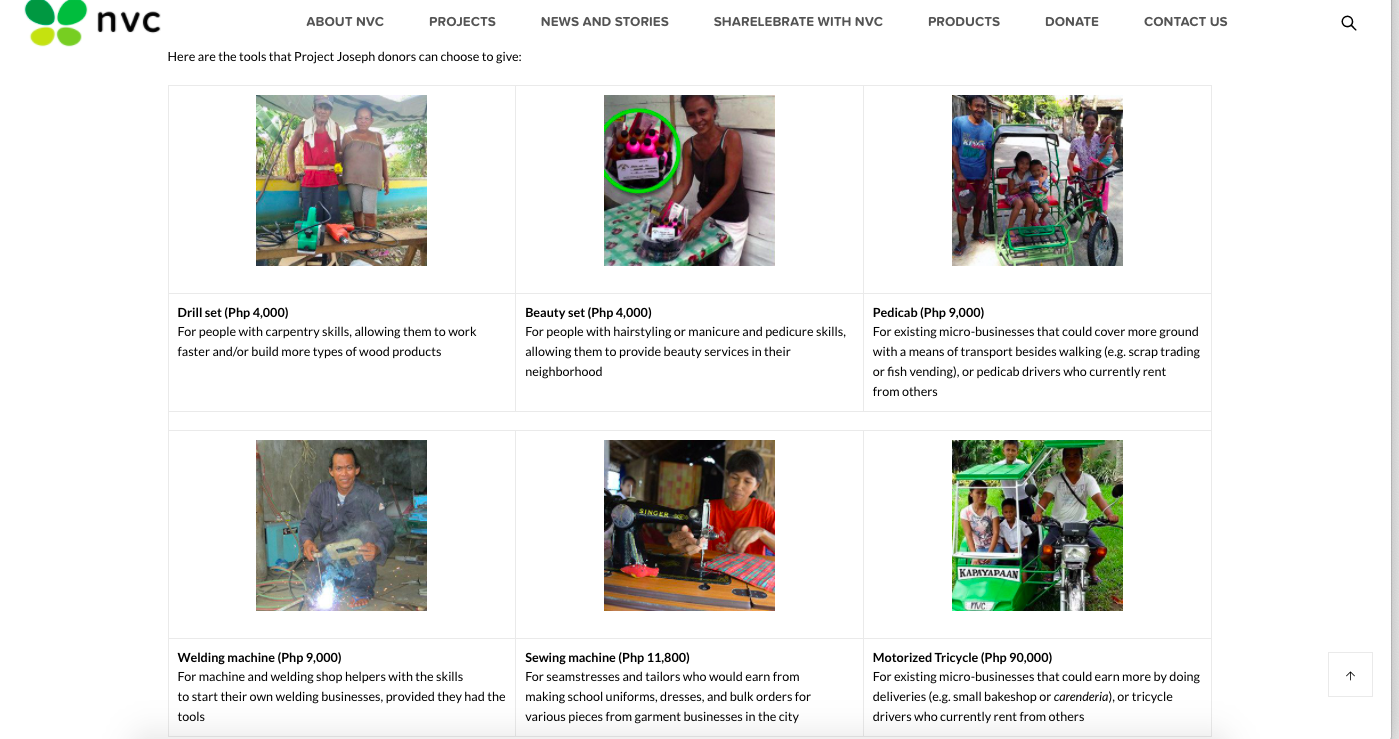 Interested donors can check out their website on how to make a donation.
Meanwhile, Artisans of Hope refers to the NVC-trained artisans who create handmade projects. Aside from these artisans directly benefiting from the items they make, NVC said that the initiative also helps raise funds for their feeding programs.
For the Christmas season, the artisans have prepared several holiday-themed products such as nativity rings, hand-crocheted mini-parols, upcycled accessories, and mosaics.
Some of their upcycled Christmas ornaments also come with a subscription to meal sponsorship packages. Not only can you support the local artisan's livelihood and feed children, but you also get to take home cute decorations with a gift box and sponsorship card!
Interested buyers can check out their 2021 Holiday Collection Catalogue for more details about the projects and purchasing process.
iVolunteer Philippines
iVolunteer Philippines is a portal that collates volunteering opportunities around the country, so possible volunteers can easily find the activities that match their skills, interests, and advocacies.
With iVolunteer Philippines, volunteers can choose whether to "volunteer your treasure," meaning make monetary donations, or "volunteer your time" by participating in their activities.
On their website, some of the donation programs include raising funds for the medicines of the elderly, vitamins for children diagnosed with cancer and chronic kidney disease, story books and hygiene kits for children, fishing equipment for fishermen, grocery bundles for the community, and more.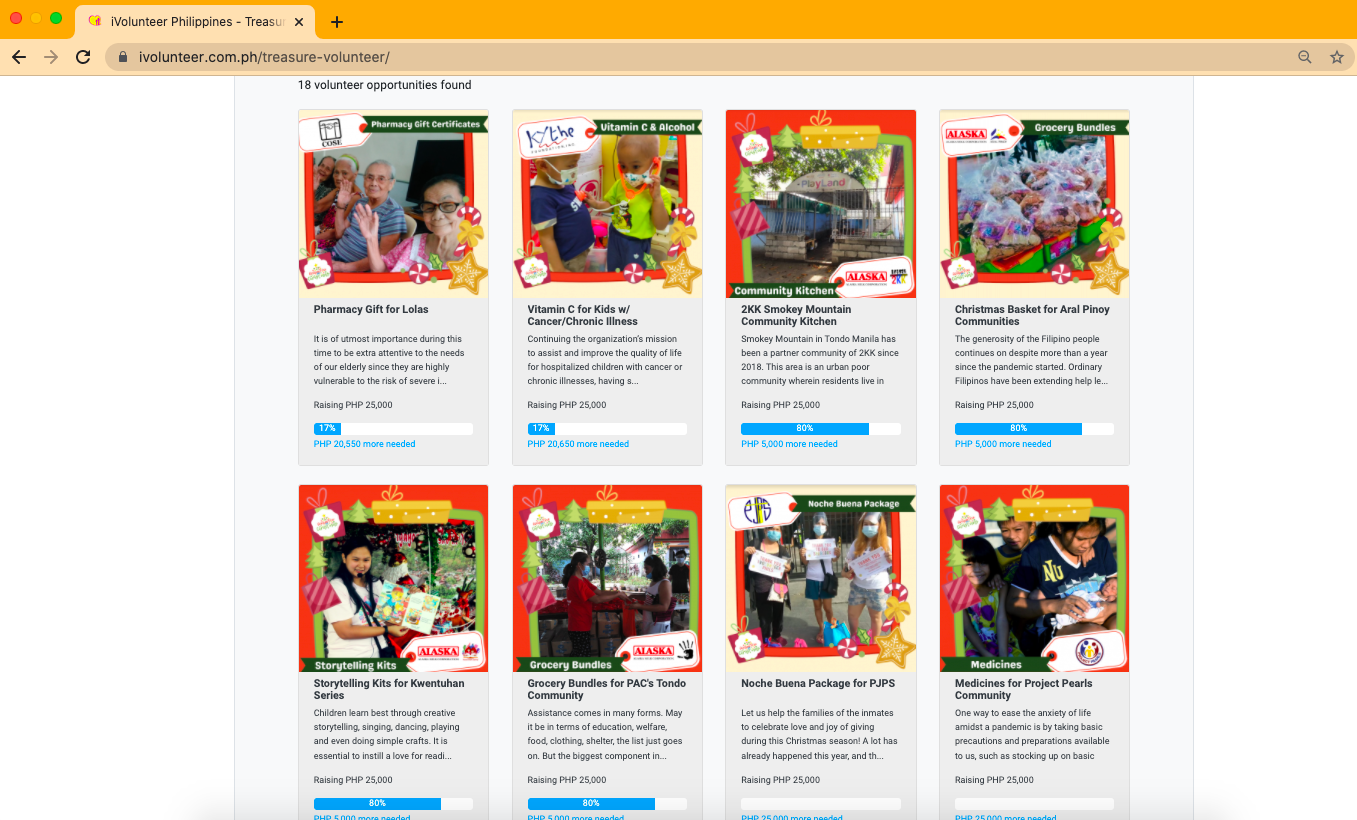 This holiday season, they also have the Noche Buena Package campaign. 100 families of inmates are the target beneficiaries and each package contains one spaghetti pack, cheese, and three canned goods.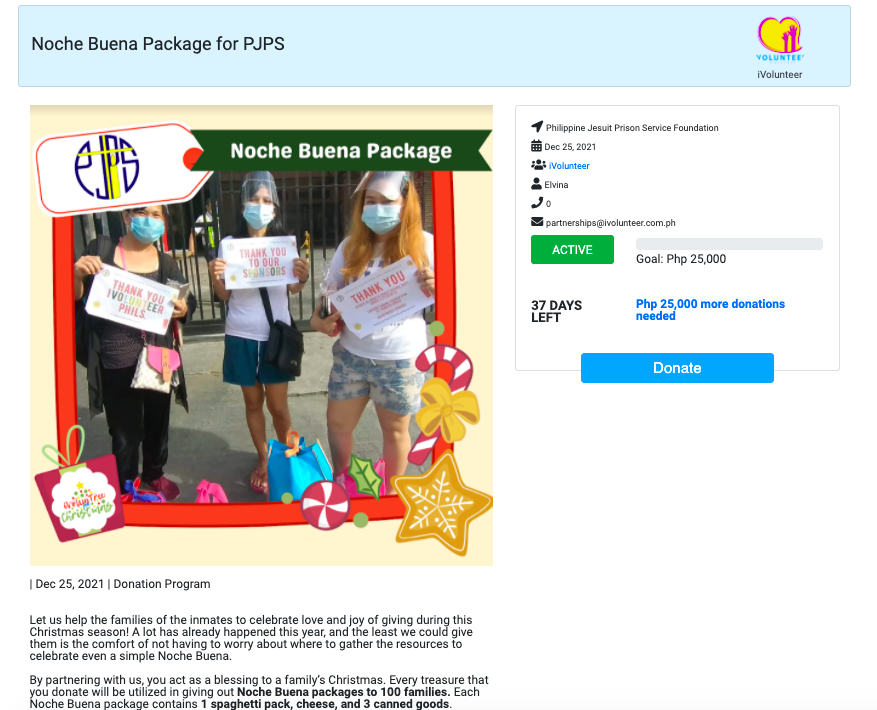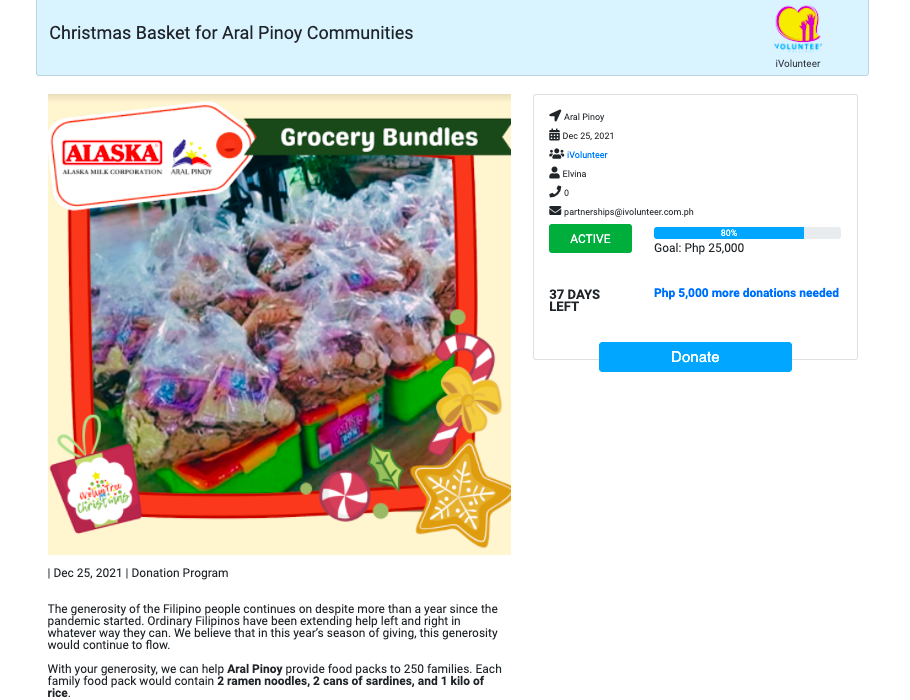 Each donation program in the iVolunteer Philippines page also includes details about the partner organization, the target goal, the amount of donations needed to complete the target, and the number of days before a donation drive closes.
If you don't have money to spare, they also encourage interested donors to "volunteer your time" by participating in activities as a storyteller, writer, volunteer tutor, or facilitator – all of which can be done virtually.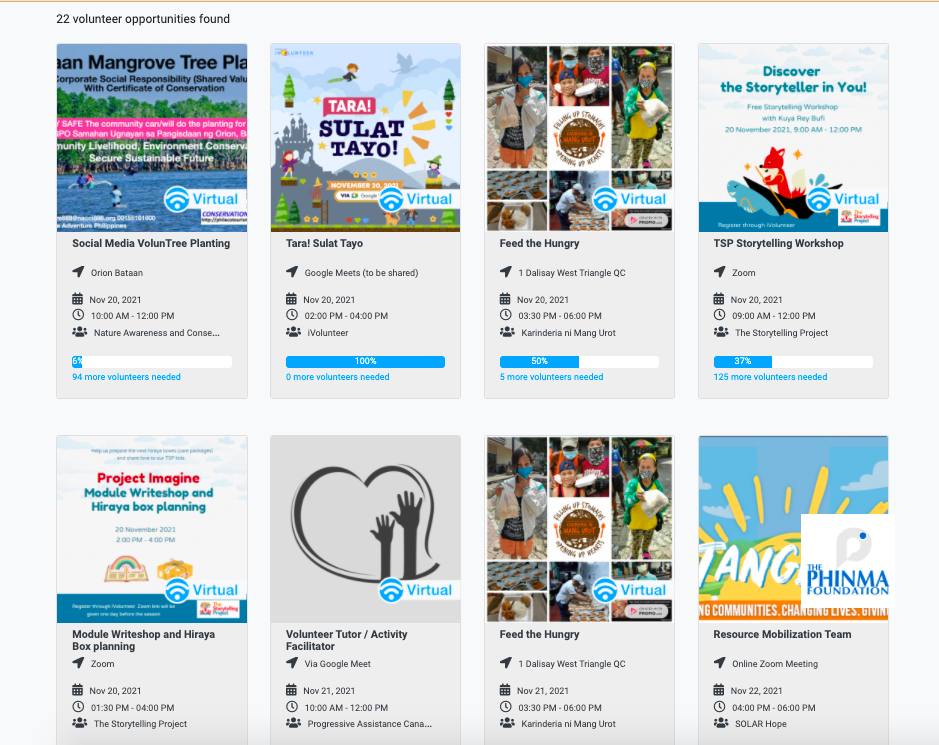 Save the Children
Save the Children is an international non-profit organization that responds to the needs of kids in the Philippines. It offers sponsorship programs for underprivileged Filipino children that aims to provide quality care, education, and job training programs for babies, kids, and adolescents – all through their Global Action Fund.
For the holidays, they launched the E-Regalo sa mga Bata fundraising campaign. It's an appeal for donors to raise money with family and friends to help support children that are in need.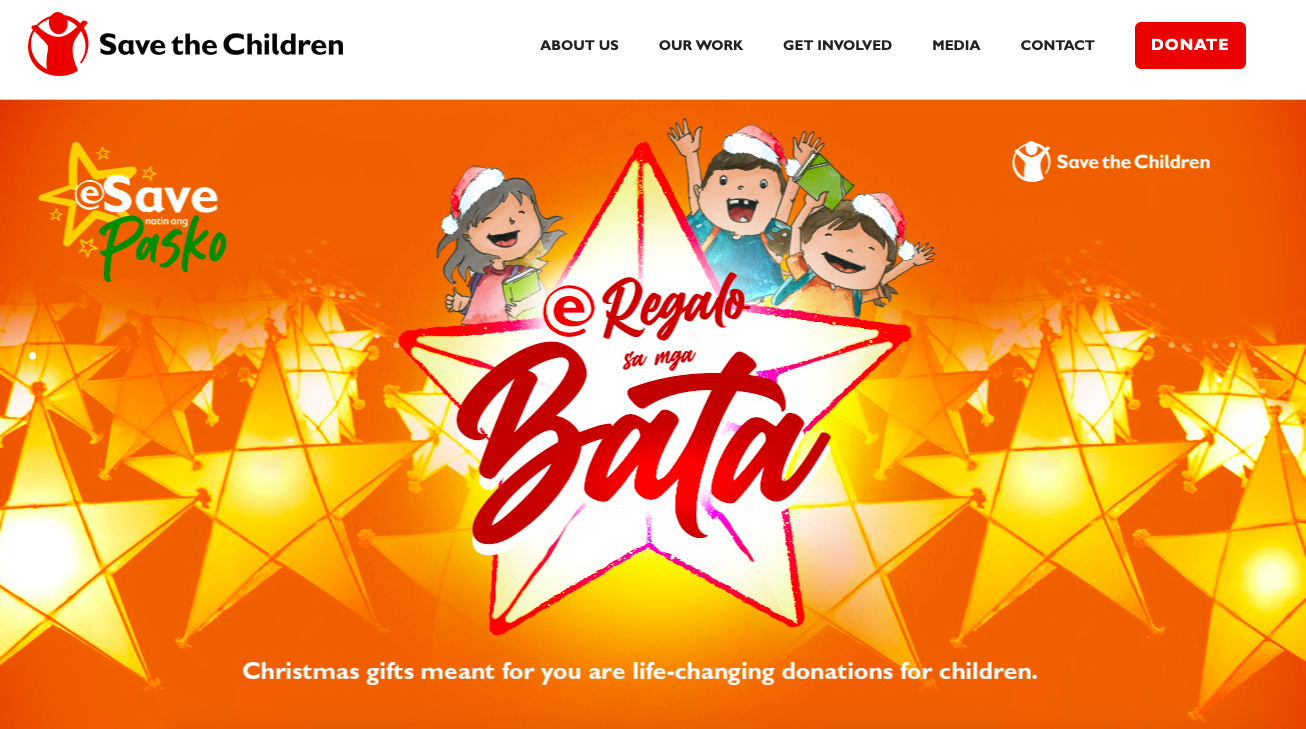 A P10,000 donation can provide 12 children with learning kits for their continued education or five families with learning kits that include life-saving essentials needed amid the pandemic.
Check out their website to learn more about starting your E-Regalo sa mga Bata fundraiser.
UNICEF Philippines
UNICEF Philippines is a non-profit organization that primarily promotes the rights and well-being of children, with a special focus on helping children that are in greatest need.
This Christmas season, donors can choose whether to make a one-time donation of at least P1,000 or pledge at least P600 for a monthly donation. On their website, donors can know how the amount will be used – a P750 monthly donation will provide 10 children with early education through home-based learning activities while a one-time P3,000 donation will fund the children's vaccines.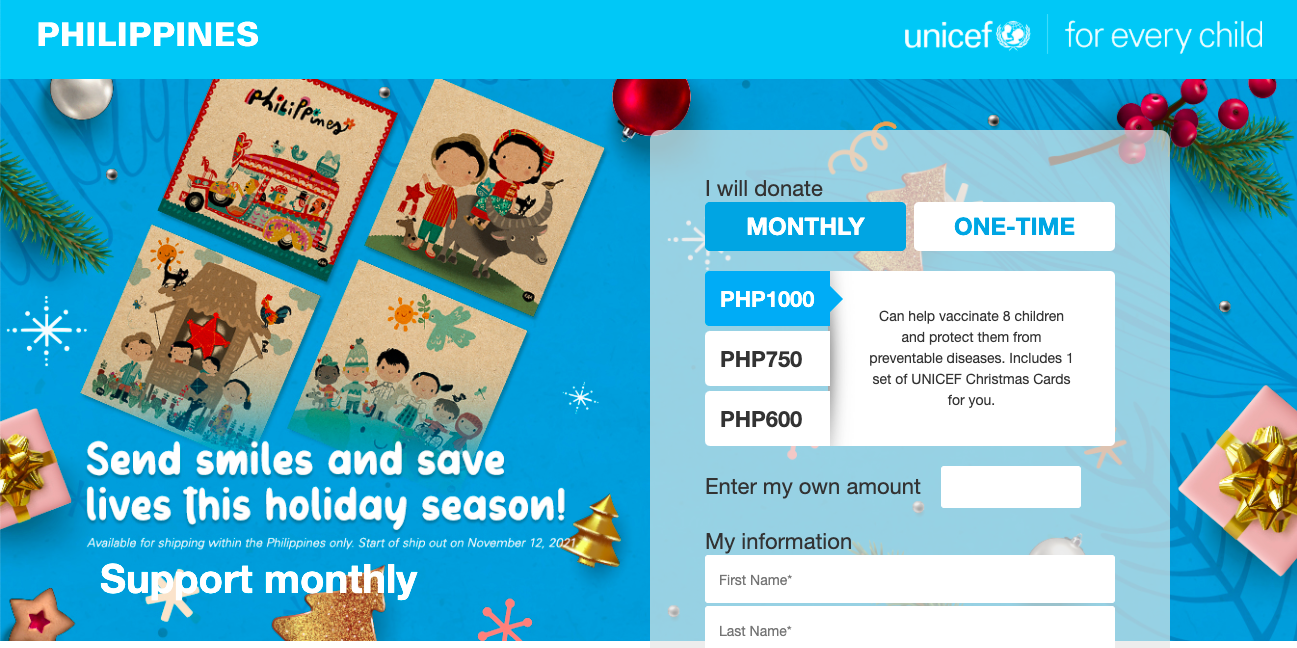 As a bonus, they're also rewarding donors with a box set of UNICEF Christmas cards designed by award-winning artist Robert Alejandro! Each set includes 12 cards in four designs.
Virlanie Foundation, Inc.
Virlanie Foundation, Inc. is a private, non-profit and non-sectarian organization that serves children (0 to 14 years old) and youth (aged 15 to 25) at risk, their families, and marginalized communities in the Philippines.
With their annual Virlanie Christmas, donors can give a child a Christmas aguinaldo, toys, or new set of clothes, give a family a grocery pack for Noche Buena, or fund a Christmas party for a Virlanie Home, through their digital vouchers.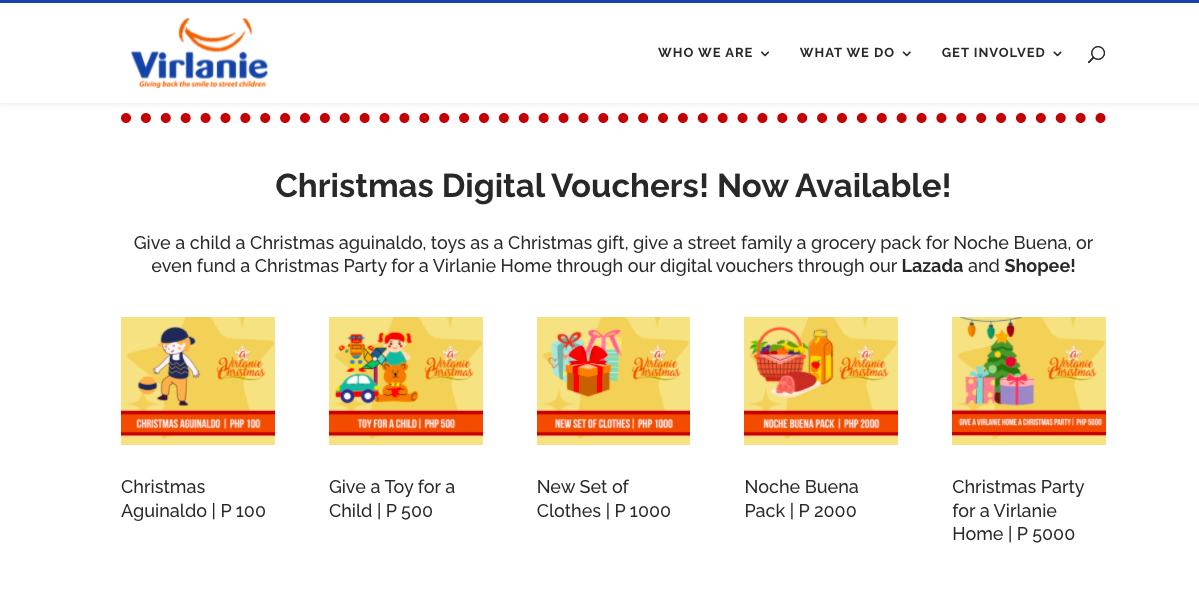 You can take it up a notch by joining their Be A Santa Wishlist Challenge, where donors can either donate in-kind, fundraise for a gift, or organize a virtual party for the children beneficiaries. You can check out their website for more details.
With all the uncertainty and challenges brought about by the pandemic, a little help right now goes a long way.
So instead of splurging on a new gadget, why not pledge a portion of your 13th month pay for a Noche Buena package? Or do away with a lavish year-end party and just start a Christmas fundraising activity?
It might just be spare cash for you, but your donation will mean a lot to others. – Rappler.com