This is AI generated summarization, which may have errors. For context, always refer to the full article.
From artisanal pastries to savory dishes suited to big gatherings, from healthy options to booze-spiked sweets – these are great ideas for Noche Buena, potluck dinners, or gifts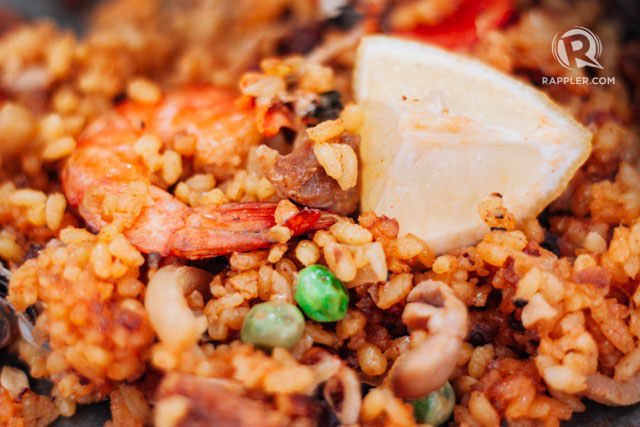 MANILA, Philippines – The kids look forward to the aguinaldos from their jolly titos and titas, while the older folks exchange loads of presents. But Christmas is also a time for thanksgiving – a celebration best spent in the company of family, friends, and colleagues gathering around a sumptuous feast.
In the spirit of the season, we give each other tokens of our appreciation for the year that has passed, such as silly trinkets exchanged in Secret Santa, or even boxes of the classic fruitcake.
Since 2011, Yummy magazine has organized Yummy Eats, a holiday food festival that brings together food and drink brands that their team have handpicked. Here, foodies in Manila converged last November hoping to pick up some ideas for their Noche Buena, potluck dinners, or gifts.
From artisanal pastries to savory dishes suited to big gatherings, from healthy options to booze-spiked sweets – there were plenty of choices for every palate and appetite. Here are our own top picks:
Spicy adobo mushrooms from Kabutehan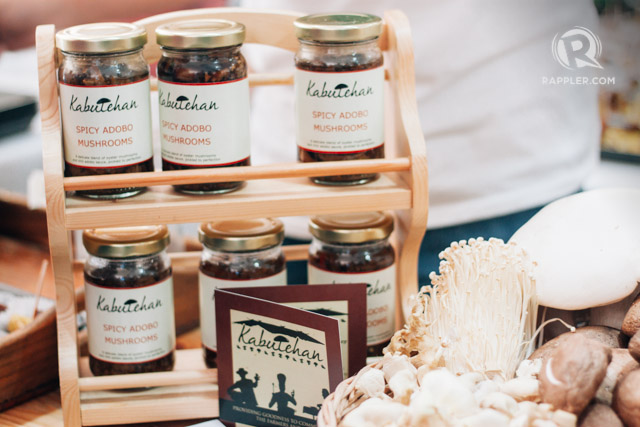 Packed with a lot of heat, these spicy adobo mushrooms (P200) in a jar are extremely tasty – great with crackers, toasted bread, or if you dare, on its own.
As the clever brand name suggests, it's also a social entrepreneurship brand that helps out Gawad Kalinga community members sustain a livelihood through mushroom farming.
GK Enchanted Farm, California St., Brgy. Encanto, Angat, Bulacan
Facebook | kabutehanmushrooms@gmail.com | (+63 917) 581-7458


Chili and salsa from Chili Asylum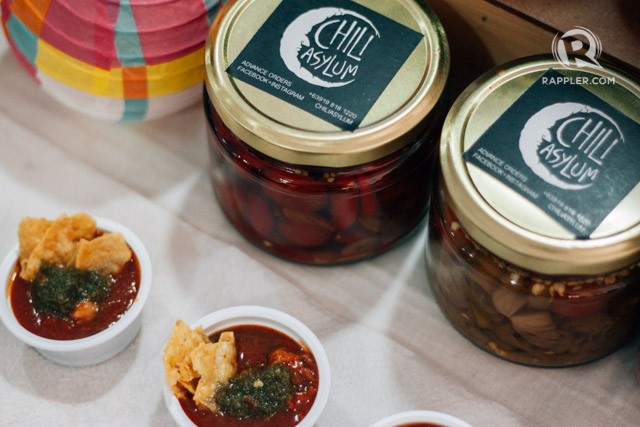 Serve with crispy nachos, and you're all set for some zingy appetizers. The salsas are available in watermelon, tomato, black bean, cucumber sambal, mango, and corn varieties (small – P300; big – P500). On the other hand, the chilies come in corned beef (P800), super veggie (P500), white chicken, and red chicken (P500).
Facebook | Instagram | (+63 919) 818 1220


Jams and marmalades from Whisk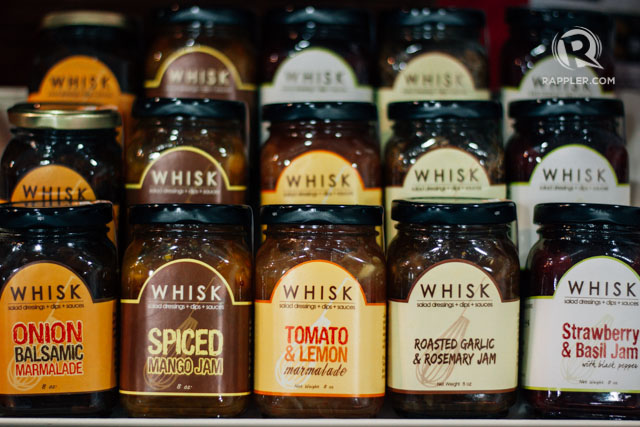 Spread these savory and sweet jams and marmalades on finger sandwiches, and then serve them as appetizers. Like anything that comes in jars, they can be lovely presents, too (P240 to P280; gift boxes available).
Facebook | Instagram | (+63 917) 877-1948


Classic caviar pie from Art of Pie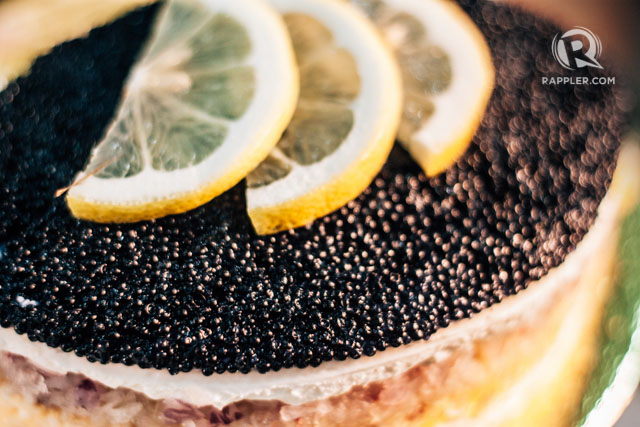 A caviar pie would be a posh but exquisite addition to a holiday feast. Savory as they are hearty, the ones from Art of Pie come in classic (P850/3.5-inch; P2,200/6-inch) and smoked salmon (P1,350/3.5-inch; P3,000/6-inch). Each order comes with a pack of wholegrain crackers.
Facebook | Instagram | chefkyra@ymail.com | (+63 917) 509-4855


Empanadas from Mama Empanada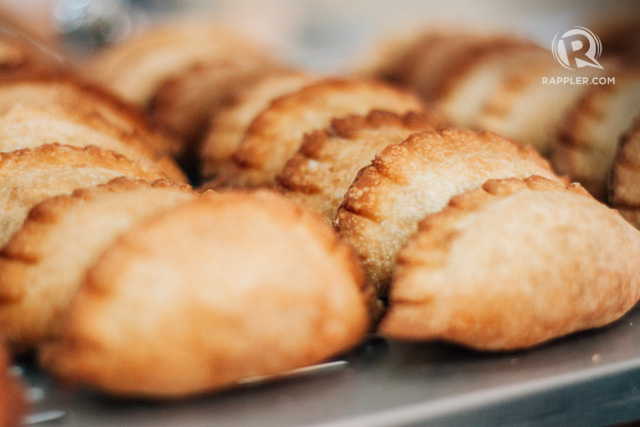 The empanada is a Filipino favorite, and this one from Mama Empanada (P420/box of 12; P280/box of 8; P210/box of 6) is made from a time-tested recipe in use circa 1979. Filled with classic chicken, tuna, pork, or beef, these pies are a tasty prelude to an epic Noche Buena or feast at a family reunion.
Pick-ups at Valle Verde 5
Facebook | Instagram | (+63 915) 863-3156


Flavored artisanal sausages from The Butchery
The Butchery offers artisanal sausages made in cooperation with local organic farmers. Their sausages come in a variety of exciting flavors such as saffron, mint & tarragon, caramelized onion & mozzarella, parmesan & parsley, red wine & rosemary, buffalo & celery, chicken Kashmiri masala, and jalapeño (P1.08 to P1.40/gram).
If you can't decide on a single flavor, they have a sausage sampler gift set (P1,400), which you can generously share… or hoard.
Delivers anywhere in Manila, no minimum required (delivery fee – P100)
www.thebutcherysausage.com | Facebook | Instagram | order@thebutcherysausage.com | (+63 917 795-5005), (+63 2) 412-0682


Traditional Spanish tortilla de patata from Mantequilla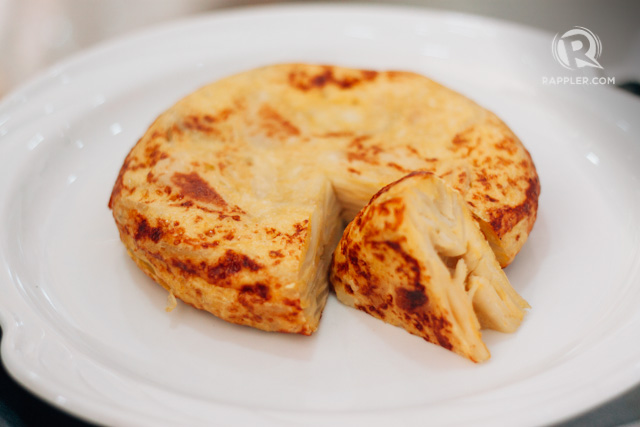 Savory and plump, this tortilla de patata (regular – P170; special, with cheese, chorizo, or bacon – P200) is a piece of our Spanish heritage that can do well on the side of meatier holiday dishes, or just on its own.
36 Juan Luna Street, San Lorenzo, Makati City
(+63 920) 945-8387, (+63 920) 938-7157


Paella Mixta from Casa Medillano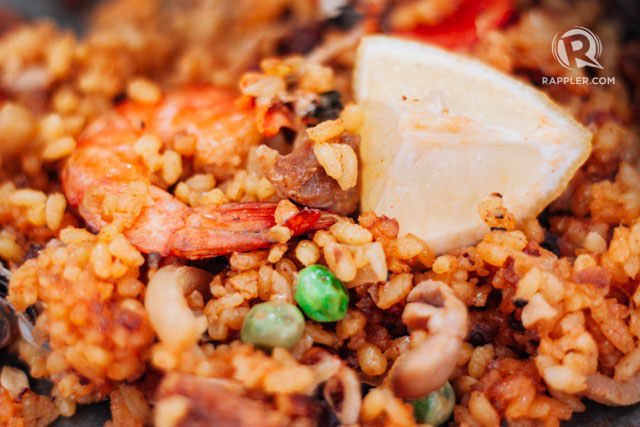 Another Iberian classic, Casa Medillano's paella mixta (P2,400 – 6-8 servings; P4,200 – 12-14 servings; P6,200 – 18-20 servings) was quite a hit at Yummy Eats. Have something as hearty as a plate of this flavorful arroz for the holidays.
50 Roseville St., White Plains, Quezon City
Facebook | (+63 916) 556-8842, (+63 917) 880-1469


Boneless lechon Bai's Boneless Lechon Cebu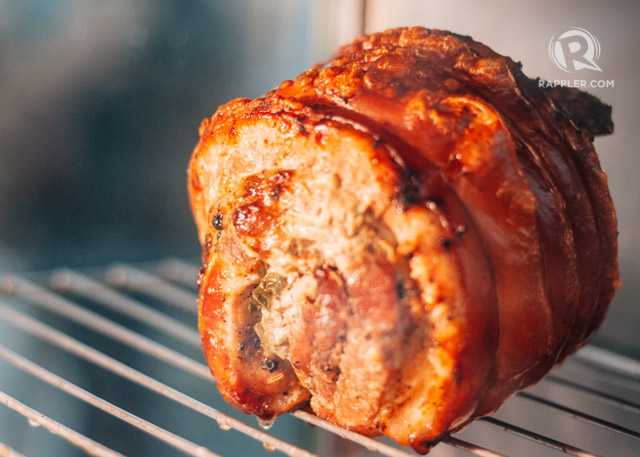 It looks like porchetta, but it's actually a classic, boneless lechon (P675/family pack; P1,100/10-15 pax; P2,100/20-25 pax). This take on lechon is all well-seasoned and succulent pork, and sarsa or vinegar wouldn't be necessary. You can also have itspicy.
Facebook | (+63 917) 582-5333


Baked herbed chicken from Mommy Ann's Kitchen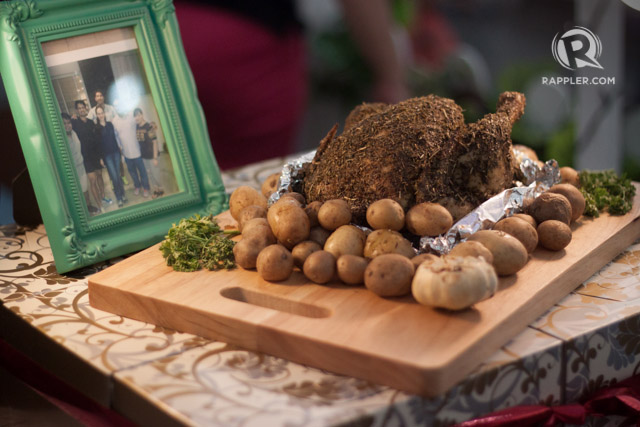 There's nothing like a chicken that's fresh out of the oven, as the fragrance of herbs encrusting it wafts through the room. This baked herbed chicken from Mommy Ann's Kitchen is exactly what you'd imagine a Christmas spread would have: juicy and warm with a side of garlic, potatoes, and sauce (special, with baked garlic and baby potatoes – P550; regular, with sauce – P450).
102 Scout de Guia Street, Tomas Morato, Quezon City
(+63 915) 671-1743, (+63 998) 542-5714

Craft beers from Nipa Brew Craft Beer Co.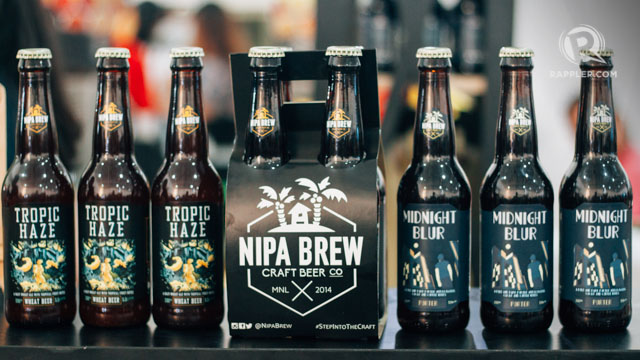 Wash down all the rich and heavy food at your holiday dinners with some ice-cold bottles of craft beer. They're brewed in small batches and are available in varieties such as Tropic Haze, a light wheat beer, and Midnight Blur, a full-bodied porter (P150/bottle; P550/4-pack).
Facebook | Instagram | Twitter | nipabrew@selula.com.ph


Fully loaded fruitcake from Casa San Luis (CSL) Pastries by Carmela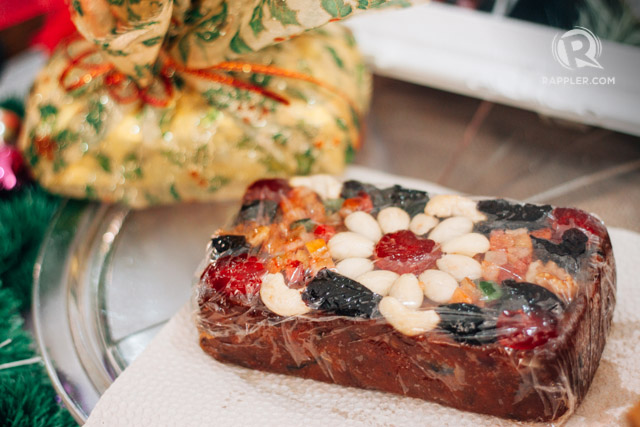 Based on an heirloom recipe, Casa San Luis's fully loaded fruitcake (P190/150g; P400/trio of 150g; P390/330g) comes in two varieties. There's Provençale, inspired by the flavors of Southern France like strawberry, apple, apricot, fig, and cherry plum, and tropical, made with local fruits such as mango, pineapple, papaya, coconut, guava, and passion fruit.
Facebook | casasanluispastries@gmail.com | (+63 916) 644-8522


Pufft marshmallows from Pufft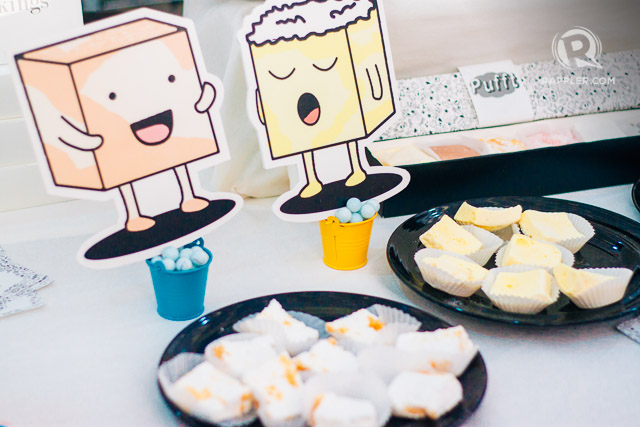 Most marshmallows have this singular vanilla-like taste, but Pufft's version veers away from that, coming in wonderful flavors like lemon soufflé, salted caramel, strawberries & cream, chocolate cookies & cream, mint chocolate, and gourmet vanilla (P280/box of 6).
If you're having chocolate fondue or a chocolate fountain for your holiday spread, this would be great for those, but you can just pair it with a warm drink or have it on its own.
Meet-ups at The Fort Strip (Bonifacio Global City), Century City Mall (Makati), Eastwood Mall (Quezon City), Nuvali (Santa Rosa, Laguna)
Facebook | Instagram | pufftmarshmallows@gmail.com | (+63 916) 400 9764
Calamansi pie and BB-8 chocolate ganache cake from Earnest Bakes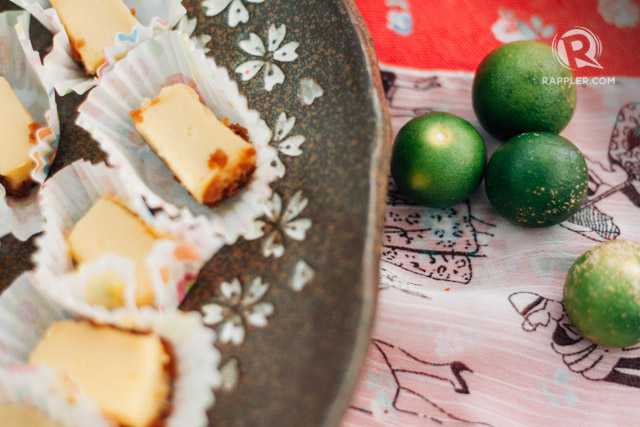 Calamansi pie seems to be all the rage now, and they can be found in several cafés in the city. This one by Earnest Bakes (P950/whole) balances the sour calamansi and the sugar well, making each bite delightfully tart and velvety, yet not overly sweet – just like a good key lime pie.
The brand's namesake, Earnest Zabala, loving wife to Eraserheads bassist Buddy Zabala, told us about their geeky tendencies, which they've indulged with lots of help from their artist friend Jovan de Ocampo. In time for the December 17 release of Star Wars Episode VII: The Force Awakens, they've made everyone's new favorite astromech droid, BB-8, into a 2-D chocolate ganache cake (Price available upon request).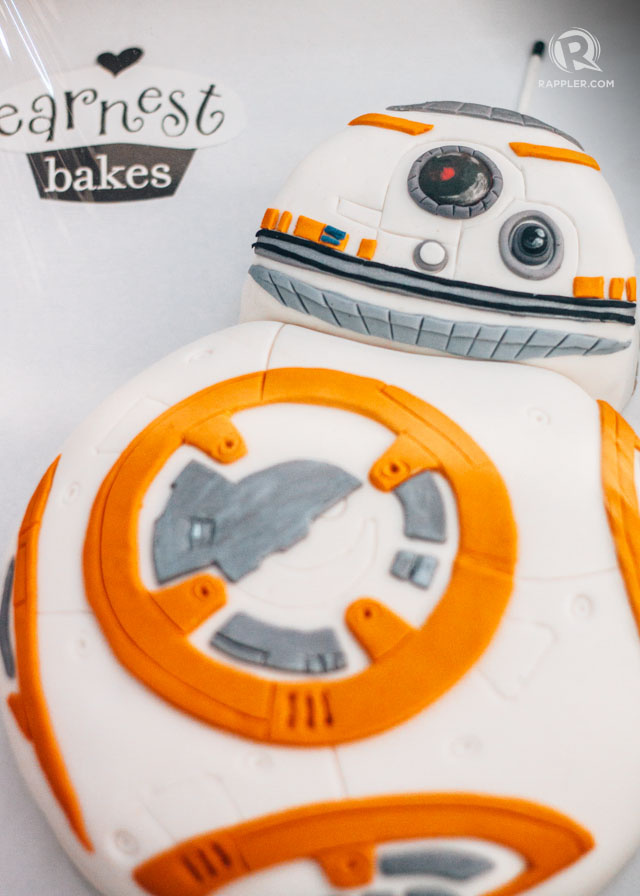 Facebook | Instagram | earnestbakes@gmai.com | (+63 917) 813-5819
Bundt cakes from Bundtwagon by Cara
It sounds like it's a Weihnachten treat, but the bundt cake was actually popularized in mid-20th century Minnesota. Today, it's not bound to a single recipe, but it can still be distinguished by its plump ring shape.
Bundtwagon makes them in delicious varieties like banana, coffee, and oh-so-decadent red velvet (P900/whole; P85/mini).
Facebook | Instagram | (+63 917) 868-7053
Alcohol-laced cupcakes from Cake Shots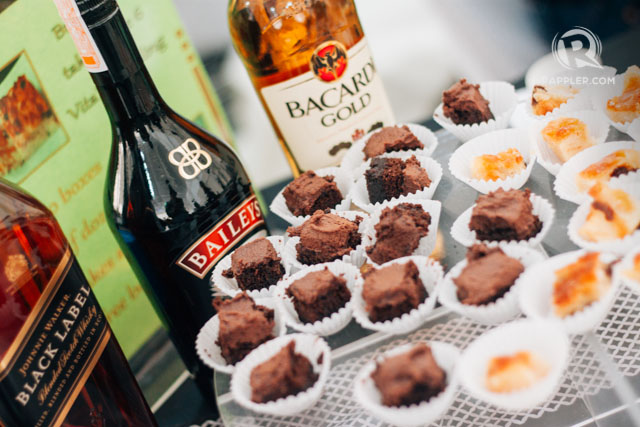 Keep these cupcakes away from the underage kids. These are amazing concoctions spiked with liquor, and Cake Shots doesn't add booze just for novelty's sake.
A splash of Johnny Walker Black Label makes the Black Label chocoholic (premium shot – P1,080/box of 12; P570/box of 6; P100/solo), a chocolate ganache-filled cupcake, taste even more decadent. A coconut daiquiri (shot – P850/box of 12; P450/box of 6; P80/solo), with lemon, coconut, and Bacardi, is a tropical dream in the form of a fluffy cupcake.
Delivers via foodpanda (87878)
Facebook | Instagram | cakeshotsph@gmail.com | (+63 906) 326-9209
3-step jar cakes from Voila!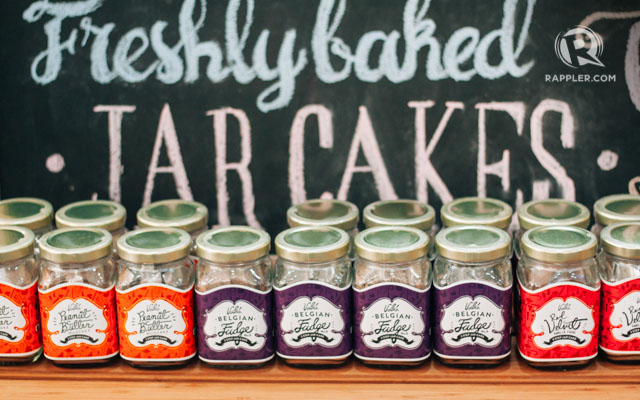 It's a bit unconventional to give out cake mixes as gifts, but who can resist a fresh, warm cake that's easy to make as 1-2-3? For these Voila! jar cakes (P150), just add 6 tablespoons of water, mix, and pop in the microwave. They come in luscious flavors like red velvet vanilla, Belgian fudge No. 5, and peanut butter mudcake.
Unit 301 Millennium Place, Ortigas Center, Pasig City
www.voilajars.com | Facebook | Instagram | (+63 917) 856-0600
Earth (cream cheese mousse) from Entremet Boulangerie Patisserie + Café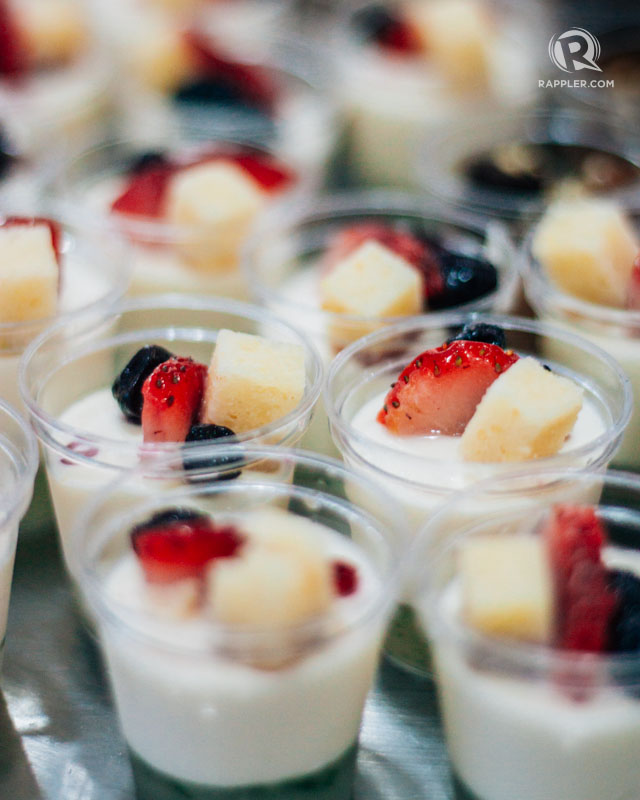 Go fancy for your Christmas dinners or lunches with this cream cheese mousse dubbed Earth (P90/piece; P800/box of 9). Topped with blueberry, strawberry, and olive oil cake, plus basil jelly at the bottom, it's a dainty dessert made in the meticulous French tradition.
Unit 9 Business Offices, Starmall, EDSA corner Shaw Blvd., Mandaluyong City
Instagram | entremet.cafe@yahoo.com | (+63 2) 785-6842
Leche flan from Amada's Leche Flan & Desserts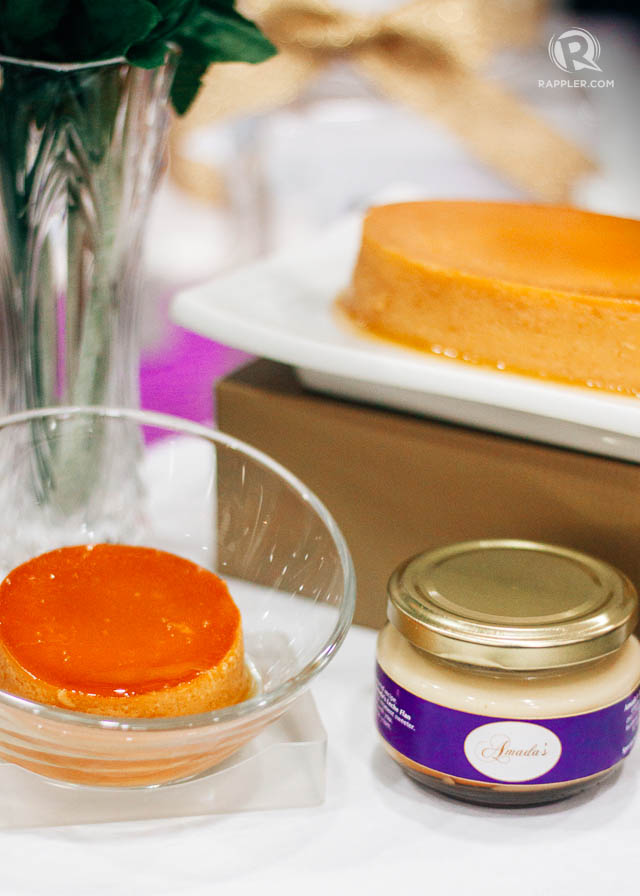 Leche flan in a jar (P80/piece; P900/12 jars) – now, that's super convenient, but it doesn't sacrifice the beloved traditional taste that we have come to know. It's a true Filipino classic that's meant to be shared, now in mess-free containers (gift boxes – P180/2 jars/1 box; P350/4 jars/2 boxes; P270/3 jars/1 box).
Facebook | amadasdesserts@gmail.com | (+63 917) 714-6737
Premium butter cookies from Dolcelatte
These butter cookies (P350/15 pieces/can) are all-time favorites that come in seven different flavors.
Dolcelatte also has gift sets (P875 to P1150) that come with other goodies like food for the gods (P450/10 pieces/can), andfruit cake in a can (P550). Throw in a bottle of wine with all three of the above for an executive set (P2,375).
For bulk orders or their complete holiday gift guide, contact (+63 2) 425-0313 local 109/120 or emaildolcelattebanquetservices@yahoo.com.ph
1616 Quezon Avenue, South Triangle, Quezon City | (+63 2) 425-0313
5F Mega Fashion Hall, Julia Vargas St., Mandaluyong City | (+63 2) 512-2187
www.dolcelatte.ph | Facebook | Instagram
Vegan cookies from Earth Desserts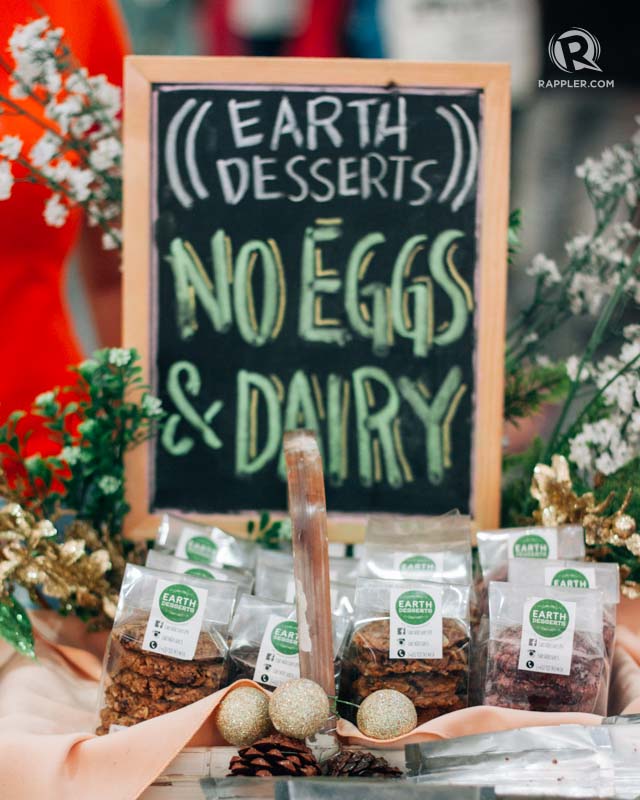 There are no eggs, milk, and butter in these sweet treats. Earth Desserts has choco chunk, peanut butter choco chip, andoatmeal raisin cookies, plus oatmeal cinnamon squares, red velvet crinkles, fudgy brownies, and maple granola (P80 to P120/6pcs; P150 to P200/dozen).
Facebook | Instagram | earthdesserts@gmail.com | (+63 927) 743-4414
Chocolate chip cookies from Chocolate Chip Army Cookies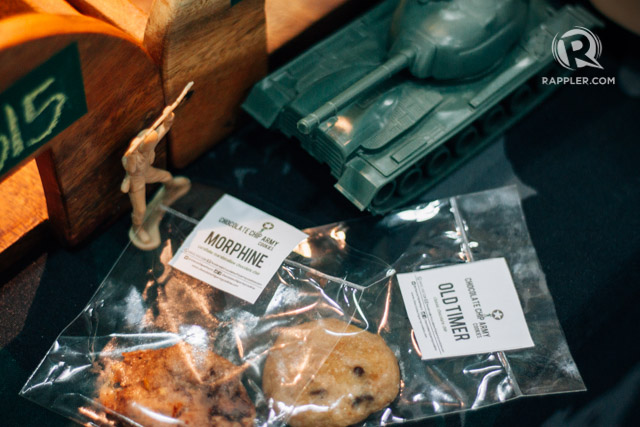 Like troopers, these chocolate chip cookies (P55/piece; P160/3 pieces; P315/6 pieces; P595/12 pieces) are reliable, in classic and edgy flavors given cheeky names like Morphine (cornflake marshmallow), Old Timer (classic), and Code Red (red velvet white chocolate).
2F 189 Maginhawa St. corner Makadios St., Sikatuna Village, Quezon City
Offers online nationwide shipping
www.chocolatechiparmycookies.com | Facebook | Instagram | Twitter | feedme@chocolatechiparmycookies.com | (+63 915) 143-1228
Oreo cheesecake cookies from Blush Pastries by H&S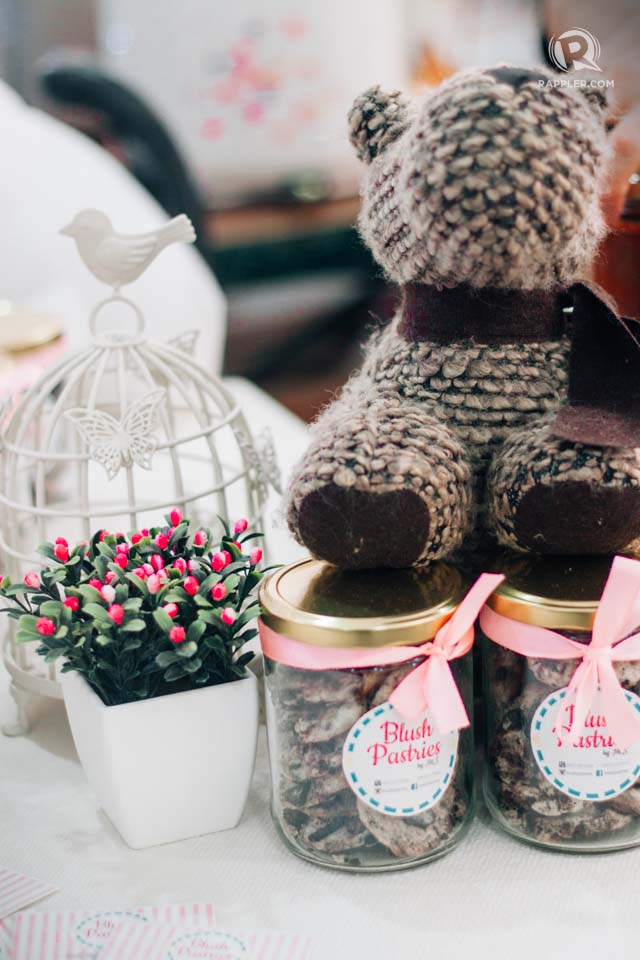 These oreo cheesecake cookies (P200/10 pieces/jar) are moist and luscious – almost crinkle-like, and are as delectable as they are named.
Facebook | Instagram | (+63 917) 541-5991
Peanut praline butter from Jacob's Peanut Praline Butter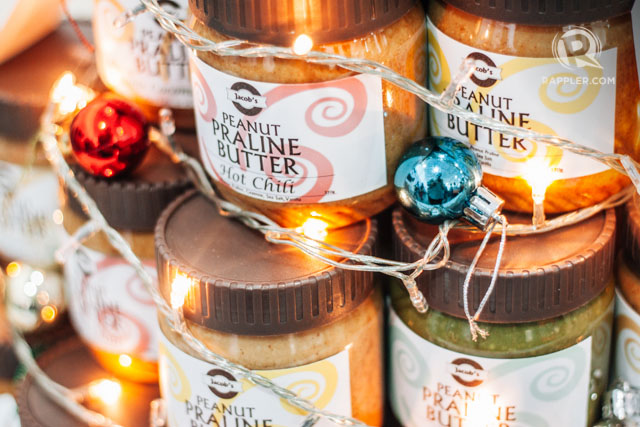 Jacob's peanut praline butter is definitely not your run-of-the-mill peanut butter. It packs an even crunch all throughout, thanks to the peanut praline, but it's not coarse and chunky, as if it has candy-like peanut brittle from Baguio.
This peanut praline butter comes in intriguing flavors: original sea salt vanilla (P180), hot chili (P190), matcha (P240), and the original, sweetened with organic coconut sugar (P240).
It seems to be pretty versatile, too. Spread it over bread or pancakes. Try dipping some cookies or fruits in it. Put it on top of ice cream.
Facebook | (+63 921) 690-3006
Chocolate bars and spreads from Theo & Philo Artisan Chocolates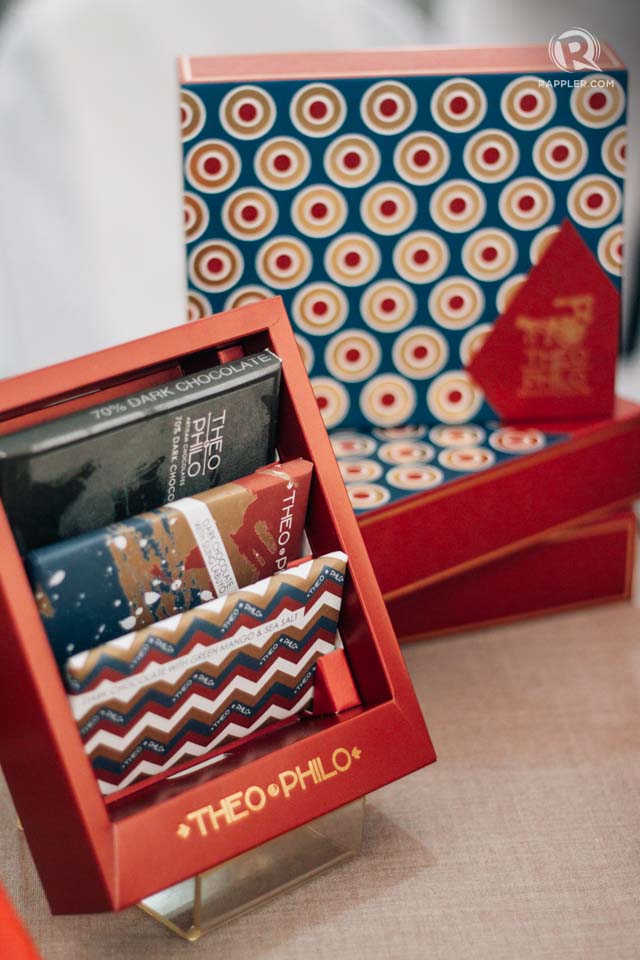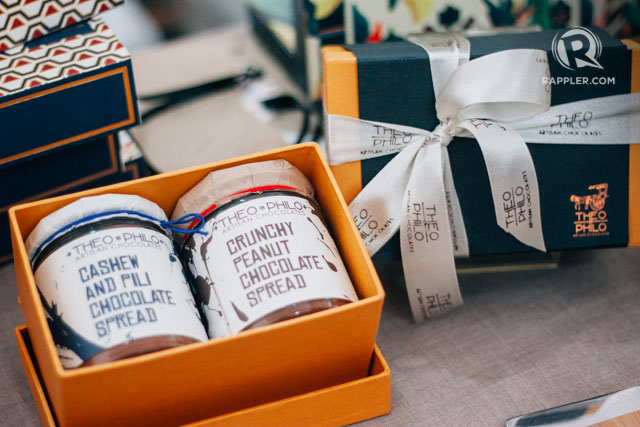 Made from local cacao beans, their chocolate bars (P100/piece; P350/box of 3; P500/box of 5) have somehow become cult favorites, as they come in local exotic flavors like adobo, labuyo, and green mango.
Their chocolate spreads, available in cashew and pili (P300) as well as crunchy peanut (P200), are also amazing. Slather over biscuits or bread.
Available at Blue Kitchen, Bo's Coffee, Connie's Kitchen, ECHO Store, Gourdo's, Rustan's, Urban Pantry
www.theoandphilo.com | Facebook | Twitter | Instagram | (+63 2) 631-1362 | (+63 920) 431-5650
Do you have any go-to shops that sell fabulous desserts and scrumptious dishes for Christmas? Share them with us in the comments below. – Rappler.com
Paolo Abad is a cinephile and pop culture enthusiast to his core. While he cuts and animates short films, TV shows, and ads for a living, he fancies himself as a frustrated film theorist. He's an avid concertgoer as well, and enjoys taking snaps at various gigs.