This is AI generated summarization, which may have errors. For context, always refer to the full article.
This new celebrity-owned resto-bar offers a mix of cleverly updated Filipino food and live entertainment. More details on their unique menu (and cheeky dishes) here
MANILA, Philippines – No, the establishment is not named after the 90s sci-fi movie featuring Brad Pitt and Bruce Willis. Rather, it's a play on the place's 12 owners – Chito Miranda, DJ Tony Toni, Champ Lui Pio, GP Cruz, and Jinno Rufino, just to name a few. 
Located on the 5th floor of Century City Mall in Makati, the hip bar-restaurant establishment is still only in the soft opening stage. But word of 12 Monkeys Music Hall & Pub is already going around, with its star-studded lineup of live evening performances, and tasty food paying homage to Filipino roots. 
Designed with red leather couches, brick walls, shiny hanging lamps, and a glossy bar area to boot, 12 Monkeys is a good spot for kicking back with friends after a long day.
Situated at the back of the establishment is the stage reserved for bands performing from Mondays to Thursdays, while a large DJ booth stamped with the signature monkey turns the place into a dance floor on Friday and Saturday nights.
To date, 12 Monkeys has been graced by the likes of Wolfgang and Razorback, China Crisis, and Urbandub with Franco Reyes, amongst many others. With music vet Chito Miranda (of Parokya ni Edgar fame) heading the lineup selection, visitors can expect many nights of upbeat music spanning a wide range of genres. 
Performance schedule. Photo from 12 Monkeys Music Hall & Pub's Instagram
The food delivers. The wittily named Midnight in Pares Rice Bowl (P290, approx. $6.68) is a bestseller, composed of juicy, braised beef browned to perfection and sliced tamago on a bed of garlic rice, splashed with chili sauce.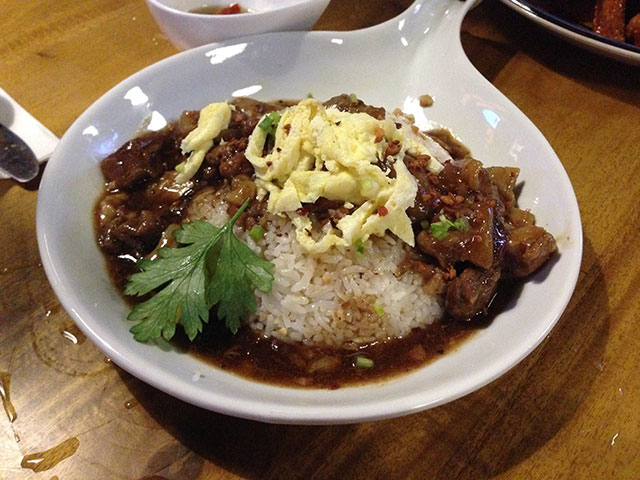 Not for the faint of heart (or rather, those with high cholesterol) is the Crab Fat Rice Bowl (P240 or approx. $5.52). In the same format as Midnight in Pares, deep-fried pork belly is fanned out on a dome of rice surrounded by crab aligue with garlic sprinkled on top. Small slices of pickled vegetable are also served on the side.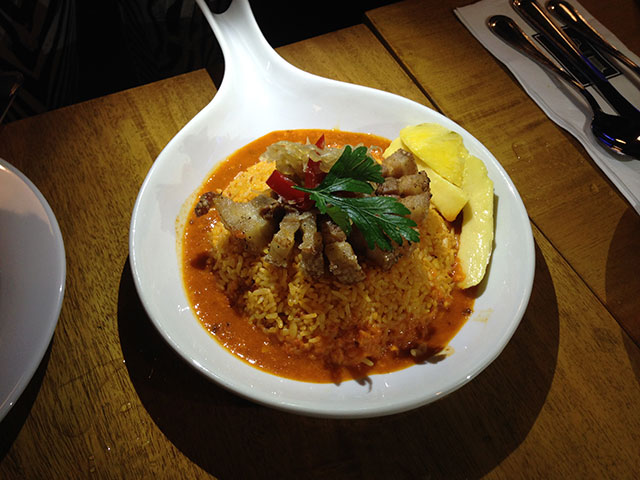 Humorously dubbed "Picha Pie," (no doubt a reference to the popular Parokya ni Edgar song of the same name) 12 Monkeys offers 12 pizzas, most of which have been crafted for Filipino tastes.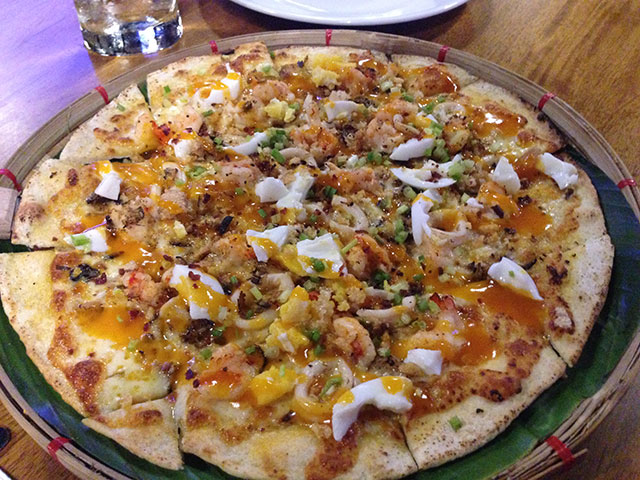 Ivan's Palabok Pizza (P350 or approx. $8.05) is a medley of soft boiled egg, chewy calamari, crispy chicharon and grilled shrimps, garnished with white goat cheese and shrimp sauce. Though the assortment is intensely flavored, it is cooked in an ultra-thin pizza dough that leaves more space in your stomach for the rest of the dishes. In true Filipino flavor, the pizza is placed on top of a banana leaf-lined straw plate. 
12 Monkeys serves what they call St. Peter's Eggs (P350 or approx. $8.05). The eggs are served on a sizzling plate. The eggs are orange-hued, the result of being cooked in crab fat and lathered in garlic chili butter sauce. 
Another pica-pica favorite is their Flying Wings (P399 or approx. $9.19), described as a "game changer" on the menu. Though not overly spicy, those with less tolerant taste buds may want to have a glass of water ready as the fried chicken wings have been dunked in 12 Monkeys' original hot sauce. Toning down the zing of the sauce are slices of vegetable crudités (carrot and celery) and its corresponding blue cheese dip served on the side.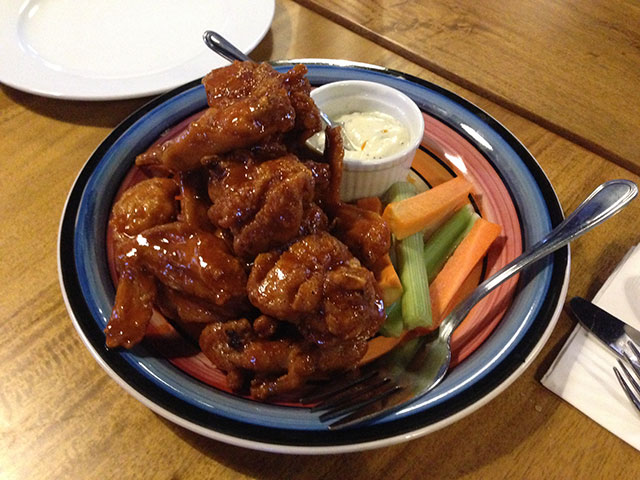 Those looking for more filling dishes can opt for their Barbeque Feast (P780 or approx. $17.96) which features an array of pork spare ribs, a massive pork skewer, and chicken barbeque wings, all covered in a dark, smoky sauce and sprinkled with sesame seeds. Again, it is served with a side of java rice, and an additional bouquet of coleslaw.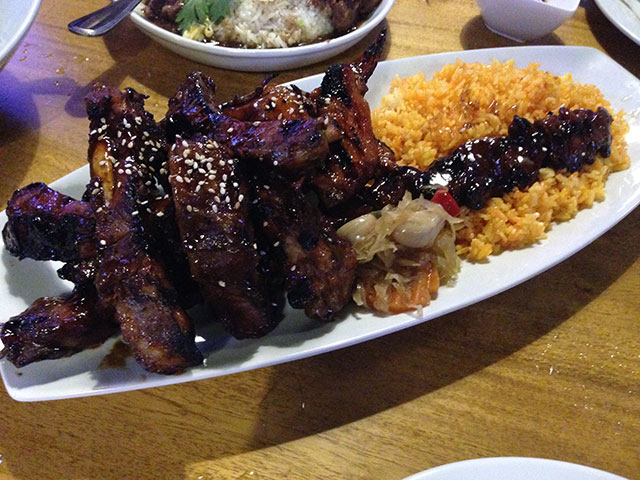 To end your meal, take a bite (or two, or three) of their Chunky Monkey Pie (P290 or $6.68), a banana pie that oozes with a thick layer of cream that simultaneously features undertones of peanut butter. With an additional sprinkling of crushed peanut brittle, you'll definitely need to hit up the gym after eating this.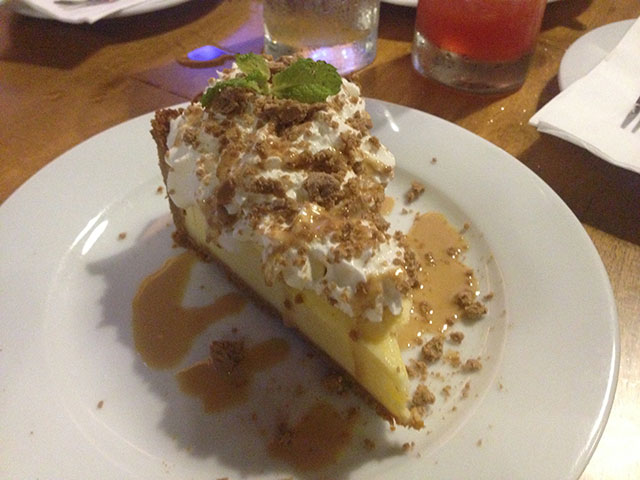 Go for the food, the music, or both. Chill with friends on the weeknights, or go as an alternative to the usual clubs on the weekends. 
Will you be visiting 12 Monkeys soon? What do you think of the food? Let us know in the comments below. – Rappler.com