This is AI generated summarization, which may have errors. For context, always refer to the full article.
'The flavors of fall are just another way for me to connect with the New Yorker in me, who grew up in the beauty of the Hudson Valley'
The "Ber Months" are here. That means that everyone is gearing up for Christmas and the holidays. Christmas trees have gone up in the malls and homes, and many people are already making their lists of gifts for family, friends, and co-workers.
Growing up in New York means that I am a little bit more homesick around this time of year. I miss the foliage, relish in the pumpkin spice lattes, and long to wear comfy sweaters and fun boots with jeans. For the next couple of articles, I will share some of my favorite fall- and autumn-inspired recipes so that we can enjoy these earthy, rustic flavors together.
Today, I'm throwing it back to a recipe Gia and I shared on the 2021 Halloween episode of Kitchen 143 that is still a crowd pleaser in our home.
We did use canned pumpkin for this recipe, but that is usually very hard to find here in Manila. When I do find it, I usually stock up on it for quick breads, muffins, and of course, our favorite pumpkin pie.
There are other ways you can roast and mash or even steam kalabasa as a substitute for pumpkin. In some grocery stores, I have also seen the rare acorn squash, the more frequent butternut squash, and right around this time there is a Davao-based farm that sells pumpkins and gourds of all sizes and shapes.
Pumpkin Gnocchi with Bacon Sage Cream Sauce
For the gnocchi:
1 c dehydrated potato flakes
½ c mashed or canned pumpkin
1 c hot water
1 egg beaten
1 ¾ – 2 c all-purpose flour
1 tsp salt
For the sauce:
4 Tbsp butter
2 cloves garlic minced
4 leaves fresh sage
4 Tbsp cooked chopped bacon
2 Tbsp fresh cream
½ c pasta water
¼ c grated cheese (asiago is yummy, but parmesan or a hard aged cheese can work well, too)
Instructions for the pumpkin gnocchi:
In a large bowl, mix the potato flakes, pumpkin, and hot water.
Once mixed, add the beaten egg and then add the flour to work the mixture into a dough.
When the dough has formed a ball, divide the dough into 4 balls.
Let the dough rest for 5-10 minutes.
Roll each of the balls out to a thin log and cut your pillows to your desired size. You can squeeze the pillows for the easiest shapes, or you can roll on the back of a fork to get the ridges which are perfect for nestling and holding your sauce when you serve.
Salt and boil your water, then drop your gnocchi in the boiling water. (Remember: your pasta water should taste like the sea.)
Once your gnocchi floats, it's time to pull it out.
Instructions for the Creamy Sage Bacon Sauce:
In a large frying pan, saute the sage and garlic in butter.
Add the crumbled or chopped bacon and a bit of the bacon fat, if you saved it (bacon fat makes everything better).
Once the garlic is cooked (but not brown) add the cream and the pasta water from the gnocchi.
Mix in your choice of grated cheese.
Toss in the cooked gnocchi to coat, and serve immediately.
While everyone is gearing up for the end-of-year holidays, Jesus' birthday, and the coming of the New Year, I am still celebrating fall, the changes in the leaves, and warm pumpkin dishes that feel like home. The flavors of fall are just another way for me to connect with the New Yorker in me, who grew up in the beauty of the Hudson Valley. Please excuse my homesick attempt to share these flavors, and perhaps even some memories of these times from when I was younger.
For reference, here is the episode from 2021.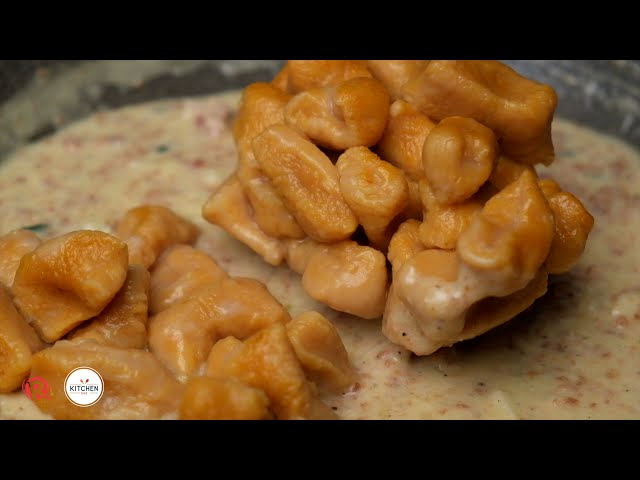 – Rappler.com