From Ilocos, Pampanga, Batangas, to Pangasinan – here's a few local dishes hailing from Luzon
When people think of Filipino cuisine, dishes like adobo, lumpia, and kare-kare often come to mind. While all are delicious in their own right, these are but the surface of what Filipino cuisine has to offer.
Revered food historian, Doreen Gamboa Fernandez, says in her book Lasa: A Guide to Fining in the Provinces, that our indigenous food is first a product of our landscape. This is why, for example, majority of our food is accompanied by rice or made of it, because our landscape allows us to do so. As such, the delicacies of each province provide a unique look into what every province is like.
While we are all unable to travel across the Philippines in quarantine, this does not mean we cannot replicate and experience what dishes are available in different parts of the country.
Here's a guide on some local dishes and delicacies worth making at home.
Dinengdeng (Ilocos)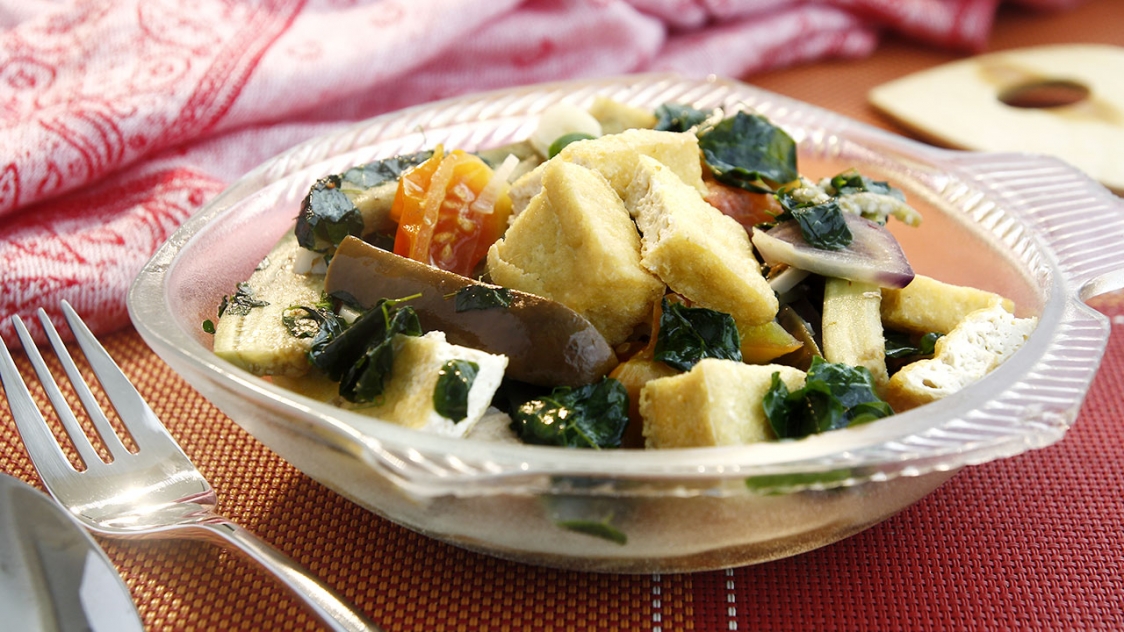 Like many Filipino dishes, Dinengdeng's name comes from the method of its cooking. "Idengdeng" can be literally translated to "salain," which refers to the bagoong (shrimp paste) that is filtered through a kind of sieve into the water in which this medley of vegetables is cooked. Many compare dinengdeng with the popular dish pinakbet, but it differs in that the former is a soup while the later is more of a stew.
Igado (Ilocos)
Igado is a kind of viand from Ilocos which features laman ng loob or entrails, such as liver and spleen. It is known to be a great party dish, because of it's finely cut pieces of meat, which allows it to stretch across many servings. Like dinengdeng, the name Igado comes from the Spanish higado, which means atay or liver, and involves a cooking process which is similar to adobo.
Sinaing na Tulingan (Batangas)
Sinaing na Tulingan is a Batangueno dish, whose name directly translates to braised fish, specifically mackerel and spikjack tuna. The process to make Sinaing na Tulingan is quite tedious, taking over several hours. It usually involves simmering fish in large native earthenware pots with bilimbi/kamias, salt, and water. This brine helps remove the fishy flavor and helps preserve the fish over time.
Buro (Pampanga)
This might be among the most delicious and pungent things you have ever tried in your life. Buro is a popular paste or sawsawan of sorts, whose name literally translates to the process of pickling something. It is typically eaten with hito (cat fish) and mustasa (mustard leaves), which are abundant in the province.
While the ingredients vary from town to town, this is the simplest method to make buro: All you have to do is mix rice porridge, salt, and a chosen seafood flavor, such as shrimp, cat fish, or milkfish, in a container and ferment it for at least 3 days.
Betute Tugak (Pampanga)
Not for the faint of heart, this exotic Kapampangan dish is essentially a stuffed baby frog. Historically, frogs were a common sight in rice paddies, especially when rainwater was the primary irrigator of rice fields in the province. As time went on, catching these frogs became a game for children and they were turned into easy meat for farmers.
To make Betute Tugak, you first have to skin the frog, remove its entrails, and cut off its feet and head. After removing these, you then stuff it with garlic, onions, ground pork, salt, pepper, alagaw, and carrots. Afterward, it is marinated in vinegar and minced garlic, then deep-fried to a golden color. It is typically dipped into a vinegar mixed with minced onions and garlic.
Bringhe (Pampanga)
While similar to the Spanish paella, bringhe is a pre-colonial dish that originally did not have eggs or chorizo. It's more akin to biryani – only later got influenced by the Spanish paella as a result of the close ties Pampanga has with the colonial power.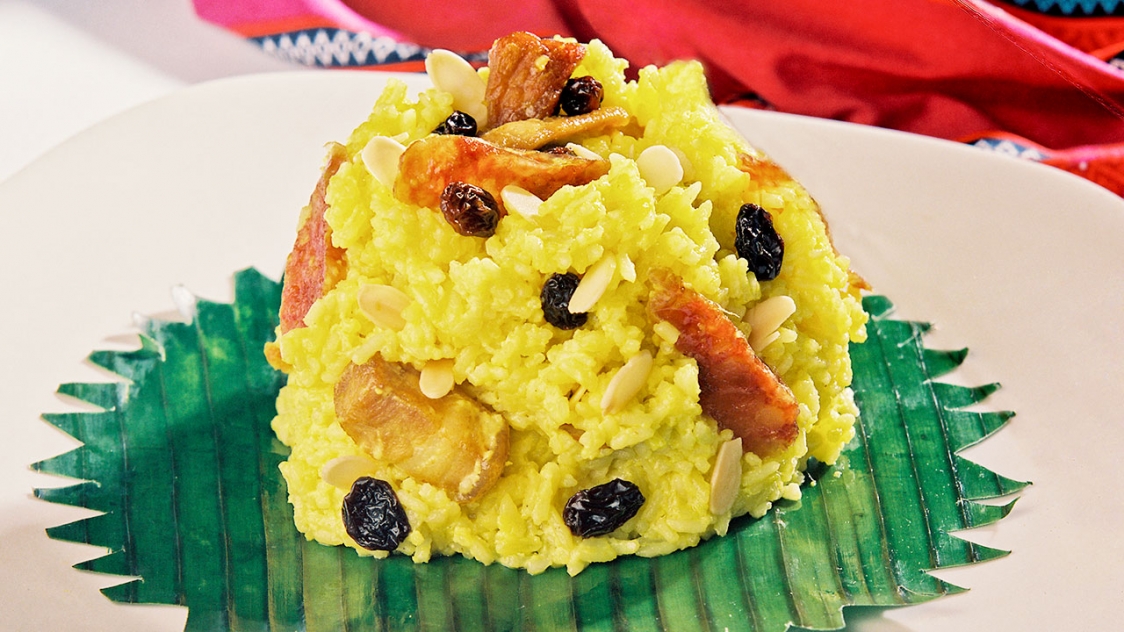 This glutinous dish is usually served on special occasions and often includes chicken, chorizo, peppers, peas, and turmeric like traditional paella, with the local addition of glutinous rice and coconut milk. As a result, bringhe's texture and appearance resemble a savory rice pudding. Other common additions to bringhe are annato or atsuete.
Tibok-tibok (Pampanga)
Tibok-tibok is a Kampampangan specialty pudding made of carabao's milk. It is similar to a maja blanca, but does not feature any corn bits. It is called tibok-tibok, because when it is fully cooked, the pudding has a firm consistency that looks like its beating like a heart in the oven. During special occasions, you will often find this delicacy in the dessert area, where it is topped with latik or deep-fried coconut.
Tupig (Pangasinan)
Also known as Intemtem, this Panganinese delicacy is most commonly served during Christmas. It is made of galapong (ground glutinous rice) and coconut mixture that is wrapped in banana leaves and grilled over charcoal. The name Tupig, which means "flattened", is a reference to how this sweet treat is shaped after it is cooked.
Papaitan (Ilocos)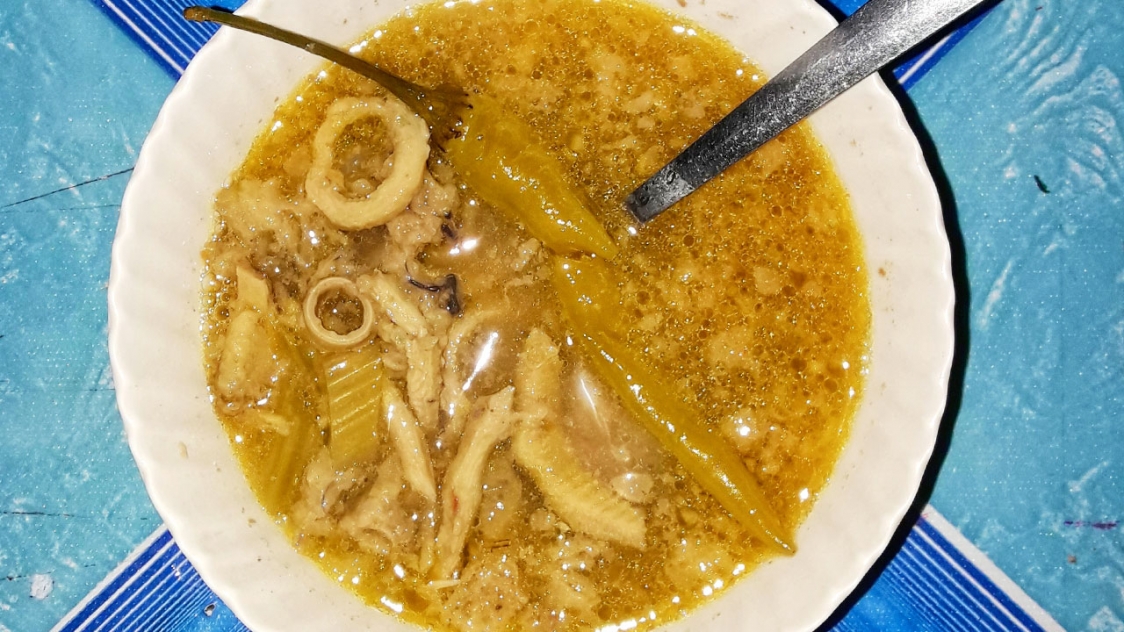 Papaitan is a famous Ilocano dish whose name comes from the word pait or bitter. Comprised of goat and cow innards, papaitan's distinct sour flavor and yellow color comes from the bile that is extracted from the animal's liver. While for the uninitiated, this may sound straight out of Fear Factor, the dish is balanced out with various spices and aromatics common in Philippine cuisine, such as ginger, garlic, and tamarind.
Morcon (Pampanga)
Morcon is a beloved Kampampangan Christmas dish that features a braised beef roulade whose cross-section resembles a mosaic of various veggies and various other ingredients. Despite its Spanish sounding origins, however, it is quite far from the Spanish version that uses lean meat stuffed in a pig's large intestine. It instead uses beef to wrap around hard-boiled eggs, carrots, relish, cheese, and sausages into a porchetta-like roll, which is then cooked in a covered skillet for an hour.
Did we miss out on a dish the world should know about? Leave a comment and let us know. – Rappler.com
Alexandra Goño is a Rappler intern
Get local dishes delivered at a discount using this Grabfood voucher.