These tipsy treats are totally tasty!
Finding inspiration is easy when playing in the kitchen with #TeamGellibean. Brainstorming recipes, experimenting with flavors, and looking beyond the typical ways to use ingredients, is always an adventure and leads to something interesting and fun. Just last week, we had time to play in the kitchen with one of the main components for the most recent episode of Kitchen 143, Don Papa Rum.
Rum seems like an easy liquor to incorporate in recipes that are both savory and sweet. Gia and I were equally inspired to make desserts and meaty dishes respectively. Getting in the kitchen with my eldest always pays off, because even if the recipes we play with don't come out exactly the way we imagined, we still have fun bonding over the – sometimes ugly – delicious dishes. For our most recent culinary capers, we were both pleased with our rum-based experiments, and we happily shared our successes with the rest of the family.
I have always been the kind of mom that allowed her kids to play with their food, and it's clear that this type of learning inspired my eldest daughter to go beyond kitchen fun to create kitchen YUM. When we were talking about what recipes inspired us for our rum creations, I was pleasantly surprised that her earliest memories of my favorite key lime pie included one of my friends, Leslie. Leslie Evans was Kaitlin's mom, and when I was pregnant with Diego, she was my friend that made me key lime pie whenever the craving hit me. I on the other hand, will look for any excuse to work bacon into a recipe, so slathering it in delicious barbeque sauce was an easy out.
Truth be told, Gia has always had more patience and attention to detail when we spend time in the kitchen. This level of time and commitment usually translates into the best baked treats for all of us to enjoy! It also means that I have more time to focus on meaty dishes while she takes care of making dessert.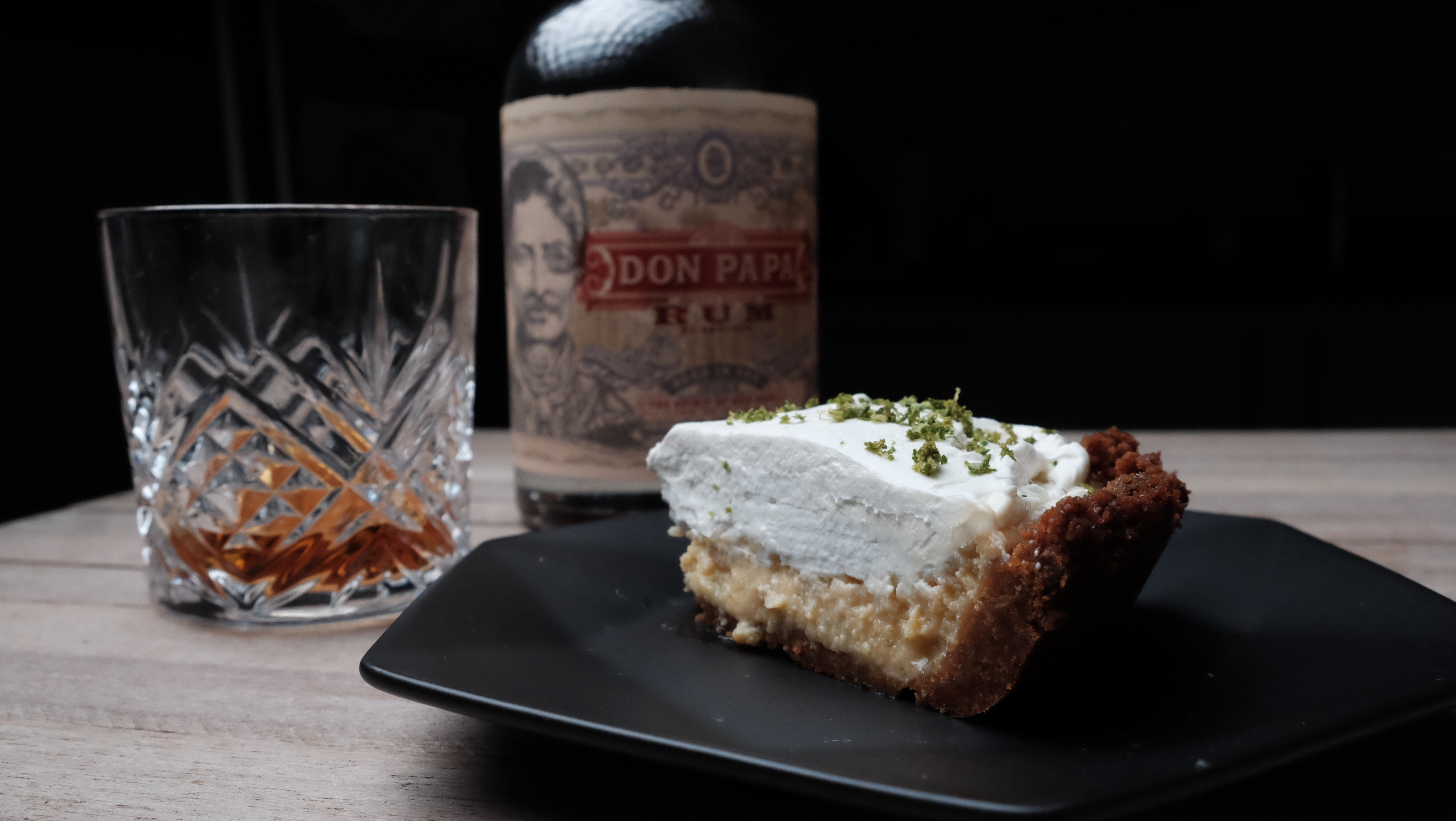 Graham cracker crust
1 1/3 c. Graham cracker crumbs
1/3 c. desiccated coconut
2 tbsp sugar
8 tbsp butter
Preheat the oven to 350 degrees Fahrenheit.
Combine all ingredients and set in a glass pie dish.
Compress using a measuring cup to set firm.
Bake the crust for 8-10 mins at 350 to set.
While the crust is baking make the filling
Calamansi filling
4 egg yolks
1/4 tsp. cream of tartar
1 can (14 oz.) sweetened condensed milk
1 c. calamansi juice
3 tbsp calamansi zest
Mix the egg yolks and cream of tartar together
Add the condensed milk and mix well
Finally add the calamansi juice and zest
Pour all into prepared pie crust and bake for 25-30 mins
Let cool for 30-40 minutes before topping with rum cream.
Rum cream topping
1 1/2 c. heavy cream
1/4 c. white sugar
1/2 tsp. vanilla
2 1/2 tbsp rum
Whip together the heavy cream and sugar until soft peaks
Add in the rum and vanilla and mix until desired consistency
Top the pie with cream once completely cooled (you can also add lemon zest and dedicated coconut to the top)
The pie was deliciously balanced. It had just enough tart and texture, which was juxtaposed with the creamy but not overly sweet rum cream. Of course, she paired it with the Don Papa 7-year-old Rum, which was perfect.
The flavors I wanted to play with reminded me of a butter rum glaze for a baked ham, or a pineapple rum glazed slab of bacon. The end result of the barbecue sauce that we came up with was delicious on salmon, pork steak, and of course the bacon, which happened to be the most well-received in our "test kitchen."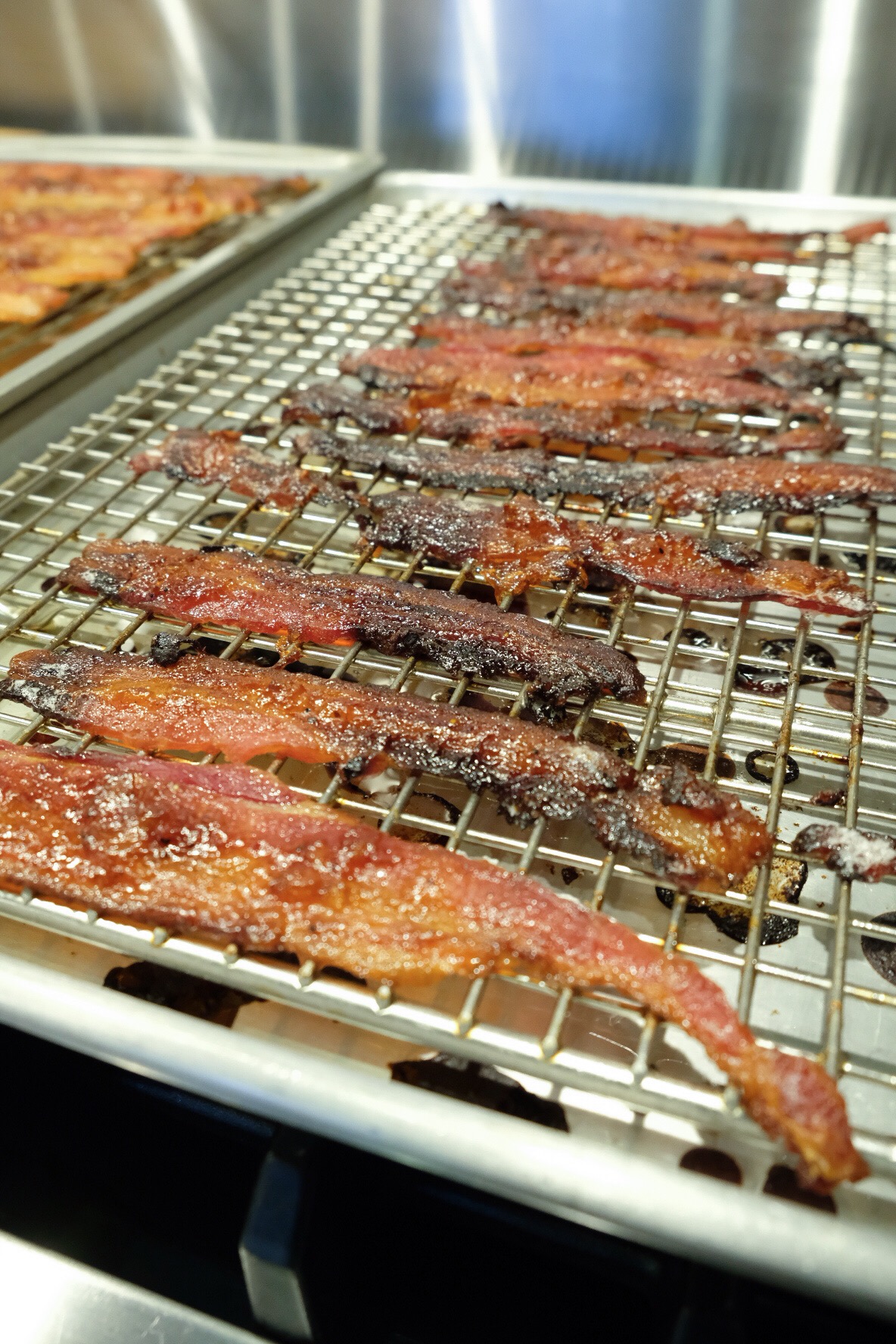 Pineapple rum BBQ sauce
½ c brown sugar 
½ c apple cider vinegar
½ c ketchup
¼ c crush pineapple
3 Tbsp Don Papa Masskara rum
2 pcs. siling labuyo chopped
1 pack
Combine all ingredients in a small saucepan and reduce to about two thirds of the original amount on medium low heat.
Preheat the oven to 350 degrees Fahrenheit.
Lay the bacon flat on a baking rack placed in a baking sheet and brush the bbq sauce and bake until bacon is cooked.
Serve immediately, or let cool for it to set stiff.
This bacon was perfect with a salad and all the fixings. It could also go really well with rice and a crispy fried egg instead of the usual sweet meat that we sit down for during a hearty breakfast.
As Gia and I continue to explore the different flavors of the rum and how it works in our kitchen recipes, I am sure we will be soon experimenting with a butter rum glaze of sorts, too. – Rappler.com
Looking for rum? Get your stash from Boozy using their discount codes.