For Chef Elle Phillips, Kanto isn't just a business – it's about putting forward Filipino culture in Sweden
STOCKHOLM, Sweden – Elle Phillips' culinary journey begins with a love story. Elle grew up around food but didn't actually start cooking until she started dating her now-husband in a bid to impress him, Elle recalled cheekily.
That love story would lead to another one: between Elle, Filipino food, and a new-found mission to introduce it to the Swedish culinary scene.
"I'm really trying to squeeze myself into the market and say, 'Okay, we have another Asian cuisine, Southeast Asian cuisine,'" said Chef Elle between lunch service at Kanto, her newly-opened concept restaurant in the middle of Stockholm.
The idea for Kanto, said Elle, started five years ago, when they moved to Stockholm from Singapore after her husband was offered a job in Sweden's booming tech industry.
"When we came here, being a Filipino, I was trying to look for a restaurant where I could get my home food fix. And I thought: there's really an opportunity here," she added.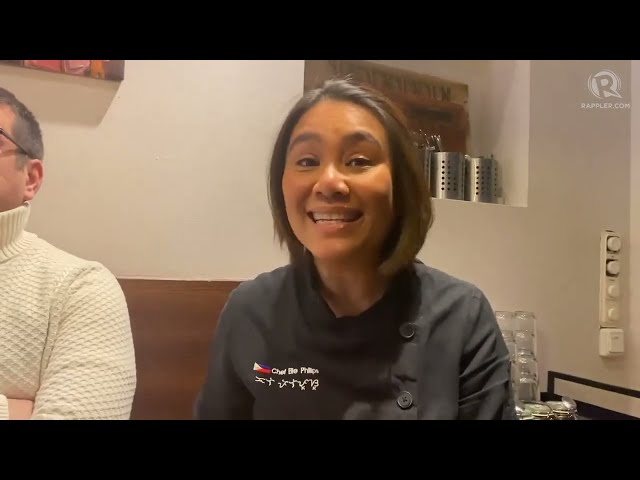 Elle started by packing food for her husband, which his co-workers would ask about, before they eventually asked Elle to pack their lunch too. Lunch baon turned into catering gigs for her husband's company, then gigs with other companies (among them Amazon, Spotify, Candy Crush-maker King) before embassies based in Stockholm (not just the Philippines') started hiring her for their events.
The next logical step, Elle figured, was to open up a resturant of her own. Through networking, Elle initially connected with a Swedish foundation that helps female entrepreneurs who are foreign-born. She later found a business partner who specializes in hosting ethnic cuisines that aren't usually available in Sweden.
Kanto the pop-up will be there for longer than pop-ups before it – until December 2023 or the end of the year, in contrast to most that run for only around three months.
Quintessentially Filipino
Elle's offerings in Kanto, both for lunch and dinner service, are quintessential Filipino food. There's lechon liempo, fried chicken, chicken tapa, and sisig – all served with sinangag.
It's the latter two that Elle said has been a surprise hit.
Sisig, a traditional Kapampangan dish, is made in Kanto with chicken liver and other ingredients sourced locally. To Swedes, it reminds them of a local dish, also made with chicken liver. "[The sisig] has chicken liver but they love it. The kinilaw, I do that for dinner service. And then the lechon…the lechon talaga, they love it," said Elle.
Sinangag – "jasmine rise infused with garlic" – is also a huge hit. For many of her customers, it's also their first time ever to try it.  
Kanto is not subtle at all about how Filipino it is – Filipino songs from different decades blare through the speakers, there's a giant Philippine flag displayed on the wall right beside the entrance, and art by Stockholm-based Filipino artists depicting Filipino culture are displayed proudly on the other side of the restaurant.
Inside the bathroom and in the main dining space, there's a touch or two of delicate capiz shell ornaments, on loan from the Philippine ambassador to Sweden, Ambassador Maria Lumen Isleta.
The drinks too all have a touch of the Philippines – San Miguel Beer (Pale Pilsen, and of course Red Horse) are obvious top picks while drinks like the Mango-jito, a refreshing take on the mojito – are stand outs.
'It's time'
The afternoon we – this writer, officials from the Philippine Embassy in Sweden, and cohorts of the Swedish International Development Cooperation Agency (SIDA)-funded International Training Program for Media – visited Kanto, it was already jampacked just a little past 12:30 pm on a Sunday.
As "Manila" and "Noypi" played from the speakers, Kanto staff – people with whom Elle has been working with since she started – were busy bringing in orders, which Chef Elle herself prepares. It wasn't unusual to hear an audible gasp or ooohhhs and ahhhs, especially when the Kamayan Feast, a smorgasboard of liempo, fried chicken, lumpia, pancit, and garlic prawns made its way onto a table.
To diners, especially this one, it was a welcome reminder of home. For those who didn't know what Filipino food was all about, it was a journey to discover just how sour, salty, and sweet all come together to make something truly Filipino even in the middle of a late Nordic winter.
There's one point in our conversation, amid talk of sinangag and adobo, that Elle turns emotional. She's aware of how her story is not the norm for Filipinos in Sweden, at least not yet.
"It means so much because I'm really passionate about putting forward my culture…. Having brown skin, I don't know the language, and it's very difficult to get into the workforce as well. Nag pursigi lang talaga ako (I worked really hard). I found the right people, the right networks," she said.
"We don't have any competition at the moment, which saddens me. Because I feel that every Filipino should brave the storm and put up something similar. Hopefully, what we're doing in Kanto will inspire other Filipinos to put up something similar," she added.
Already, she's paying it forward – passing on opportunities in the culinary space. Kanto's desserts are sourced from a fellow Filipino in Stockholm who specializes in kakanin and cakes.
Displayed proudly at Kanto are Philippine-made chocolate brands like Auro and Theo and Filo – distributing these brands is also among Elle's hustles. When she's busy or when she's out of town, Elle makes it a point to refer would-be customers to other Filipino cooks who also do catering.
Already, Elle has a plan for Kanto: a permanent location by 2024, just when her pop-up tenure expires. There's also a more short-term plan when the snow finally stops falling and the temperature in her part of the world finally turns warmer: patrons have been convincing her to offer halo-halo, the Philippine summer staple.
"I'm really, really proud to bring forward our Filipino cuisine. I think it's time, it's really time. Dapat hindi na tayo mahiya to promote our food (We should be unapologetic about promoting our food), even if we have different influences from the Spaniards to the Americans or the Japanese. We created our own taste from those influences and we call it our own. That's something to be proud of," she said. – Rappler.com
This writer's visit to Stockholm was funded by Sweden's SIDA, for the 2022-2023 cycle of their International Media Training Program. The visit to Kanto happened on the sidelines of the weeks-long training, upon the invitation of the Philippine Embassy in Stockholm.