These delicious dishes don't take long to make
Island living means an abundance of fresh seafood and beach visits, with the sweet salty smell of the seascape wafting in the air. Fortunately, we don't have to visit the sandy shores to enjoy the bounty of fresh options that are available, even here in Metro Manila. With an abundance of frozen seafood in grocery stores nationwide, these three recipes can be made in a pinch, with only a few added herbs and spices.
Mussels Marinara
This dish is nostalgic for me. As a kid, we didn't eat out in restaurants a lot. In fact, it was usually a very special occasion when we would indulge in dining out. If it was a graduation or something the whole family enjoyed, we usually would go to the same few Chinese restaurants for a family meal. But sometimes, we would eat Italian. And when we would, someone would always order Mussels Marinara. Typically, I would use a small white onion for this quick recipe, but because the cost of onions has gone up so much, I opted to use a few shallots instead. It did not affect the taste or cooking time at all.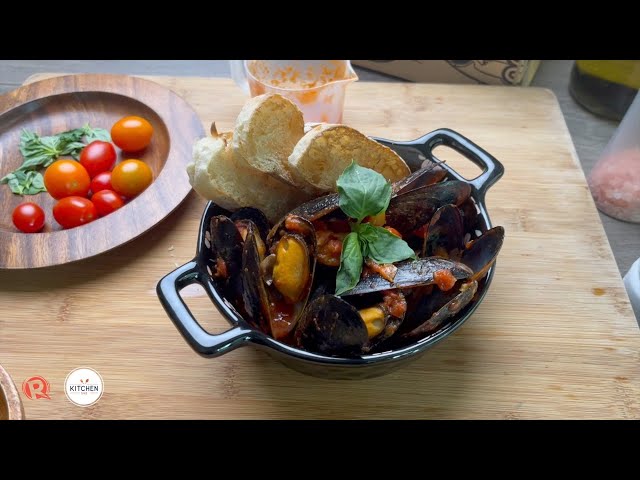 250g mussels
25g sliced garlic
50g diced onions
5g fresh herbs (parsley & basil)
100g fresh tomatoes
200g mussels
100g dry white wine
225g marinara sauce (I used San Remo)
Sauté the garlic, onions, and herbs in extra virgin olive oil. Add the tomatoes and cook until blistered. After the tomatoes are softened, add the mussels, white wine, and marinara sauce. Cover and cook for 10-15 minutes. Garnish with more fresh herbs and serve with crusty bread.
Frutti di Mare
Olive oil-based pasta sauces are always easy to throw together in a jiffy, especially when you have seafood that is fresh and easy to use. The beauty in this dish is that the Pacific Bay frozen clams are actually blanched and the package has its own juice! Be sure to use all of it! Varying the different types of seafood here can change up the dish quickly. I have seen this made with shrimp, calamari rings, and even lobster. Keeping this simple, I used jumbo shrimp, baby clams, local scallops, and Chilean mussels, all frozen fresh and double-packed.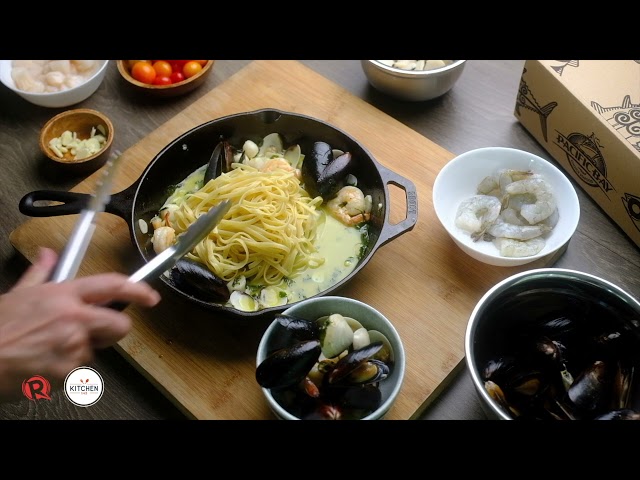 1c EVOO
50g sliced garlic
5g fresh chopped parsley
5g fresh chopped basil
250g frozen White Clams
150g Jumbo Shrimp
200g Chilean Mussels
200g dry white wine
1 pat butter
300g cooked linguine
In a large saucepan, sauté the garlic and herbs in extra virgin olive oil. Once fragrant, add the clams and mussels, being sure to include the juices that they are packed in. After a few minutes add in the scallops and shrimp. Add the white wine and bring to a quick boil, cooking until just firm. Add a small pat of butter in the sauce and then toss the linguine in the sauce pan to coat the pasta through. Serve immediately.
Salmon Poke Bowl
Sourcing fish that is sushi-grade is not always an easy task. So many components can be included according to your preference, and in this case the added tamago made this bowl special. It doesn't take long to make and if you have the ingredients on-hand it's a fun addition.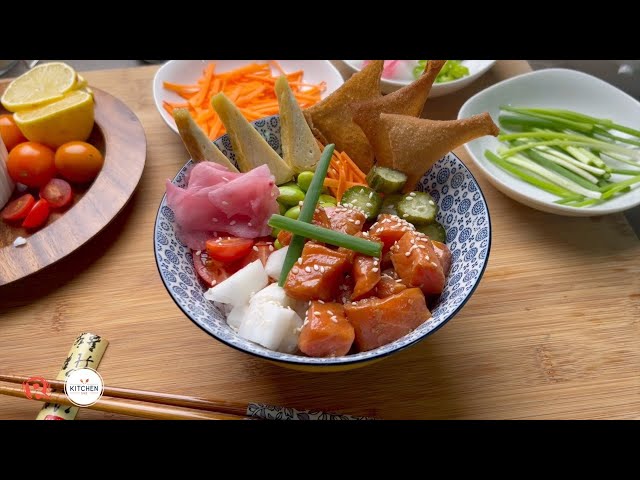 300g Salmon Poke
130g Soy sauce
13g Sesame oil
15g Rice wine vinegar
7g Lemon juice
7g grated ginger
3g grated garlic
Cooked rice
Variety of toppings can include:
Pickled ginger, radish or cucumbers
Edamame
Tamago
Cherry Tomatoes
Drain salmon and set aside to prepare marinade. To prepare the marinade, mix the soy sauce, sesame oil, vinegar, lemon juice, garlic, and ginger. Add the salmon and set aside for 10 minutes. Arrange all the fresh ingredients on top of the bed of rice, saving the marinated salmon for last. Serve immediately.
Creating healthy seafood dishes with fresh ingredients is easy when you can pull them out of the refrigerator or freezer. Being mindful of what we eat begins with making sure that our ingredients are sustainable and better for us, too. If they are all sourced locally? Well, that's even better.
Check out Pacific Bay Seafood for all the seafood used in these recipes! – Rappler.com