Energy dropping? Here are quick, healthy fixes.
MANILA, Philippines – Whether you are at school or at the office, work can pile up and tire you out, and can sometimes even lead to tensions and pains in your body.
The not-so-occasional gloomy weather this rainy season does not help, either.
Here are some tips to help you pump up your energy again within minutes:
1. Stand up and take a walk
Yes, recharging can be that simple. Sometimes all you need is to get moving and have a change of environment after sitting in front of the computer for hours.
When it's not raining, take a quick walk outside the building. Walking briskly is better as it can stimulate your blood flow more and get your energy back on track.
If it's raining outside, you can walk around your building's lobby or first floor. You can also go up and down the stairs of your building's fire exit.
Not only will you come back to your desk refreshed, you are also clocking in some exercise. Speaking of exercise…
2. Do some quick exercises 
Stretch tense muscles. Shake body parts that have not been used while you are sitting. Do some jumping jacks to get your blood pumping. Any kind of exercise that will wake your body up is recommended.
Here is a particularly good 5-minute exercise for your back, especially if you have been sitting in front of your computer for far too long: 
3. Do a self-massage 
There is nothing more relaxing and soothing than a good massage, especially for tense and tired muscles. Your massage can be as simple as pressing and rubbing the tired, tense parts of your body.
It can also be more targeted like in this instructional massage video (especially if you feel the headaches coming):  
4. Practice some tapping
More low-impact than massage, tapping focuses on specific body points, much like acupuncture focuses on specific energy points. You simply use your fingers to tap on these points.
Tapping is especially effective for relieving stress and anxiety. 
Here is a how-to video on tapping for stress relief and the different points in the body to tap: 
5. Hydrate
This is especially important if you are suffering from headaches or fatigue, or both. Often, headaches are just caused by mild dehydration.
So, while working, replenish and recharge yourself with a glass of water every now and then. 
6. Snack on healthy, energy-boosting foods
Think fruits like bananas and apples or raw vegetables like carrot sticks.  A handful of nuts or seeds like sunflower seeds or pili can also do you good.
Stay away from white bread or pasta, as these two are just bound to make your energy drop after raising it. Of course, junk food like potato chips is a no-no.
7. Meditate
Close your eyes and just breathe and pay attention to your breathing for a few minutes. You will be surprised at how you will feel refreshed after this simple meditation. You can also do this while listening to relaxing music. 
Another variation to this simple meditation is to imagine breathing air into each tense body part then letting these body parts release tension and relax.
If you want, you can also go for a guided meditation. There are many guided meditation exercises and videos on the Internet, and here is one you can try: 
8. Talk with a friend 
Nothing like a short friendly talk or walk to recharge your batteries. Take a break with a colleague who is also your friend.
Better if you talk about light and funny stories. Don't talk about work as much as possible.  
If a friend is not available where you are, call up one who is. Just a brief phone conversation can already do wonders. – Rappler.com
Man walking briskly and bananas and apples photos from Shutterstock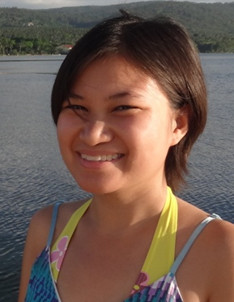 Claire Madarang is a writer, traveler and seeker. Her wanderlust takes her on adventures like backpacking for 7 weeks straight. Her seeking leads her to different wellness practices like meditation and healthy (mostly vegetarian) eating. Follow her adventures, tips and epiphanies at her blog, Traveling Light.