This is AI generated summarization, which may have errors. For context, always refer to the full article.
Need a beauty treatment but you don't have the budget? We have solutions for you.
MANILA, Philippines – Do-it-yourself [DIY] beauty remedies are not only inexpensive but tried and tested by many women who prefer to go the more natural route.
By looking into your refrigerator and even your cabinets, you may find alternatives that won't hurt your wallet, are good for the environment and are naturally beautifying.
1. Apple cider vinegar [ACV]
I have heard time and time again that ACV has healing properties and can be used for so many different things: it can be used as an astringent when mixed with water for your face, a clarifier for oily hair and a treatment for sun burn when mixed with warm water in the bath.
ACV can also heal athletes' foot and can help with weight loss when accompanied by your daily intake of water.
2. Organic essential oils
There are a variety of essential oils that can be used for many different treatments, but tea tree oil is known best for its anti-fungal, anti-septic and anti-viral uses. Use it to treat eczema, yeast infections and to heal cuts and burns. By adding a few drops in the bath, you can lessen the symptoms of a cold or flu.
When using essential oils, it is important to use it in diluted form. Never apply it directly to the skin. Always store in a glass bottle, safe from direct sunlight or heat.
3. Citrus
The best exfoliator can be found in your fridge and your baking cupboard! By mixing 1 tablespoon of citrus [lemon, orange or grapefruit] and 1 tablespoon of baking soda and applying this mixture to your face, you can clear up your complexion and exfoliate!
Be mindful not to leave the mixture on your skin too long.
4. Cucumber 
We have all seen commercial shots where women have their hair wrapped in a towel and with cool cucumbers on their eyes. Cucumber can actually whiten skin, soothe sunburn and — when mixed with lemon juice — can clear up acne and lighten scars from acne.
5. Coconut oil 
Coconut oil has long been touted as the wonder oil for good health. Aside from being an all-natural make up remover, it can also be used to fight yeast infections and candida [thrush] in infants.
Coconut water and coconut milk are also helpful in keeping up milk supply in breastfeeding mothers.
6. Ginger
While ginger tea is a known antidote for motion sickness among fishermen, it is also great for digestion and high in vitamin C.
Drinking ginger tea is beneficial for many reasons, but it can also be used as a skin whitener. Rubbing ginger root on your skin or dark spots can lighten them. Because it's an antioxidant, it is also good for minimizing wrinkles and improving over-all complexion if ingested regularly.
7. Olive oil 
My grandmother used to put olive oil on just about everything. We always had olive oil in the house for cooking, but we also used it as moisturizer for dry skin and as hair conditioner for dry hair.
Warm the olive oil slightly, then apply to your scalp and roots. Leave on your scalp and hair for half of an hour, then shampoo with a sulfate-free shampoo. Your hair will feel full and look shiny and healthy.
8. Eggs
I have heard about egg masks but have never tried doing it. Egg whites applied to the face as a mask act as a natural moisturizer. Let the egg whites dry and then wash off with lukewarm water.
Take it a step further with a few more ingredients like cream, oats or honey, and you can achieve the perfect combination for softening and exfoliating skin.
For a deep moisturizing mask, use one egg yolk and combine it with olive oil. Let the mask set then rinse with warm water for a rejuvenating silky feel.
Say no to junk food
It is important to watch what you eat. The saying "You are what you eat" can also be seen on your skin and hair.
By having a diet that is rich in vitamins and minerals with less processed foods, you are already making decisions that will help maintain your beauty. 
Foods rich in vitamin C, vitamin E, beta carotene and omega-3 fatty acids will continue to keep skin glowing and healthy. – Rappler.com
All photos from Shutterstock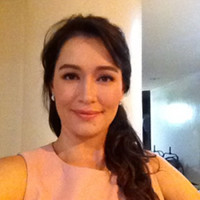 Michelle Ressa-Aventajado is a Filipina American who grew up in NY and now makes Manila her home. When she's not busy raising her four children, she enjoys teaching, reading and writing about her passions. Follow her blog Momma 'N Manila as she documents her adventures and growth in parenting.