This is AI generated summarization, which may have errors. For context, always refer to the full article.
Being grateful instead of moping around goes a long way
MANILA, Philippines – People sometimes have this weird assumption that all I talk about is rainbows and sunshine. "Wouldn't that be nice!" I think. The truth is the 'negative' things that happen to me spur a lot of the 'positive' things I try to write about.  If it weren't for all these experiences – the ups and downs – I wouldn't have anything to reflect upon.
Like many people, I wake up at times feeling so unmotivated. I've been bummed whenever I compare myself  with "the competition." I also find myself looking at a long list of "I wish I had this" items. I've been too tough on myself for mistakes I've made in the past, while also listing what I still need to do in the future. 
Everyday brings all these emotions. That's why I tell people, "It's never a one-solution-fits-all to get rid of any of these thoughts, but about practicing being positive everyday." It has to be a practice so we can be stronger mentally and emotionally when these experiences happen.
If we want to get better at a sport, we practice. If we want to pass a test, we study. If we perform in a play, we rehearse. Why not the same for certain life situations? This will always take us one step closer to where we want to be.
One of the things I am currently trying to 'practice' is to be more grateful. I've even brought up this exercise to a few of my friends so we can help remind each other about this. By saying 'Thank You' every day, it helps us change our perspective on how we look at the world. We become more aware. 
Pause right now and think of 5 things you are grateful for. 
See? That wasn't too hard. If we take time to reflect longer, we can probably list down 10, 20, 30… or even 100 things to be grateful for. It could be as simple as, "I'm grateful that I got a free cup of coffee today," to something deeper like, "I am thankful that I got over my fear of failure."
It's not that blessings do not exist around us, it's that our minds are too busy focusing on the negative things to appreciate the good things. But every time I finish listing what I am grateful for, I don't feel so empty anymore. I feel so "full" from life. 
No one person in this world is spared from having a bad day. I believe it's the universe's way of balancing things out, and to also help us learn from it and move forward. But instead of just complaining, gratitude can help us shift our focus from dwelling on the negative experiences to becoming more aware and appreciative of the things we are blessed with. 
And it can be as simple as listing down the little things that you are grateful for everyday. 
Some people take their everyday experiences for granted. I too have thought, "Ugh. It feels like NOTHING is happening in my life. It's such a routine." While we think something 'big' or 'life-changing' needs to happen, we miss the little amazing things that happen every day. 
Being grateful helps us focus on the little amazing moments that fill up our day-to-day life – helping us realize that every day is filled with numerous life-changing moments.
But apart from writing down what we are grateful for, I realized I wanted to take a step further and show my gratitude.
So while you may say, "I am so grateful for my amazing mother," go the extra mile and buy her a bouquet of flowers. Or, "I am so grateful that I have a great best friend," go the extra mile and treat your friend to a movie. Your happiness levels will increase even more. 
Just check out this video and see what I mean:
READ: Soul Pancake – An Experiment in Gratitude
If your gratitude list has nothing to do with a person, you can still find ways to show your gratitude by sharing it or helping someone else achieve it too. If you say, "I am so thankful that I am alive and well," you can go the extra mile to help a charity that focuses on medical needs. 
So the next time you feel angry, jealous, disappointed, or depressed…make a list of the things you are grateful for. Take this exercise a step further by finding ways to show your gratitude in the world. It makes us feel good to realize our blessings, but even better to share and express it. – Rappler.com
You can also read: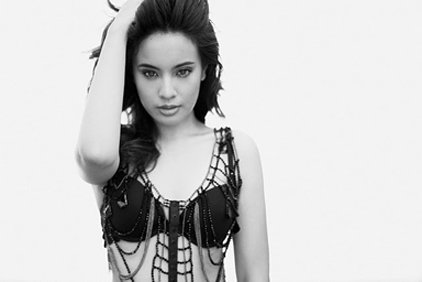 Victoria Herrera is a TV and event host, model, and writer. In 2011, she released her first book, 'Unscripted,' based on inspiring conversations from her previous radio show. In 2012, she hosted 'Runway TV Asia,' where she interviewed international fashion designers and celebrities. Shuttling between Manila and Singapore, she continues to explore the world of creativity, design, and fashion as a contributor for several publications.
Image of 'thank you' note with flowers from Shutterstock