The veteran entertainment writer releases a coffee table book compiling photographs he's taken through the years
US-based entertainment photojournalist Ruben Nepales released a coffee book containing 1,000 photos of Hollywood's biggest stars taken during his almost two decades in the industry.
The coffee table book, Through a Writer's Lens, is a compilation of candid and refreshing photos of the stars he's interviewed.
Bessie Badilla, the book's publisher, said it was always Nepales' pictures that drew her to his column, which used to run on the Philippine Daily Inquirer. Nepales' Only IN Hollywood has sinced moved to Rappler.
"When I saw Ruben's photos for his column on the Philippine Daily Inquirer, they made me want to read his latest column right away," she said. "His photos made me curious. They have the ability to make you want to 'get to know' more the celebrities that he features."
Badilla said it was a photo of actress Sarah Jessica Parker that made her see that Nepales has a talent for photography.
"It was the best photograph of Ms. Parker I've ever seen. Ruben has the eye for capturing his subject's best angle and he also has perfect timing. "
Badilla said that it was during one dinner with Nepales and his wife, entertainment journalist Janet, that she asked about publishing the coffee table book. She was happy when they agreed to it.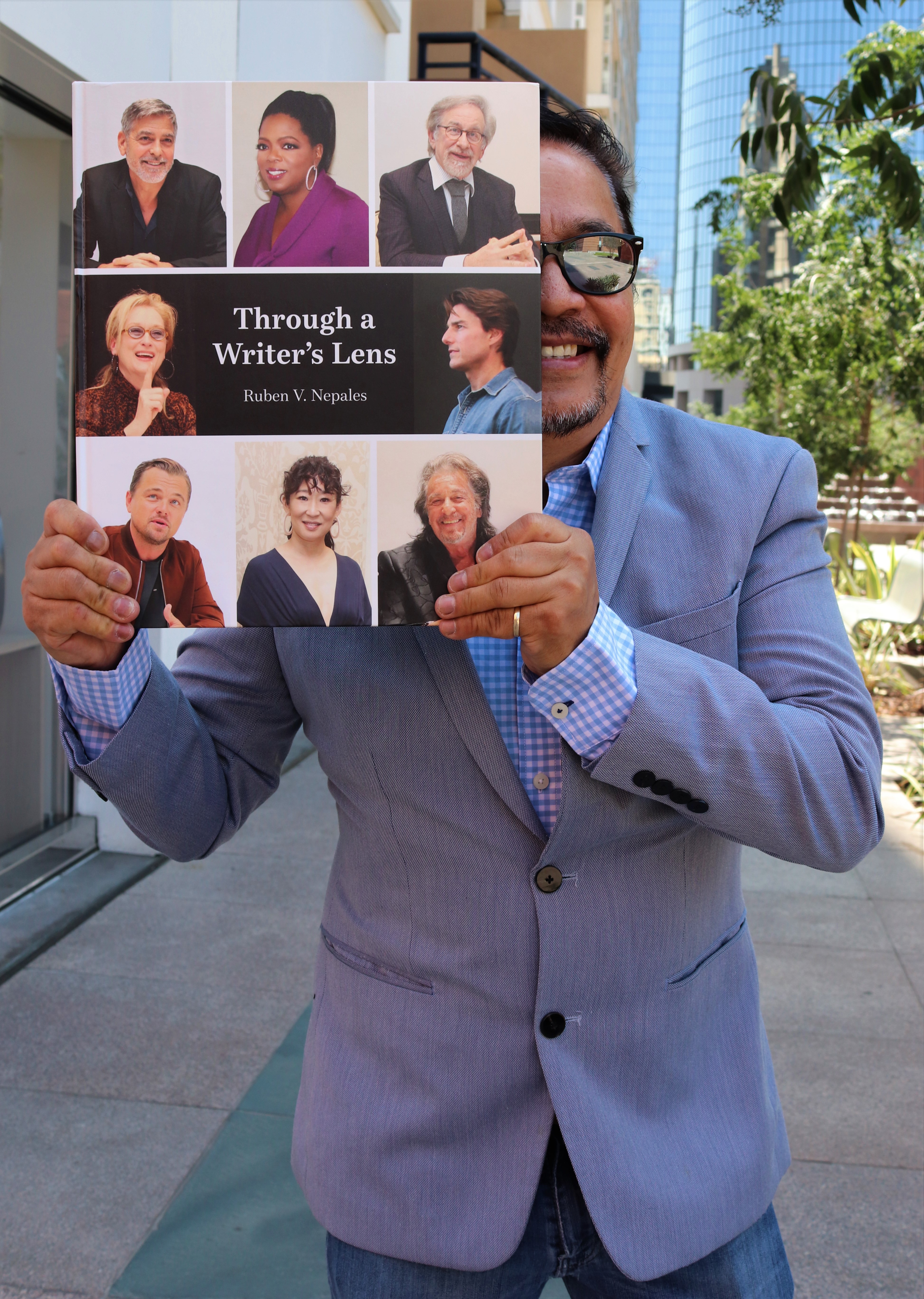 The book contains candid photos of stars such as Tom Cruise, Angelina Jolie, Oprah Winfrey, Sandra Oh, Jennifer Lopez, Kristen Stewart, Darren Criss, and Robert Pattinson. It also contains quotes from interviews for columns that came out on the Philippine Daily Inquirer and Smile magazine, Cebu Pacific's inflight magazine.
Through a Writer's Lens is Nepales' second book.
In 2012, his first book My Filipino Connection: The Philippines in Hollywood won in the print journalism – book category of the Migration Advocacy and Media Awards presented by the Office of the President of the Philippines' Commission on Filipinos Overseas.
Nepales is also a member of the Hollywood Foreign Press Association (HFPA), the association of international journalists that votes on and presents the Golden Globe Awards.
Through a Writer's Lens are available at $125 plus $10 for shipping and handling in the US; in the Philippines, it costs ₱6,000 plus ₱200 for shipping and handling.
To order, send a message to https://www.facebook.com/throughawriterslens/ – Rappler.com