This is AI generated summarization, which may have errors. For context, always refer to the full article.
We continue the story of Ruby, who wishes to move on from her married ex boyfriend. He loved her despite her being disabled.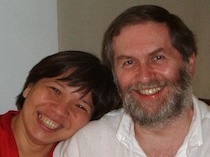 Rappler's Life and Style section runs an advice column by couple Jeremy Baer and clinical psychologist Dr Margarita Holmes. Jeremy has a master's degree in law from Oxford University. A banker of 37 years who worked in 3 continents, he enrolled in and subsequently gave workshops in work-life balance and gender sensitivity training. He has been training with Dr Holmes for the last 10 years, as co-lecturer and occasionally as co-therapist, especially with clients whose financial concerns intrude into their daily lives. Dr Holmes needs no further introduction.
Dear Dr Holmes and Mr Baer: (shortened version of December 7 letter – for the complete letter, click here)
My married boyfriend and I broke up after over 4 years and 7 months together when his wife found out about us. 
Our relationship was special. I am a paraplegic due to a spinal cord injury. I use the wheelchair full time. The guy continued to pursue me despite my acquired disability. While the break up was over a year ago, I still think of him constantly. I'd like to move on. I also have the notion that I will never find anybody like him. Please help.
Ruby
——————–
Dear Ruby,
First let me comment on your central issue, that of moving on. At the end of a relationship that was significant to you, whether in its length or depth or indeed both, could it be that one reason it is often hard to move on is because you feel that to do so in some way diminishes what you have left behind? In this sense, it is akin to the guilt people feel when their memories of a loved one who has died start to fade. It is often not conscious or deliberate and for that reason rational appeals by well-meaning friends and relatives to move on seldom gain any traction. 
Ultimately, success can depend on whether the person is truly open to a new future rather than being determined to glorify the past. New romantic opportunities or a change of circumstances (job or residence for example) can jumpstart the process, or it can simply be a matter of a gradual readjustment to the new reality.
It helps, of course, to maintain a proper perspective, i.e. in your specific case, notwithstanding the joy your relationship with Henri brought you, it also brought you sorrow so saying you are afraid you will not meet another man like Henri implies that you would like to and this should be seen for what it would actually (rather than ideally) be – a two-edged sword. I do not feel I have a great deal more to contribute here but a number of subsidiary questions also strike me. If your married friend (let's call him Henri) met you via Dating4Disabled, is it possible that his interest was primarily in your disability and only secondarily in you as an individual? Your vagueness on this point is a little surprising, given how central your disability is to your story, not to mention your life.
Then there is this issue of his availability at times like Christmas and New Year apparently because he and his wife were living separate lives, yet the breakdown of your relationship with Henri is supposedly because his wife found out about your affair. That is at the very least inconsistent and this inconsistency is repeated when he severed all ties with you after previously saying that he wanted to remain friends. 
My (inadequate and maybe wrong) conclusion from all this is that he was more than a trifle economical with the truth of his situation and his interest in the relationship.
As for you, Ruby, you will always have your memories of your time with Henri and none of us knows what the future has in store for us. All the best. – Jeremy
Dear Ruby,
Thank you very much for your letter. I feel you are being too hard on yourself. While I have no rigorous studies to back up what I am about to say, I estimate that the time it takes to get over a person to be, at the very least, half the time the relationship lasted. At least, that is usually the case if one is emotionally healthy and does not enjoy being a martyr.
For you, that would be 27.5 months which is more than two years. Of course, knowing that you are "normal" and thus within the range of time it takes for lovers to mourn the end of their relationship is small comfort for someone who finds it hard to move on. And being encouraged to be patient can sometimes make one feel the other person doesn't understand the kind of relationship you had. 
There is nothing I can tell you that will take the pain away, but perhaps, if you understood why it is so difficult to get over him, it may be easier to deal with what is going on…and that I hope I can offer you.  
To my mind, two people can help you understand what is going on:
Jeremy, from whom I first heard the theory that there may be two reasons getting over a beloved is so difficult.
The first is guilt because you may have the mistaken impression that not to miss him as much as before says you didn

'

t really love him.
The second is to fight a diminishing sense of self worth in case you can

'

t help thinking, (consciously or unconsciously) that moving on so easily shows you didn

'

t really care for Henri, and what sort of woman does that make of you.
Dr Ethel Person was a psychiatrist, psychoanalyst and one of the few academically oriented authors who was also able to write books for popular audiences on a host of psychologically and culturally relevant themes in contemporary culture.  
Dr Person wrote many books, but it is her 1988 book, "Dreams of Love and Fateful Encounters: The Power of Romantic Passion," which I have used extensively in my clinical practice. 
Through her own clinical practice, Dr Person says romantic love is a far more powerful force than we imagine it to be. 
Because it is the kind of love that injects passion in our lives, very few scientists have studied it, fearing that passion will never allow itself to be forced into categories, which science requires. Family therapy, relationships between siblings, even sexuality are much easier to study than romantic relationships, especially because one of its defining characteristics is that, so far, no one has been able to operationalize what makes one person love another.
For example:  Henri's patience as he pursued you and your feelings about his capacity to accept your disability and the limitations this imposed are partly the reason you fell in love with each other.  In addition, one gets the feeling he not only accepted, but reveled in your feistiness  and integrity – both in your reason for first joining dating4disabled and not wanting to have a relationship with a married man. But still, even if he were a devotee, why did Henri pursue you instead of pursuing someone else from the website?
Because the actual reasons person A falls deeply and madly in love with person B have not yet been fully understood, most scientists are loath to study romantic love. The very prejudices that accompanied scientists who studied sex has now moved on to scientists who study romantic love.
This is the reason novelists and poets are usually better able to express the true nature of love. And to my mind, no one can do this better than the American essayist  and poet BY RALPH WALDO EMERSON.
In his poem Give All to Love, he says:  
Give all to love;
Obey thy heart
Friends, kindred, days,
Estate, good-frame,
Plans, credit and the Muse,—
Nothing refuse
'T is a brave master;
Let it have scope
Follow it utterly,
Hope beyond hope:
Leave all for love;
Yet, hear me, yet…
But when the surprise,
First vague shadow of surmise
Though her parting dims the day,
Stealing grace from all alive;
Heartily know,
When half-gods go, 
The gods arrive.
Perhaps, being an American, Emerson was more optimistic than most. This is probably the reason he encourages you to rush in when you are in love because even if you should find yourself bereft of the man you thought would be with you forever, don't worry, because someone better (a god, rather than the half god Henri was) will come along.  
I don't want to make false promises, Ruby, and while there is every possibility you may find someone else worthy of giving your heart to, there are no guarantees.    
But what I've observed in my clinical practice (as first suggested by Dr Ethel Person) is that, even if it doesn't last a lifetime, or even 10 years or 20 (or, in your case, as long as 5 years), its duration is not what makes romantic love so powerful. What makes it so, is its capacity to move you to do things you ordinarily wouldn't have done: to dream dreams (admittedly now shattered) you may not even have imagined before; to reach out for goals you may not ever have felt yourself able to achieve before; and yes, to see yourself blossom into a woman who, despite her disability, was pursued relentlessly by a man who not only appreciated her mind, but also longed for her body.  
As William Wordsworth wrote:
Though nothing can bring back the hour 
Of splendour in the grass, of glory in the flower; 
We will grieve not, rather find 
Strength in what remains behind; 
In other words, dearest Ruby, so what if it lasted (only) 4 years and 7 months. Those 4 years, 7 months were full of joy and passion, perhaps also worry and now, a year (and perhaps many more years after) of regret and recrimination. But during that time, you were fully alive, and your heart sang every morning, looking forward to what the day – and Henri – might bring.
These 4 years, 7 months are not something to be taken lightly. Believe me, they are far longer than most people have in a lifetime.
Please write us again if there is anything else we can do for you, dearest Ruby. All the best – Margie 
– Rappler.com
Need advice from our Two Pronged duo? Email twopronged@rappler.com with subject heading TWO PRONGED.