Being pressured into marriage by a woman he's only dating for 10 months, this week's letter-sender seeks the Two Pronged duo's advice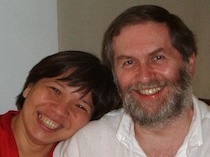 Rappler's Life and Style section runs an advice column by couple Jeremy Baer and clinical psychologist Dr Margarita Holmes. Jeremy has a master's degree in law from Oxford University. A banker of 37 years who worked in 3 continents, he has been training with Dr Holmes for the last 10 years, as co-lecturer and, occasionally, as co-therapist, especially with clients whose financial concerns intrude into their daily lives. Together, they have written two books: "Love Triangles: Understanding the Macho-Mistress Mentality" and "Imported Love: Filipino-Foreign Liaisons."
Hello Dr Holmes and Mr Baer, 
My girlfriend and I are both 28 years old and have been in a relationship for less than a year (10 months). We have our little fights and misunderstandings every now and then but what normal healthy relationship doesn't? Overall I was happy with how things were going but lately, because most of her friends and cousins are getting married, she has been pressuring me non-stop to tie the knot. 
I take that this might have something to do with the heavily promulgated idea in our society that she will soon be past her so-called 'expiration date.' I love her and would not want to lose her but I feel that I am not yet ready to take this next step right now in our relationship. 
For one, although I would want nothing more than to have kids with her, we are not yet financially stable. 
Career-wise I am also not yet happy where I am currently at and would like to explore other career opportunities which I am afraid would further add to the financial instability. I am the type of person who was raised to prepare and plan for everything and although I realize that not everything in life can be planned, I really feel deep down inside that this is not yet the right time to get married. 
Recently she has been resorting to emotional blackmail, saying that she needs space from me and saying that she doesn't know where the relationship is going if I won't marry her soon. 
In my mind this is like her saying she will break up with me if I don't do as she wishes and is making me emotionally distressed seeing things in our relationship becoming this cycle of endless fights. It has affected me so much that I can't sleep at night and have trouble focusing at work. 
I love her and losing her would tear me up inside but I don't want to be bullied into making this decision as I am clearly not yet ready. People say that I think too much sometimes instead of just acting, but am I wrong in this? 
If I love her then that should be it right? But why don't I feel right about going to the next level yet? 
Thank you for any advice you may give. 
Sincerely,
Feeling-the-pressure
————————–
Dear Feeling-the-pressure, 
Thank you for your email.
You suggest that your girlfriend (let's call her Meg) is heavily influenced in her attitude to your relationship by outside factors, such as social pressure to marry and third party views on biological clocks. This would indicate that she attaches less weight to what you and she think, either individually or together, and bodes ill for any future you may have together.
After all, if at the moment she is contemplating choosing you as her mate for life she is paying more heed to other voices than to yours, how do you expect her to behave in the years to come? 
I am sure you can already foresee the next critical issue: children. You may not be ready, your finances may not support a bigger family yet she will probably be listening to her clock, not her husband.
It would therefore be sensible to have a heart-to-heart talk about these vital issues. Tell her where you stand and tell her your concern that she is not listening to you. Of course, you must also be prepared to listen to her as well. 
If after this you and Meg still don't see eye to eye, then remember that you are only 28 and have spent 27 years of that time without Meg. Plenty of people fall in love with the wrong person, or at the wrong time, or in the wrong place. Nearly all survive!
You are young, there are plenty of fish in the ocean and the world is your oyster (forgive the piscatorial mixed metaphor). All the best – Jeremy
Dear FTP  (Feeling-the Pressure):
Thank you very much for your letter and, Jeremy, thank you so much for saying everything I wanted to say.
In fact, there are only two things I wish to add:  
In addition to Meg's possibly being heavily influenced in her attitude to your relationship by outside factors such as social pressure and third party views, it is also possible that many of the pressures are simply Meg's views which she pretends is coming from others because she doesn't want to sound pushy (even if it may not have worked)
The PLISSIT Model of sex therapy is a system in the field of sexology which, if I may make yabang, I learned from the creator himself, Dr. Jack Annon
The  letters that make up the name PLISSIT refer to the 4 different levels of intervention a therapist can apply: permission (P), limited information (LI), specific suggestions (SS), and intensive therapy (IT). 
The varying levels largely revolve around what the client is looking for and how comfortable he is in discussing sexuality and in this case, the balance between answering your girlfriend's needs and your own. 
My feeling is that all you needed was the first level, permission.  In fact, I have the distinct impression that after you'd written us this letter, you were better able to clarify your thoughts and knew therefore what you had to do: exactly what Jeremy suggested.
I say this because every time you give her reasons for wanting to get married right away, you quickly give your own reasons why it's not a good idea.  
All you needed from us was the guarantee we would be nonjudgmental listeners and the reassurance that you were not a selfish SOB if, forced to make a decision, you preferred losing her rather than marrying her right now.
So I hope we have helped, FTP.   And please write to us again if there is anything else we can do for you.
All the best–Margie 
– Rappler.com
Need advice from our Two Pronged duo? Email twopronged@rappler.com with subject heading TWO PRONGED. Unfortunately the volume of correspondence precludes a personal response.
When leaving a message on this page, please be sensitive to the fact that you are responding to a real person in the grip of a real-life dilemma, who wrote to Two Pronged asking for help, and may well view your comments here. Please consider especially how your words or the tone of your message could be perceived by someone in this situation, and be aware that comments which appear to be disruptive or disrespectful to the individual concerned will be removed.