A marriage with zero sexual activity: should you stay or move on to someone who can answer to your needs?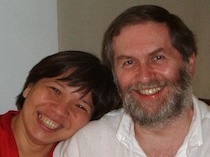 Rappler's Life and Style section runs an advice column by couple Jeremy Baer and clinical psychologist Dr Margarita Holmes. Jeremy has a master's degree in law from Oxford University. A banker of 37 years who worked in 3 continents, he has been training with Dr Holmes for the last 10 years, as co-lecturer and, occasionally, as co-therapist, especially with clients whose financial concerns intrude into their daily lives. Together, they have written two books: "Love Triangles: Understanding the Macho-Mistress Mentality" and "Imported Love: Filipino-Foreign Liaisons." 
 Dear Dr. Holmes and Mr. Baer:
My husband and I have been together for 7 years before we decided to tie the knot. We are currently on our 3rd year of marriage and this breaks my heart. I am in a cold and sexless marriage since my husband doesn't want to have sex with me. 
I know that our situation is out of the ordinary. I use to read articles about couples having the same problem but with those articles, usually the girl is the one who gets cold in bed. In our situation, it's the other way around. We were active on our first 2-3 years of boyfriend/girlfriend relationship but it has stopped after that. I tried to communicate with him and ask him if there's something wrong with me, if he's sick or something, if he doesn't find me attractive, if there somebody else and such. Whenever I asked him to make love he never runs out of excuses, like, he's tired, sleepy or his body is aching. I always find myself crying at night and think of myself as a deprived, unhappy wife. 
His reason behind is that he lost the urge of having sex when we were still bf/gf when his stepdad advised him not to engage in premarital sex. Honestly, we didn't have sex even during the night of our wedding. We never had our honeymoon, we never get intimate (kissing, oral sex, petting). In short, there's no romance in our marriage. As time passes by, my love for him starts depleting. The love I have for him is being turned into anger, especially at times when I arrive from work and found him sleeping from a drinking session and see that the laptop is on a porn site. 
I tried to initiate to get intimate but i always get a rejection from him. He also has issues whenever I open the topic of me wanting to have a baby. I find him unfair for before we got married, he told me that he wanted to have 4 kids. But I'm now turning 32 and yet we don't even have a single kid of our own. He then has his excuse of being not financially prepared and that his priority is to buy a car over a baby. He currently has no job as my brother's business that he managed recently closed. I am helping him find a new job now. I can say that I am financially able and that we can manage to raise a child. I'm getting frustrated and loosing hope for I'm no longer happy with him. 
I'm not a sex addict but I believe that we women have our needs too. We have to have romance in marriage to keep the fire burning. Because of lack of intimacy, the communication become less frequent, I easily get angry at him, not to mention that he cheated on me twice but he assured me that he never had any intercourse in those two instances and others were just purely text mates and dates. I feel doomed for the romance and trust is gone.
I wanted to seek for your help, if I still need to hang on to our marriage or let go and move on. Im so confused that I can no longer find happiness when I'm with him. In case of me holding on to our marriage, what do I need to do to fire up the romance?
Thank you in advance and more power to both of you, 
Unhappy Wife
——————-
Dear Unhappy Wife (UW), 
Thank you for your letter.
From your account it would seem that your husband (let's call him Bill) is one of a very select group of human males. After all, how many of us know a man who, having been introduced to the joys of sex, then willingly renounces them at the behest of his stepfather ('no premarital sex') and does not even re-embrace them post-marriage? Since the vast majority of answers to this question will be 'none', perhaps there is more to the situation than first meets the eye. Is Bill gay, or asexual, or…? 
However, for me the primary question to you, since it is you and not Bill who write to us, is: what do you want from marriage? Most people's list would include trust, companionship, love, sex, children. Bill seems to score very poorly if this is also your list – in fact, 0 out of 5.
Insanity has been defined as doing the same thing over and over again and expecting different results. You have given this marriage your best shot and Bill has not. So frankly I can see no reason for you to stay. I suggest you get out and move on immediately. All the best.
– Jeremy
Dear UW (Unhappy Wife):
Thank you so much for your letter. I agree 100% with what Jeremy says: "You have given your marriage your best shot." And what more can you do but that, UW? 
I also agree with another thing Jeremy said: "I see no reason for you to stay," and I shall tell you why.Your husband has not been answering your needs. That in and of itself is not that big a deal, because how many of us know our partners enough or have our own lives straight enough so that we don't project our own needs, rather than listening to the needs of our partner? 
I would say very few – (if any at all) – at the start of any relationship. But then the individuals in a marriage learn to like each other even more, respond to each other and get responded to even more and, once trust is there, get to disclose intimate, sometimes even scary, things about oneself.
One of the most difficult things to self-disclose is about one's sexuality. It is difficult to express that you wish someone would pay more attention to you. 
But you, UW, did more than that. 
You did something more loving, for is not taking a risk a sign of love? You wouldn't have done it unless you felt he was worthy of your trust. So you opened yourself up even more and told him something you wouldn't have told anyone unless you loved him enough to marry him and fight for your relationship.You told him you wanted him sexually. You told him you wanted him to make love to you. You even asked him if there was anything wrong with you or if he found you unattractive, probably because you were willing to do what he wanted in order to be more attractive to him. Not many women would be willing to risk being rejected. Fewer women would be willing to risk being told "what made them unattractive to their partners" so they could change themselves to turn him on. 
 I admire you for self-disclosing as much as you have, especially to a husband who doesn't seem to deserve such a privilege. Many husbands – except those who dislike their wives intensely—would respond to your self disclosure with love and trust. Many husbands would honor what you told them with sincerity and honesty. 
Your husband is not that sort of man. You have opened up your heart to him, but not only has he lied to you with pathetic excuses like what his stepfather told him and his being too tired, he has not even bothered to reassure you that he appreciates your self disclosing to him. Worse, he has not opened up his heart to you even one iota more. Husbands do not behave as callously as that, unless they are not worthy of being husbands.
So leave him, please, UW. While you may not appreciate it now, you are so lucky not to have any children with him. There are other, less emotionally painful, ways to be a mother. 
Perhaps it would be much more edifying if we, as mere columnists (and not therapists), did not respond as strongly and as unequivocally as we have to your letter.  But with what we feel is an accurate description of your marriage, to not encourage you to leave would be almost a dereliction of our duty to be honest and, yes, as fair as possible to the letter writer.   Take care.
—MG Holmes
– Rappler.com
Need advice from our Two Pronged duo? Email twopronged@rappler.com with subject heading TWO PRONGED. Unfortunately the volume of correspondence precludes a personal response.
When leaving a message on this page, please be sensitive to the fact that you are responding to a real person in the grip of a real-life dilemma, who wrote to Two Pronged asking for help, and may well view your comments here. Please consider especially how your words or the tone of your message could be perceived by someone in this situation, and be aware that comments which appear to be disruptive or disrespectful to the individual concerned will be removed.