How long will you have to wait for a long-distance lover?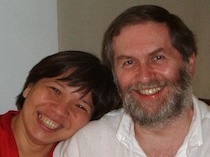 Rappler's Life and Style section runs an advice column by couple Jeremy Baer and clinical psychologist Dr Margarita Holmes. Jeremy has a master's degree in law from Oxford University. A banker of 37 years who worked in 3 continents, he has been training with Dr Holmes for the last 10 years as co-lecturer and, occasionally, as co-therapist, especially with clients whose financial concerns intrude into their daily lives. Together, they have written two books: Love Triangles: Understanding the Macho-Mistress Mentality and Imported Love: Filipino-Foreign Liaisons.
Hi Dra. Holmes and Mr Baer,
 I am a 35-year-old woman, a virgin and in a long distance relationship with a foreigner. I wrote to seek your advice. Although I got plenty of unsolicited advice, I am just too scared to follow what they say.
My problem is my future with my boyfriend. We still haven't personally met. I have known him for 8 years and we have been in this long distance relationship for 5 years. We do what most people in LDRs do. It has been a long plan for us to meet. He lives with his family and has a regular full time job for 4 years now. But he is not a financially well-off guy. The main reason why he can't see me is because he doesn't have enough money to spend. 
We planned that when he comes here, he will be staying here and will only go back to his country for vacations once we are financially stable here. We are saving money for the future. I can see naman that he is really saving because he shares his account password if ever we talk about it. So I know it isn't enough.
Two years ago, I started to gain financially. My savings grew. I told him I can buy his ticket. But he doesn't want to use my money. He even said that my savings are still not enough for us to start our life together. So I am still saving some more.
I have been waiting for so long. Last 2012, he said he will be here 2013. The year ended and still he is not here and now saying by 2014. His reason remains the same, he hasn't saved enough and doesn't want to use my money.  
I would have liked to be the one to go and meet him, but my parents don't approve. And when I offered him the idea, he asked what my parents said. When he knew they didn't approve, he said then I have to wait here.
I tried to break up with him because I am tired of waiting. I am really not patient, but whoever will say I am not patient for him is crazy. I can't break up with him because he still chooses to keep our relationship. My only issue for my breaking up is because he is making me wait too long already and I am getting bored. If he feels the same way, we can call it quits. But he said he is not bored with me and said that he will be here before 2014 ends. That's the ultimatum.
I do not doubt that we really love each other. And I don't want to hear people saying if he really loves you, he will make a way to meet you. I don't ask for proof that he really does. I know the real reason he can't come is because of his financial difficulties and his ego to refuse using my money. 
They say true love waits. And wait with suffering is what I am doing. Suffer because I think I have waited long enough, yet I am still waiting for the remaining months of 2014. Should I really wait this long? What if I give up and I will be missing this chance of love? I don't love and haven't loved any man, I have been loyal to him ever since. So my being restless now really just comes from being impatient (if that's what it can rightfully be called because I have been waiting for 5 years) about his coming.
What other ways can you suggest that we can make this work?
Alma
——————–
Dear Alma, 
Thank you for your message.
You have, I think, set us a difficult task as much by what you don't tell us as by what you do. For example, what do we know about the people involved? You are Filipina, 35, a virgin, have a good but unidentified job. He is of uncertain nationality, uncertain age, lives with his parents and has only been in full-time employment for 4 years, and in a poorly paid and unidentified job at that. 
Now you also tell us that you "know" certain things: that he is saving but still has not saved enough because you can access his account, that you really love each other (no explanation given), that the reason he cannot visit you is lack of money and ego. 
Yet I am sure you will concede there could easily be different scenarios. For example, he could have other bank accounts which he has not revealed, he could be dating someone where he lives and he could even have invented some or all of his online persona. 
But although these are possibilities, they are not what should really worry you. Consider instead his apparent failure to make much money, his refusal to accept anything from you and his seeming willingness to postpone his trip again and again. The first is not an ideal qualification for your future husband – but money is not everything. However, combined with the other two, they render his love a rather hollow offering: all words and no substance. 
He will come, once he has the money, but he is still short. Trip postponed. Solution: you lend him the price of the ticket. No, he is too proud to accept that. Trip postponed. Whatever the subsequent protestations of love, the bottom line is: trip postponed. 
I suggest that 8 years is long enough. Good-bye, get over him, get on with your life and meet some real people with whom you can have real relationships. All the best. – Jeremy
Dear Alma:
Thank you very much for your letter.  There is so much I want to say that I have decided to do it by addressing the salient points, ok?  It's clear that you have thought about your relationship a great deal, looked at it from all angles and gotten lots of advice (solicited or otherwise) on your relationship.  What I'd like to do is call your attention to possible red flags and if you'd like to explore any of those in greater detail, please write to us again, and Jeremy and I would be delighted to write back once more. 
In paragraph 2 (P2) you say, "We do what most people in LDRs do."Actually, that's not true, Alma. Most people in LDRs do everything they can to see each other in person as soon and as often as possible.   
The fact that he doesn't behave the way most people in LDRs behave is of little consequence in and of itself IF you know the reason he doesn't. Is it because there is something that (he feels) will make you change your mind when you finally meet him? Something that doesn't come out on email, Facebook, Skype calls, etc but will leap out at you when face to face? The sooner you find out the better 
Seemingly small, but significant statements in P 7: "I can't break up with him because he still chooses to keep our relationship…If he feels the same way, we can call it quits."
Nonsense! You can definitely break up with him whether he wants you to or not.  
But frankly, there is one incident you shared that makes me wonder whether it wouldn't be best to break up with him anyway. Remember when he told you not to go to his country to meet him if your parents disapproved? And  they duly did? So you duly didn't? 
I get goosebumps wondering why on earth he would say this to you. Again, this is not how people in LDRs normally behave and while that is not in and of itself a deal breaker, it is yet another time for a taas kilay (a "hmmm, must think more about this" moment). Does he know you and your parents enough so that he knows they make/have more sense than you? Because if he does and this is what he feels, then I suggest you break up with him. In an ideal world, parents and children side with one another. Thus, if he loves you, and sides with your parents, that is no big deal because that is in effect, siding with you. But more realistically there is so much that goes on while being raised by one's parents that should there be some unfinished business which gets played out later in life, you want someone who is clearly on your side, not theirs.
Even more frightening, however, is if he doesn't know your parents and just thinks that, even at 35, you should follow their wishes simply because children obey their parents. Someone as conservative as that will expect you to obey him simply because wives obey their husbands and I am not sure this sort of marriage is the best for you.  
"What if I give up, (will I) be missing this chance of love?"  
Not necessarily. Look, I won't lie to you. Admittedly, usually more difficult to find a good man at 35 than at 27, but love is possible at any age. 
 Finally, there is yet another reason I fear this guy may be unsuitable for you, even if I have no basis for saying this because I know so little about him: he's made such an issue about money, even though he knows you have enough. He would also be aware, without your telling him, of your unfounded fears that this is your last chance at love. Is there any possibility that he is purposely making you so sabik (eager) you will sign anything – joint bank accounts with either of you as signatories, anything you owned before now transferred to conjugal ownership, etc – just to be married? This is not because you are really so sabik you have lost all your senses, this is just because you are human. Yes, true love trusts, but you have trusted him enough over 8 – possibly 9 or more – years. Yes, true love shares, but you have shared enough of your time, concern, love, obedience (shudder) to share material things immediately.
I hate to end on this rather materialistic note, but clinical experience, especially with similar relationships, has made me a firm believer in taking the time before making even more final decisions – especially after marriage. Mabuhay ka, Alma, with or without this guy in tow.  – MG Holmes
– Rappler.com
Need advice from our Two Pronged duo? Email twopronged@rappler.com with subject heading TWO PRONGED. Unfortunately the volume of correspondence precludes a personal response.
When leaving a message on this page, please be sensitive to the fact that you are responding to a real person in the grip of a real-life dilemma, who wrote to Two Pronged asking for help, and may well view your comments here. Please consider especially how your words or the tone of your message could be perceived by someone in this situation, and be aware that comments which appear to be disruptive or disrespectful to the individual concerned will be removed.