This is AI generated summarization, which may have errors. For context, always refer to the full article.
'I don't know what to do and at this point, I just need help that I can't get that from my friends and family... they'll be furious if they get to know my dark side,' goes this week's dilemma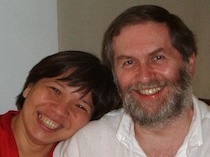 Rappler's Life and Style section runs an advice column by couple Jeremy Baer and clinical psychologist Dr Margarita Holmes. Jeremy has a master's degree in law from Oxford University. A banker of 37 years who worked in 3 continents, he has been training with Dr Holmes for the last 10 years as co-lecturer and, occasionally, as co-therapist, especially with clients whose financial concerns intrude into their daily lives. Together, they have written two books: Love Triangles: Understanding the Macho-Mistress Mentality and Imported Love: Filipino-Foreign Liaisons.
Dear Dr Holmes and Mr Baer,
I've been out of a romantic relationship for more than 6 years now after getting out of a decade-long relationship with a guy. Being alone for that long (and living alone away from home as well) at 35 years old makes me resort to a number of things.
I was active in sex in my previous relationship and we were sexually compatible. After the breakup, I missed it so much that I always saw myself masturbating a whole lot. Also, none of my friends and family know this, but I have been logging to chat sites and sex-chatting (yes, the "show me your boobs" thing). I've had a number of one-night stands as well because having virtual sex sometimes is not enough. At that time, I always imagine that that naked guy in front of me is mine and I'm his.  
I never imagined in my wildest dreams that I'll resort to this and I don't know how this happened, but I don't want to stay here. 
I've attempted to stop by disabling chat apps and avoiding the sites but I keep on going back once I have that urge. I am not in a relationship, obviously and no one's interested, as far as I can see. I don't know what to do and at this point, I just need help that I can't get that from my friends and family… they'll be furious if they get to know my dark side.
Thanks and hoping for your response,
Alma
————
Dear Alma,
Thank you for your letter. 
Let's consider first your concerns with your friends and family. When it comes to sex, this can be a thorny problem because we are not all blessed with friends and relatives who think and behave like us. Whether liberal, conservative or somewhere in between, people are often unwilling to be sufficiently flexible to accommodate radically different views about such an emotive area of human behavior. 
Most of us therefore are only willing to risk disclosure to those whom we are sure will be sympathetic, or at least non-judgmental, and keep the rest in the dark. 
Of course, there are those who adopt a more in-your-face approach, even flaunting their conduct, and these tend to be people who are simply unwilling to live in whatever closet it is, or just do not want to associate with those who condemn, or whose behavior is too difficult to hide successfully anyway. None of this will be news to you and I am sure that you are already disclosing what you feel comfortable to share with a select number of those closest to you. 
Your main problem however seems to be that you are concerned that you do not have your behavior under control. This has two aspects: you are uncomfortable with some, if not all, your behavior and you are trying, so far with limited success, to eliminate at least some of what you term the 'darker' elements.
Before addressing these issues though, perhaps a question to be considered is why you distinguish certain activities as 'dark' i.e. undesirable and not to be pursued.
The vast majority of us are sexual beings, notwithstanding that there are some asexuals who are not interested in participating in the joys and tribulations of any sexual act whatsoever, but this does not mean that we all indulge in the vast array of sexual possibilities of offer.
We are limited in our choices by our personal circumstances: our psychological makeup defines some of the boundaries, employment and finance define others, and some of us simply do not have a partner, temporarily or seemingly permanently.
We also live in a state of flux, so changes in our personal circumstances may alter our sexual behavior (singles acquire steady partners, then break up, become singles again and the cycle continues, for example).
The Internet and the changes it has brought are increasingly influencing our lives and it is a constant struggle to keep abreast of developments (particularly for older people like me). We therefore try to have conversations with a wide variety of people about topics such as these.
One of my favorite co-conversationalists is Maria Cecilia Millado, a dear friend, international development expert specializing in HIV and sexuality and to many who know her a sex goddess. Ces and I agree on a lot of things, but because she has a lighter touch and less judgmental way of saying things, let me quote her:
"You first need to deal with the self-judgement that underlines that last statement on 'if they know my dark side.' There is nothing 'dark' about missing sex, masturbation, virtual sex, and one night stands!
It is good that you are self-aware enough to know and brave enough to admit that you miss sex. That's a good start. But you seem to be struggling with embracing the part of you that acted on it – that actually was also brave enough to respond to your own need.
"Maybe a question (that only you can answer) is: do you imagine that the 'naked guy in front' of you is 'mine and I'm his' because it makes having sex with a (relative) stranger less 'dark,' more acceptable?
Or do you do this because that is really what you deeply crave for: an 'is mine and I'm his' sort of relationship? 
When that self-judgment is cast away, which it needs to be – because it blurs a possibly deeper issue – then you can deal with the question: is this what I really want? You can celebrate the fact that you are a sexual being and know the art of masturbation (and can explore the many ways of achieving self-pleasure).
You can also then experience or examine how you really feel about virtual sex, and even one-night stands: is that something that also gives you absolute pleasure (without the spoiling effect of guilt), and fulfills and affirms your sexual side? Or maybe you will come to the conclusion that a 'romantic relationship' (your term) and a he-is-mine-and-I-am-his relationship is really what you want." 
"If there is clarity, then a choice can be made. And the choice does not even have to be white or black, light or DARK. It can be one, but it can be all of those –- colorful choices – but the choice is in knowing what brings you to each color, and possibly celebrate each choice.
Imagine the world of possibilities (of pleasure) you can still have, given the courage you already have shown in finding ways to respond to your sexual needs?!?
But ultimately what you should strive for is the ability to embrace your needs and your choices. That is the power of being single and being alone. You can admit to loneliness, if that is your reality, but you can also explore, explore, and explore, because you have the freedom to do so. 
And, at the end of the day, if you wants a romantic relationship, then you may get bored with the virtual sex and one night stands (while always remembering the good ones with fondness)." 
So there you have it, Alma. Once you resolve whatever guilt you may feel, your sex life will truly flourish but until then it will be a millstone round your neck. Best of luck and please write again if you have anything further you wish to share. 
JAF Baer
Dear Alma: 
Thank you very much for your incredibly honest letter. I say incredibly in that while many may write about their emotional sexual issues, far fewer are aware that even their behavior has changed dramatically and even less are willing to admit it, as you have.
While not wanting to seem alarmist, I can't help wondering if your behavior has become an addiction – specifically, an addiction to the Internet. Even more specifically, to using its apps related to hook ups. 
You have not told us a lot about your actual behavior vis a vis possible addiction. That is perfectly understandable. The possibility of your being addicted to Internet hook up apps may never have entered your mind. 
In fact, Internet addiction disorder is not listed in the latest DSM manual (DSM-5, 2013), often recognized as the "bible" of mental health disorders for  psychiatrists and psychologists, including many Filipinos. 
Indeed, the only behavioral (non-substance related) addiction included in DSM-5 is gambling disorder. 
I haven't enough information to even venture a diagnosis. The only thing that rang any (alarm) bells was: "I've attempted to stop by disabling chat apps and avoiding the sites but I keep on going back once i have that urge."
If you are sure you don't have it, then terrific. If you worry whether you do or not, please write us again.
In the meantime, however, Mr Baer's (and Ms Millado's) advice are spot on and I hope you take some – if not all – of it to heart. 
All the best,
MG Holmes
Need advice from our Two Pronged duo? Email twopronged@rappler.com with subject heading TWO PRONGED. Unfortunately the volume of correspondence precludes a personal response.
When leaving a message on this page, please be sensitive to the fact that you are responding to a real person in the grip of a real-life dilemma, who wrote to Two Pronged asking for help, and may well view your comments here. Please consider especially how your words or the tone of your message could be perceived by someone in this situation, and be aware that comments which appear to be disruptive or disrespectful to the individual concerned will be removed.