'There are a lot of reasons why women need to get an abortion. It's not just unwanted pregnancy. There are victims of abuse and rape,' shares one guest
"We want to give women options whenever they face a particular situation, and that's not something we can judge them for."
This was what Shiph Belonguel, youth reproductive health rights advocate, said during the 3rd episode of Spilling the Tea, a webinar series held by Rappler and SheDecides Philippines, a movement that promotes the fundamental rights of adolescent girls and women.
In the episode "My abortion story" aired on October 8, Rappler's sex and gender columnist Ana P. Santos talked to Kristine Chan of the Philippine Safe Abortion Advocacy Network, and guest panelists Atty Claire Padilla, founder and executive director of EnGendeRights Incorporate, Shiphrah Belonguel, and Atty Jihan Jacob, senior legal advisor of Center for Reproductive Rights.
The discussion was also joined by two women, *Candice and Sheila, who both decided not to continue their pregnancies.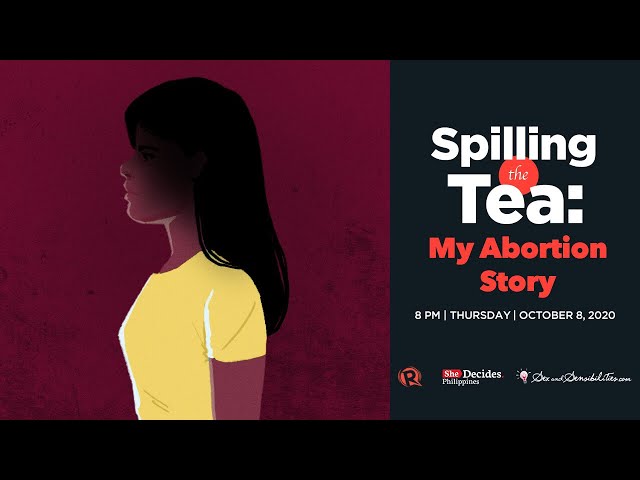 Media negative portrayal of abortion
Candice said that she didn't regret at all aborting her child, but felt guilty for not feeling guilty. "I was questioning myself – am I a bad person? But I didn't regret it at all because I was sure that time that I was not ready for a baby," she said.
"The portrayal of the media is very negative and there are stereotypes for a woman getting pregnant at the wrong time. But there are a lot of reasons why women need to get an abortion. It's not just unwanted pregnancy. There are victims of abuse and rape. It's not a just a single [reason]. I hope people are not judgmental," Candice said in a mix of English and Filipino.
Echoing Candice, Chan said that media portrays abortion in a "really negative way and that stigma is really still strong in the Philippines."
Candice realized that what she went through was dangerous, since it was done secretly due to the restrictive abortion law in the Philippines.
"Even if I survived the procedure, it wasn't 100% safe. Sana magkaroon ng (I hope there will be) safe abortion facilities, 'yung gagawin mo siya nang hindi patago (where you don't have to do it in secret). Not in makeshift clinics," Candice said.
'I didn't have the luxury of keeping the pregnancy'
Meanwhile, Sheila, who is separated from her husband, decided to get an abortion by taking medicines because she didn't have the luxury to keep the baby at that time, as she was in a complicated relationship.
"I made the right decision. But a part of me also really strongly believes that I didn't have a choice. I already have one child with my ex-husband who is not a very good person. He is using the child to hurt me in various ways," she added.
Sheila lamented about how women are seen as selfish whenever they decide to get an abortion. "It is infinitely more selfish to bring another life in the world and not be able to care for it the way it deserves to be cared for," she added.
Access to safe abortion
Santos said that the discourse on abortion in the country now is only about guilt, and that this is wrong.
"Our laws are so restrictive. If Candice and Sheila would come out, they could get arrested and imprisoned for deciding not to continue their pregnancy," Santos added.
The Philippines has one of the most restrictive abortion laws in the world, penalizing persons seeking access to abortion services and those who assist them with imprisonment. This has forced women to resort to unsafe methods to end their unintended pregnancies.
Padilla said that the Philippine abortion law is so "archaic and colonial," as it is based on a 1930's revised penal code that penalizes women up to 6 years imprisonment. "Even if the woman is at risk for her life or health, there are no exceptions," she explained.
Padilla said women have been dying due to unsafe abortion in the country, noting that her group has been pushing to decriminalize abortion. "This is a medical issue, not a moral issue," she said.
Complications from unsafe abortion is one of the 5 leading causes of maternal death and a leading cause of hospitalization in the Philippines. (READ: [OPINION] Why we need to decriminalize abortion)
Citing international human rights standards, Jacob said the government should decriminalize abortion so women would have access to clean and safe abortion.
Jacob said if the government denies women's access to abortion, "we're also violating their fundamental human rights." – Rappler.com
*Names have been changed for privacy