One fine day, skaters pursue their craft without fear of arrest and confiscation
MANILA, Philippines – There was no indication that a skateboarding event would be taking place on Saturday afternoon, June 22, at the World Trade Center.
But there was no need for such notice. As you pulled up to the open-space venue, a few yards past a bridal convention, throngs of young people were camped out on the lawn, skateboards in tow, holding fort and staking their territory.
Even if the huddled herds were without their boards, you could hazard a guess as to their preferred mode of transportation. A skateboarder's outfit is universal, consisting of skin-tight jeans, a triple-sized t-shirt, a snap-back hat and flat-soled skateboarding shoes, usually Vans or Etnies. Some have stretched earlobes, many have tattoos and all have attitude.
It was the 3rd annual Vans Go Skateboarding Day at the World Trade Center in Pasay City, which has become like a Lollapalooza for skateboarders in the Philippines. Skaters from all over the country came to compete, to watch others compete, meet celebrity skaters and, most importantly, skate. Whole crews packed into cars and buses from Cavite, Baguio, Davao, Cebu and even General Santos City.
These were signs of how popular the event had become, said Wendell Cunanan, CEO of Vans Philippines.
Cunanan, who has run Vans Philippines for the past 5 years, said that crowds have swollen to 4 or 5 times as large over the past 3 years. Cunanan said he had booked the larger room next door for the 2014 event, yet he will keep the event free of charge forever.
READ: Vans, Cunanan drive skateboarding in PH
The building's interior had been transformed into a skateboarder's paradise, a veritable complex of ledge grinds, kick flips and board slides. Ramps shaped like Vans sneakers, steep quarter pipes and chalk-dusted ledges were available for general use during two free skate periods throughout the day. But the entire day was really a free skate period, with the skaters eager to form their own skate lines.
The skaters were free to indulge their passion throughout this 12 plus-hour event. In the Philippines, few areas are designated for skate use, and aficionados of this sport have to contend with arrests and board confiscation.
There was no such restriction in this event, which to be sure had its moments of tension among the skaters, or "haters" as they call each other.
"They just talk sh*t," 15-year-old Miguel Chan of Pateros said about some of his fellow skaters. "They look at you really bad, [and] I just smile, like 'f*ck them.'"
Garrett Pelayo, 31, of Quezon City, who wears a tattoo of a cross wire on his temple and another of Ninoy Aquino on his left arm, says these haters are quite defensive about their turf.
"It depends on where you skate because there are [areas occupied by these] haters. They just bully you when they go skating, or make fun of you. Sometimes it's in jest, as in they're just kidding around, but sometimes it gets too much and it gets to the younger ones."
Chan, who is a member of skater crew Skate Ganja, competed in the Best Run competition, but said he was hindered by nervousness.
A total of P85,000 was at stake in the competitions, including Best Run, Game of Ledge and Highest Ollie.
Providing diversity to this skating festival were exhibitions by Vans riders like the legendary Willy Santos and musical performances by Wolfgang and The Chongkeys.
All told, the skaters were free to express themselves. One rider had a shirt on that read "Know Yourself" and another wore a shirt that read "Kill Yo' Self."
Many of us take for granted this assertion of individuality, which becomes a risky liberty, however, when deemed dangerous and deviant by society.
"They think that we are dirty because we have tattoos and our clothes are different," said Jess Lacebal, 24, of Malabon City.
Lacebal is a member of a skateboarding clique known as Tondo F*ckin Krew (TFK), which began as 3 separate crews from around Manila that merged into a collective of 65 members.
Born without hands, Lacebal said in jest that he took to skateboarding because he had no shot at making the basketball team. Lacebal balances the board on his shoulder as he carries it around, and he can land kick flips and nollie flips like the seasoned pro that he is.
Aljon Bacsal, a local legend in Tondo whose prowess earned him a sponsorship with Francis M Clothing, was flanked by TFK members Marcky Guanzon, 20, and Julius "Juleye" Malibiran, 24, and other members . Bacsal would come up short in his quest to win top honors that day, but that didn't ruin the group's spirit. "We're just here to skate and have fun," said Malibiran.
Lacebal said that his group — and skaters in general — get a bad reputation because of public misconception about their passion. "We're just here to skate; if you give us trouble, then we're gonna give you back trouble."
Beholding the growth of the skateboarding community has brought a smile on Dave Aragon's face. The 41-year-old Novaliches resident has been skating since the early '90s, when he was a student at St Louis University in Baguio. At the time, the community was very small, inspired by the cult film "Thrashin'" from 1986. His Baguio Skateboard Association is regarded as a foundation in the skateboarding boom. To see it spreading far and wide gives him a sense of pride.
"Before, we were just all friends, and now we're different chapters and groups," said Aragon. "It's like a virus, it's all over the Philippines. Now they say I'm like a living legend, that's why they all look at me like 'sir.' That's why I'm proud, and I feel like this is because of something we started."
Aragon came of age as a skater at a time when there were few areas to go skating, and they had to play cat-and-mouse with the police and parking-lot security at Greenhills and parts of the metropolis.
"The security's like 'Hey stop, don't skate' because we broke the benches on board slides and grinds and stuff. Then we run because we're scared, of course."
Back then, there were also no skate shops where riders could buy their own boards, and "posers" who didn't know how to ollie would be beaten up and have their boards stolen.
"In Burnham Park, we had a skating area," recalled Aragon, "but from '94 to '97 skateboarding was dead. Then in '97, it boomed. Today maybe it is not accepted again. Look what happened to Intramuros [Skate Park]. There used to be some obstacles there, quarter-pipes and a ledge. Now it's a basketball court again. There are lots of basketball courts but no skate park. They should provide a skate park so skaters don't skate on the streets."
Aragon goes skating in Caloocan in an area maintained by local skaters. "All the skaters, locals, they'd contribute their own money. They'd give P50 or P100 pesos each just to put up a fun box."
Apart from the support of major companies like Vans, skaters will have to be their own best friends to bring about their desired change.
Here are Rappler's exclusive event photos:
Aragon brought along his two sons, Bryce, 8, and Lance, 5, whom he named after skateboarding legend Lance Mountain. The family that skates together stays together, he said, and his wife approves of their extreme hobby because of the bonding opportunities it provides.
"Sunday is our skate day together," said Aragon. "I don't push them too much because it's their choice if they like it or not. But if they skate straight, maybe they can become the future legends."
Aragon's eyes beamed with pride as he talked about his sons' abilities. "They can do ramps and quarter drops, but Bryce is better because he can drop in 6 feet quarters."
Organized by a shoe company that stands to benefit from having its name associated with an event that gathers its target market in one venue, Go Skateboarding Day has so far managed to avoid the capitalist pitfalls that undermined Lollapalooza's standing during the late-'90s.
Unlike Lollapalooza, no bottled water was sold here; in fact, this commodity was distributed free. There were stalls for sponsors, but they were non-obstructive. The only Vans apparel for sale were clearance items at 50% discount.
The overall harmony thriving in this event was a demonstration of what could happen if skaters are afforded venues to pursue their passion and be left in peace. At least for a day, they had a place to do what they wanted, without fear of having their boards snatched or their hands cuffed. – Rappler.com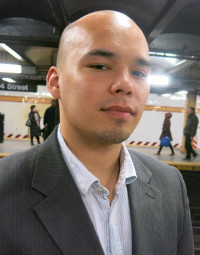 Ryan Songalia is a member of the Boxing Writers Association of America (BWAA) and contributes to The Ring magazine. He can be reached at ryan@ryansongalia.com. An archive of his work can be found at www.ryansongalia.com. Follow him on Twitter: @RyanSongalia