This is AI generated summarization, which may have errors. For context, always refer to the full article.
Held in the beach town of Pattaya, Wonderfruit has something for everyone: music-lovers, foodies, fitness buffs, and the whole family!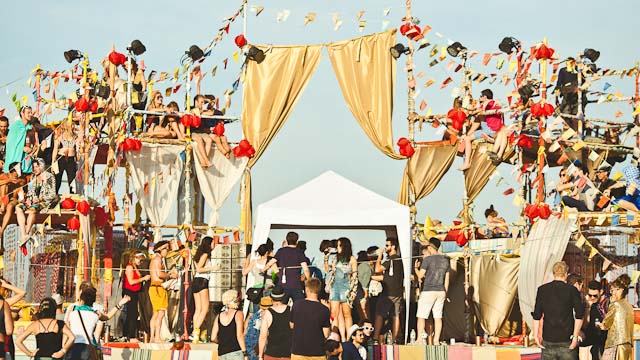 MANILA, Philippines – Imagine a swanky arts and music festival set against idyllic beaches and a bustling city life. Wonderfruit Festival in Pattaya, Thailand, offers this, and a whole lot more.
Touted as Asia's Best New Festival by music website Pulse Radio, Wonderfruit prides itself on advocating for sustainability and eco-friendliness, in the same change-making spirit as Denmark's Roskilde or the Philippines' very own Malasimbo.
It sticks to a worthy ethos, as written on its website: "Wonderfruit is about bringing communities together in Thailand, to nurture collaborative, creative cultures and inspire celebration of the arts and the adventure of sustainable living."
With the lush and sprawling lawns, hills, and creeks of the Fields at Siam Country as the backdrop for this festival, it's easy to forget Pattaya's reputation as a sin city. At Wonderfruit, there are eclectic soundscapes, breathtaking art installations, mouthwatering banquets, and tons of wholesome fun, all throughout balmy days and nights – a tropical dream.
For its second edition to be held December 17 to 20 this year, Wonderfruit invites festivalgoers from Southeast Asia and beyond to groove along to the finest sounds, soak up the sun, and simply let loose.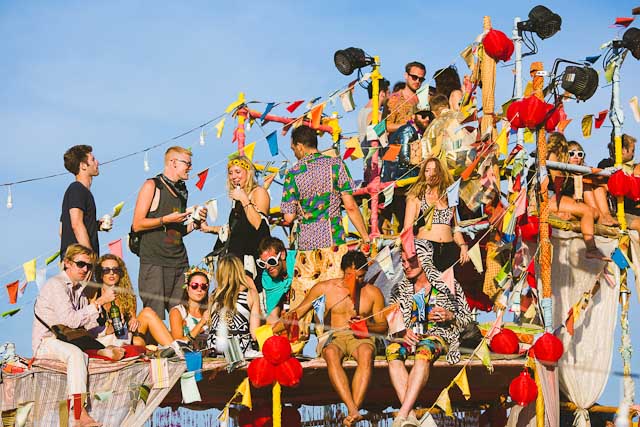 Of course, this festival isn't just for the hip, young music-lovers. There's something for the foodies, the fitness buffs, and actually, the whole family! Here's what you can spot and do on the festival fields:
Be mesmerized by the stage designs and art installations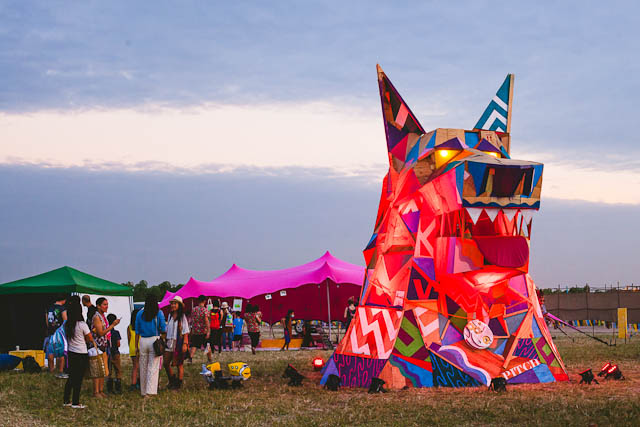 Top artists will transform the Wonderfruit fields into something magical. Just like the famous festivals such as Coachella and Burning Man, Wonderfruit will look stunning with towering art installations and intricately designed stages.
Visual artists, sculptors, architects, and fashion designers from Thailand and beyond will dot the Wonderfruit landscape with lots of eye candy. Wild Moment, Sabek, Zieght, Witaya Junma, and the Paron School of Art will put up breath-taking art installations. Joel Dean Stockdill, Vita Motus, and Issue x Bang Bang will create mesmerizing backdrops for the amazing musicians playing at the festival.
International and homegrown acts will dish out the hottest grooves and beats.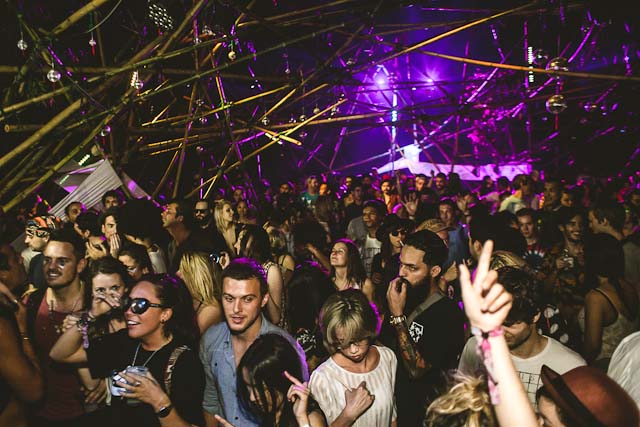 International and regional acts, as well as Thailand's homegrown musicians, will regale festivalgoers with choice grooves and beats. The festival bill runs the gamut of hip-hop and R&B to indie rock, electronica to Thai folk, so everyone can certainly enjoy and maybe even discover new music along the way.
Soundsmiths and beatmakers such as Anchorsong, Arjun Vagale, Catching Flies, Com Truise, Dapayk Solo, Daedelus, Gaby Endo, Goldroom, Hearthrob, Howie B, Jon Hopkins (in his iy_Project with light artist Chris Levine), Ocean Lam, Papercutz, Viceroy, and Zig Zach will take to the decks to conjure fascinating electronic soundscapes.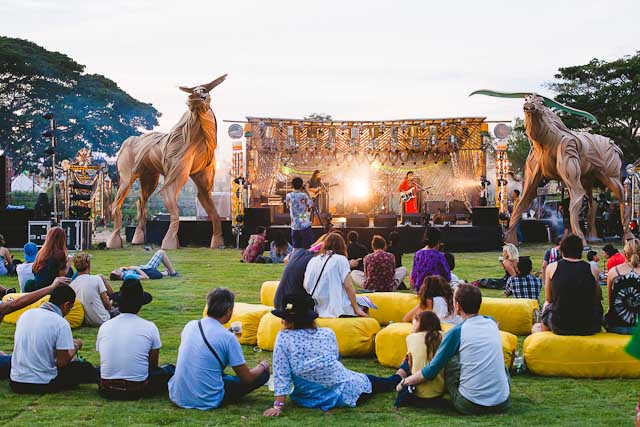 Catch groove-worthy and synth-laden live sets from Elektro Guzzi, The Faint, and Submotion Orchestra. Be mesmerized by Rhye's sultry but soulful brand of R&B. Watch legendary rapper Yasiin Bey a.k.a. Mos Def dish out his slick verses. Be spellbound by the Lucent Dossier Experience as they mesh dance and stunts with their music.
Tarsius (Pedicab's Diego Mapa and Jay Gapasin) and Mikhail Schemm (a.k.a. Mikail) will be waving the Filipino banner at the festival with their awesome tracks.
A diverse set of Thai musicians will also take the spotlight: Boy Thai, Dan Buri, Desktop Error, Greasy Cafe, Kidnappers, Polycat, and Pongsit Kampee.
Here are playlists for your convenience:
" frameborder="0″ height="180″ width="100%">
https://www.mixcloud.com/Wonderfruit/wonderfruit-2015-official-playlist-part-1-live-love-wonder/?utm_source=widget&utm_medium=web&utm_campaign=base_links&utm_term=resource_link" target="_blank" style="color: rgb(0, 0, 0); font-weight: bold;">Wonderfruit 2015 Official Playlist Part 1 : Live. Love. Wonder by https://www.mixcloud.com/Wonderfruit/?utm_source=widget&utm_medium=web&utm_campaign=base_links&utm_term=profile_link" target="_blank" style="color: rgb(0, 0, 0); font-weight: bold;">Wonderfruit on https://www.mixcloud.com/?utm_source=widget&utm_medium=web&utm_campaign=base_links&utm_term=homepage_link" target="_blank" style="color: rgb(0, 0, 0); font-weight: bold;"> Mixcloud
Stuff yourself with street favorites and fine dine straight from the farm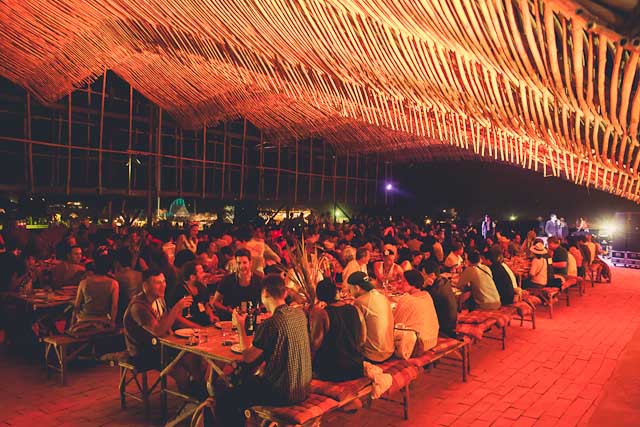 True to its principles promoting a sustainable lifestyle, Wonderfruit will be serving up fare made from crops grown on the spot and harvested together by farmers and chefs. You can even channel your inner green thumb and pick some asparagus, mushrooms, mulberries, salad leaves, herbs, pumpkins, and melons.
At the Theater of Feasts, cooks will work their epicurean magic to create a communal dining experience like no other.
Renowned chef Gaggan Anand will serve up a sumptuous banquet. His eponymous restaurant, renowned for its progressive Indian cuisine, currently has a berth in the top 10 of the World's Best 50 Restaurants and is number 1 in Asia.
Festivalgoers can grab something from any of the contemporary and traditional purveyors of quick bites: Hong Bao, Bad Motel, Fillets, Broccoli Revolution, Maison Jean Philippe, Moo Ping Hea Owen, Knock, Rocket, Surface, Peppina, and The Knack Market by Never-Ending Summer.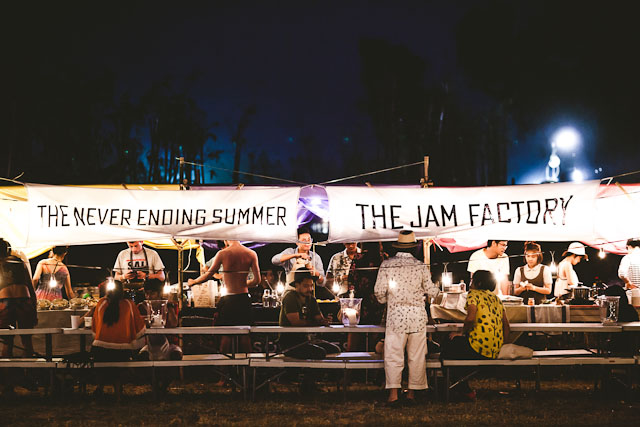 Even the booze will be stellar, with bartenders concocting ice-cold potions to cap a long day spent among the crowds. Award-winning barman Shingo Gokan of Speak Low (Shanghai) and Angel's Share (New York) has even come up with a bespoke signature cocktail for the occasion.
Feed your mind with talks and workshops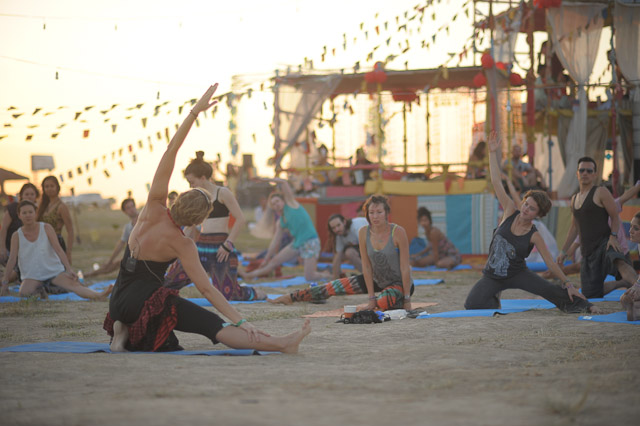 At Wonderfruit, stuff not only your tummies, but feed your mind as well. Listen to insightful discussions and engage in fruitful debates with music producer Howie B, architect Duangrit Bunnag, eco-entrepreneur and activist Bobsy Gaia, Lucent Dossier Experience founder Dream Rockwell, and other entrepreneurs, innovators, and thought leaders.
Revitalize your mind and body through dance like flamenco and JourneyDance™,and meditation, including Yoga of Bass – a group session set to music.
Put your hands to creative work, too, at the arts and crafts workshops. Learn how to make tie-dye, upcycled toys, portraits, animal masks, and even your own festival gear.
Rejuvenate at the Healing Village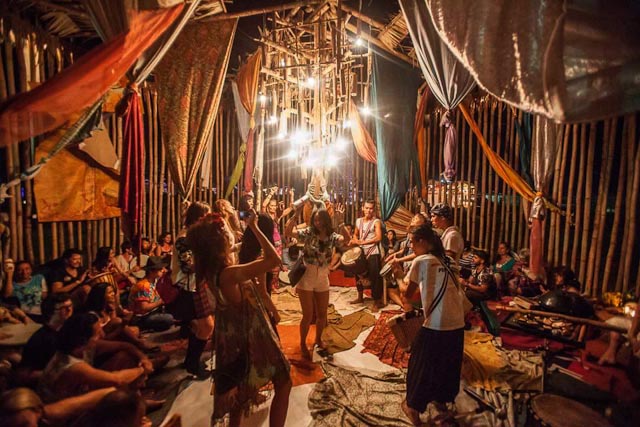 Wonderfruit promises a holistic experience, and you certainly experience a sense of restoration and nurturing through various offerings at the Healing Village.
You can buy artisanal and organic goodies and crafts, which are locally and ethically sourced, at the Artisan Market within the area.
While there's an extensive menu of massage and treatments to help you unwind, you can also reinvigorate yourself through other interesting workshops: the pranayama breathing exercises, a ceremonial drum circle, and a "blind walk." In the last one, you traverse the fields of Wonderfruit and learn more about your surroundings in a new way.
Another highlight: rediscover yourself through painting on your own skin in two different workshops with guru Saeng-Fah – intuitive face painting and energetic body mapping.
Engage in wholesome fun and adventure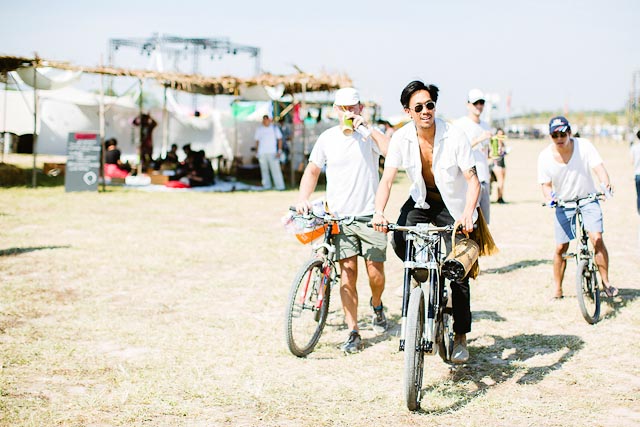 There are many ways to keep fit and engaged at Wonderfruit.
You can ride a bike around a dedicated track while being guided by a professional cyclist, or have an early morning jog to pump yourself. If you dare, you can also go on a microlight flight, which guarantees amazing vistas of the Wonderfruit fields.
There are also games to boost your spirits: human foosball, tug of war, aqua-volleyball, and grease pole (in Filipino, palo sebo).
If the scorching sun proves too much, take a refreshing plunge in the natural swimming pool.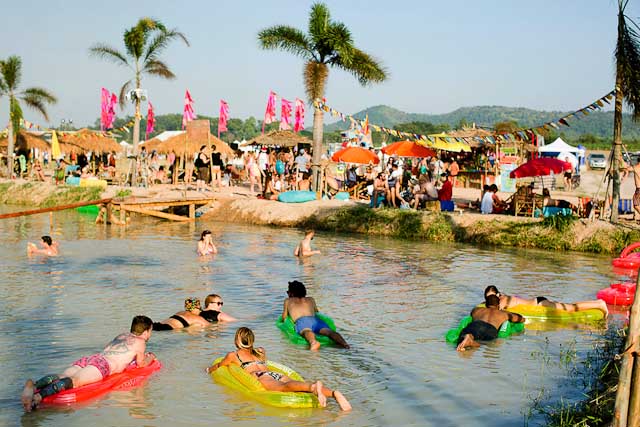 Kids can have a blast, too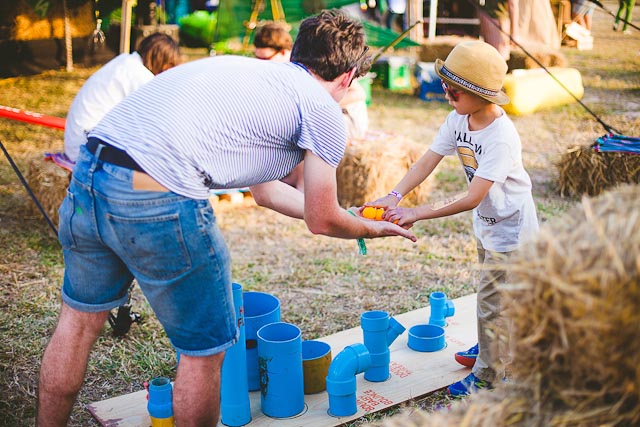 The festival is also a family-friendly affair, so worry not – you can definitely tag your kids along.
Children under 12 years old can come for free, but you still have to book tickets. Boys and girls under 21 have to be accompanied by an adult at all times.
There's an array of activities at Camp Wonder for the kids that will keep them not only amused, but will also impart with them new knowledge and skills.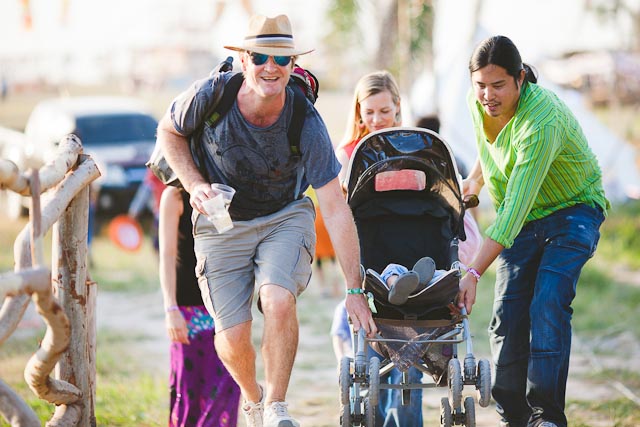 There are puppet shows to entertain the little ones, but they can also stretch their imagination in storytelling sessions. Learning how to make and fly tetrahedral and traditional Thai kites will certainly delight them. The Samui Circus Studio will be there to teach the tots how to make and spin poi. Kids can also do yoga just like their folks – albeit with a playful and fun edge.
If you want to have adventures of your own in the Wonderfruit fields, professional nannies will gladly take care of your kids and keep them entertained. Just make sure they have snacks and drinks, and check in every two hours.
The whole family can also have a go at free running with the world-famous Thai parkour masters, Team Farang. Battle your way through an obstacle course, and see how the experts do it, too.  
'Glamping' is the way to go!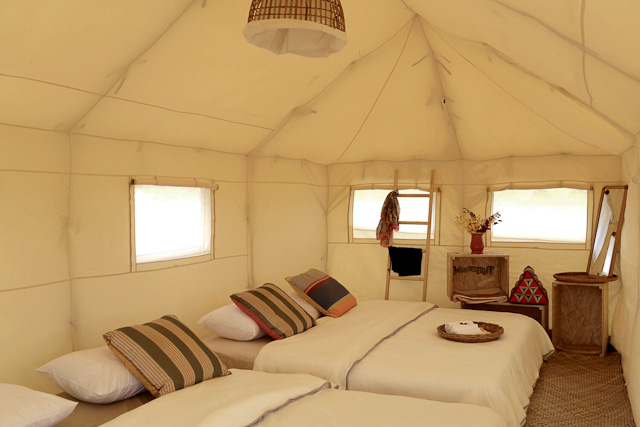 After dancing the night away, you don't have to rough it out catching a snooze before daybreak. Choose from a variety of posh accommodations. "Glamp" (glamorous + camping) in boutique tents or book a room at partner hotels.
If you insist on the good ol' festival experience, pitch your tent or park an RV at a general camping area, which comes with basic hygiene facilities – showers and toilets – and charging points for your gadgets.
There are other basic amenities, too: ATMs, first aid assistance, lockers (for valuables), drinking water refilling stations, parking, and a general store
Make sure to browse through the official site, as there are more details about what to see and expect at the four-day festival. You can also buy your tickets now, but Filipino festivalgoers, check out this promo first:
Are you interested in flying out to Thailand to take part in this wondrous experience? Perhaps you're a huge fan of some musical acts on the lineup? Tell us in the comments below. – Rappler.com