Iloilo, Cebu, and Vigan will compete against 74 other cities to be part of the New7Wonders Cities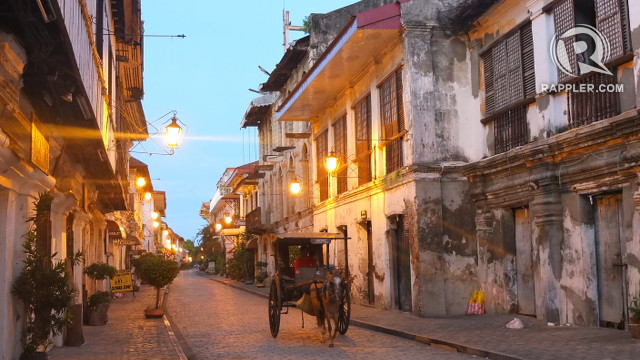 MANILA, Philippines – Three Philippine cities have made it to the 77-longlist of Swiss Foundation New7Wonders.
Vigan, Iloilo, and Cebu will be vying for a spot in the list of 7 cities that are considered to be New Wonders.
In an aim to create a "global memory", New7Wonders Founder and President Bernard Weber announced the longlist of the New7WondersCities which contains 77 finalists — completing the qualification phase of the worldwide election.
"Global in its scope, this remarkable New7Wonders longlist reflects the energy and culture of the city at its best. United in their commonalties, and varied in their forms, cities remind us of the possibilities of civilization when, for the first time in history, more than half of the world's population live in cities," Weber said.
"My hope is that the New7Wonders Cities campaign will generate debate about the challenges cities face — national and international — and how they are responding to them."
The qualifiers include:
Accra, Ghana

Asuncion, Paraguay

Athens, Greece

Auckland, New Zealand

Baghdad, Iraq

Bandar Seri Begawan, Brunei

Bangkok, Thailand

Barcelona, Spain

Beirut, Lebanon

Bethlehem, Palestine

Bogota, Colombia

Buenos Aires, Argentina

Cairo, Egypt

Casablanca, Morocco

Caracas, Venezuela

Cebu City, Philippines

Cuenca, Ecuador

Chicago, USA

Curitiba, Brazil

Cusco, Peru

Doha, Qatar

Dubai, UAE

Durban, South Africa

Edinburgh, UK

Ha Noi, Viet Nam

Havana, Cuba

Ho Chi Minh City, Viet Nam

Hong Kong, Hong Kong

Iloilo City, Philippines

Istanbul, Turkey

Jakarta, Indonesia

Kuala Lumpur, Malaysia

Kyoto, Japan

La Paz, Bolivia

Lagos, Nigeria

Las Vegas, USA

Lima, Peru

London, UK

Mendoza, Argentina

Mexico City, Mexico

Miami, USA

Montevideo, Uruguay

Montreal, Canada

Mumbai, India

Muscat, Oman

Naples, Italy

Nadi, Fiji

Nairobi, Kenya

New York, USA

Panama, Panama

Paris, France

Perth, Australia

Phnom Penh, Cambodia

Port of Spain, Trinidad and Tobago

Prague, Czech Republic

Quito, Ecuador

Reykjavik, Iceland

Rio de Janeiro, Brazil

Rome, Italy

St. Petersburg, Russia

San Jose, Costa Rica

San Juan, Puerto Rico

Santiago, Chile

Seattle, USA

Seoul, South Korea

Shenzhen, China

S

ingapore, Singapore

S

urakarta, Indonesia

Sydney, Australia

Tehran, Iran

Tokyo, Japan

Toronto, Canada

Valparaiso, Chile

Vancouver, Canada

Vientiane, Laos

Vigan, Philippines

Zurich, Switzerland
The global election started on March 7 last year. People all over the world voted for their choices among 300 cities to come up with the long list of 77. 
Come October 21, 28 official finalists will be announced and the voting for the New7Wonders Cities will proceed.
The Official list of New7Wonders Cities will be released on July 7, 2014. 
To vote for your favorite nominated city, click here.
– Rappler.com