Don't have time to book a flight? Consider camping at one of these beautiful beaches that are only a few hours away from Manila
MANILA, Philippines – Mention beautiful white beaches and Boracay or Palawan come to mind. While these are indeed worth a visit, you need not go far and spend on airfare to enjoy the beauty of a white beach. For those with budget and time constraints, there are plenty of beaches – and pristine at that – 4 to 6 hours away from Manila. 
Be prepared to let go of some comforts and go back to the basics, though. But you may find this small sacrifice worth it when you come face to face with the beauty of these unspoiled beaches.
These beach trips are likely to cost around P2,000 and below per person, assuming you are in a group of at least four people. With a few tips from travel bloggers, here are a few options:
1. Borawan, Puting Buhangin, and Dampalitan Beach, Padre Burgos, Quezon
Borawan's name is a combination of Boracay and Palawan, named because of its relatively fine white sand and its rock formations reminiscent of Palawan's. Its neighboring beach Puting Buhangin, of course, does have white sand and also has a cave partially submerged in water for adventurers to explore. Another nearby beach, Dampalitan, is a simple white beach where travelers on a budget usually set up camp before exploring the two other islands.
Kenneth Lagaña of Mr. Bratpacker recommends beach bumming on different islands and discusses the pros and cons of setting up camp on each here. 
Accommodations: While Borawan is the most popular among the islands, it is also the more expensive – but with the cleanest basic toilet and bathing facilities. It has an entrance fee of P80 and a tent rental of P500. If you have your own tent, you pay P200 for pitching. It also has cottages for camping, and separate charges for bathing and use of toilet. A chartered boat round trip to Borawan costs P800.
If you opt to go to Dampalitan and Puting Buhangin, though, the boat trip costs P1800 (good for 8 people). Puting Buhangin's entrance is also P80, though its tent rental is only P300-P400. Dampalitan, meanwhile, has a P20 entrance fee and a P100 charge for tent pitching. This payment is optional, though, so you can just donate the amount you can give. 
To make the most of the three islands, Lagaña advises to go to Dampalitan to set up camp first then go to Puting Buhangin, before going back to Dampalitan for the sunset and staying overnight. The next morning will be spent exploring Borawan before going back to the mainland.
Again, there is no electricity in these islands so best to fully charge your gadgets beforehand. 
How to get there: Take a Lucena-bound bus from Alabang, Buendia-Taft, or Edsa, to Lucena Grand Terminal (Fare is P180+ up).Then take a mini bus to Padre Burgos for P35 and ask to be dropped off at Basiao junction (or at the public market, if you still need to buy food).
The port is already walking distance from the junction and the market, but you can also take a short tricycle ride. You can meet your boatman at the port to take you to the islands.
Total travel time: about 5 or more hours.
2. Burot Beach, Calatagan, Batangas
Burot Beach, according to travel blogger Paula Anntoneth O of Pondering Paodaolei, is a stretch of white sand touched by calm waters and lined with trees. There is no electricity here, and no resorts or commercial establishments save for a sari-sari store, which means it is perfect for a quiet beach getaway.
While Burot's sand is not powder-fine, this travel blogger assures that it's fine for those going barefoot. The water's also perfect for swimming – there may be seaweed, but the water is clean and the seabed gradually deepens.
Accommodations: Entrance to the island is P130. Since there are no establishments here, be prepared to camp and rough it with the makeshift toilet. Bring your tent, food and cookset. Pitching fee is P20. If you don't have your own tent, tents are available for rent for P300. 
Aside from beach bumming on Burot's shoreline, you can also check out the nearby sandbar via boat. Boat costs P100 per head, with P300 as minimum payment.
How to get there: Take a Nasugbu or Lian-bound bus from Pasay-Edsa or Buendia-Taft then get off at Lian (fare is P150 up, depending on where you are coming from). Then ride a bus to Calatagan (P30) and get off at the public market. Here you can also buy your food for your camping. Then hail a tricycle to Burot Beach for P150.
Total travel time: around 4 hours.
3. Masasa Beach, Tingloy, Batangas 
Masasa Beach is unspoiled as unspoiled gets. It is a long stretch of white sand peppered with dry corals, set against a backdrop of towering gray rocks and a green hill.
Accommodations: This is a beach with no caretakers and entrance fees, so travelers here will have to look after themselves. While there are no facilities on the beach itself, there is a house with a well about a 10 to 15-minute walk through the rice fields, if you want to wash up.
The waters here are clear and rich with marine life, so, for able swimmers and adventurers, bring your snorkel set.
How to get there: Take a Batangas Pier bus from Alabang, Buendia-Taft, or Edsa to Batangas City Grand Terminal (fare is P120 up). Take a jeep to Anilao Port for P35. You can also take a side trip to the market to buy food for your camping. Then take a passenger boat from Anilao Port to Tingloy (P70, with departure schedules at 10:30 am, 12:30 pm, 02:30 pm, and 4:30 pm. Meanwhile, boat going back to Anilao leaves every hour from 6 to 9 am only). You may also charter a boat for about P2500. Then take a tricycle (P30 per head) to Masasa Beach jump-off point. Expect a 10-minute walk through rice fields.
Total travel time: about 4 hours or more
4. Cagbalete Island, Mauban, Quezon
While Batangas is already known for its white beaches, places like in Quezon, like Cagbalete Island, have their fair share, too. Cagbalete's beach is particularly known for its vast sand expanse with visible wave patterns during low tide. There are also creeks with mangroves and palm trees travelers can explore. At low tide, travelers can walk to the neighboring Bonsai Island and do some snorkeling.
Accommodations: Resorts like Villa Cleofas, MVT Sto Niño Resort, and Pansacola Beach Resorts, among others, are available. Rates can vary, with as low as P100 for tent pitching, to P3,000 for a private room with restroom. Liz Argulla of The Bookworm Traveler, though, recommends going for a cheaper option like MVT Sto. Niño, though it's a bit farther from the beach. She and her companion paid about P250 for tent pitching when they went there.
While there is electricity in Cagbalete, it is not for 24 hours, and can be available for as little as six hours a day, depending on the resort you are staying at. So make sure to charge your gadgets during that time. 
How to get there: Take a Lucena-bound bus from Alabang, Buendia-Taft, or Edsa, to Lucena Grand Terminal (Fare is P180+ up). Then take an ordinary bus to Mauban for P60. (There are also buses going direct to Mauban leaving Kamias at 5 am and 1 pm, but best to check ahead online.
You may buy food at the public market before walking or taking a tricycle (P10) to the port. Passenger boat to Cagbalete is P50, plus a terminal fee of P40 and an environmental fee of P30. Usual boat schedules are 10 am and 3 pm, but they may vary and have more schedules during summers, so it is best to contact the resort you have booked with to check.
At the port, you can also charter a boat with rates starting at P1,500 (round trip, good for 1-5 passengers). From Cagbalete port, you still need to take a small boat to your resort (rates start at P50), or you can choose to trek for a little over one kilometer.
Total travel time: about 5 or more hours.
5. Nagsasa Cove, San Antonio, Zambales
Nagsasa Cove is an idyllic stretch of sand curving around quiet waters, with pine trees and grassy mountains on the background. While there is Anawangin, a cove similar and near to Nagsasa, travelers claim that Nagsasa is more scenic and less crowded. The area is so picturesque that Chino Pantua of Juanderful Pinoy, who visited the area, says that he spent an entire morning just staring out into the ocean and feeling the soft breeze.
Accommodations: Camping, again, is the way to stay here, with no electricity but with some basic toilet and bathing facilities. Entrance fee is P50 while overnight camping fee is P100. If you don't have your own tent, tents can be rented for P200.
And, while you can spend most of your time in Nagsasa, you can also opt to go island hopping in the neighboring islands like Capones, and of course, Anawangin Cove.
How to get there: Take an Iba- or Sta. Cruz-bound bus for about P250, up. Ask to be dropped off at San Antonio public market, where you can also buy food for camping. From the market, take a tricycle to Mt. Pundaquit (P60, P30 each for two people), the jump-off for island hopping. Hire a boat to Nagsasa, and you can also pass by other islands like Anawangin and Capones (rate starts at P1,500). 
Total travel time: four hours or more.
6. Magalawa Island, Palauig, Zambales
This island of over-50 hectares is abundant not just with white sand, but also with starfish, that  bloggers like Angel Valle Caronongan of Gelai Kuting call it the "Starfish Island." Starfish lovers would be glad, while those who are not may find these a nuisance to their swimming. Either way, consider this fact when picking your companions for this getaway.
As the beach is usually quiet, Magalawa is perfect for just relaxing and taking in your surroundings. The waters are calm and clear, save for some seaweed washed up on some parts of the island.
Accommodations: There are only two resorts on the island – the Ruiz and Armada resorts. For those who would like to keep their total budget within P2000, you can stay at Ruiz Resort.  Entrance fee is P100 and tent rental is P300. If you have your own tent, pitching fee is P200. There are also fan rooms good for six people for P1,200. Restrooms are basic. Electricity only runs from 6 pm to 7 am.
On the other hand, if you prefer some creature comforts and have extra budget, you can opt for Armada, where electricity runs for 24 hours, and where there are also air-conditioned rooms. They only accept packaged travel for weekends, though. Overnight packages inclusive of entrance fee, accommodations, meals, and boat transfer start at P1,500 (minimum of 5 people) and may increase depending on type of accommodation.
How to get there: Take an Iba- or Sta. Cruz-bound bus from for P350 up. Ask to be dropped off at Iba public market, where you can also buy food for camping. From the market, take a bus or jeep to Palauig (P30+ up) and ask to be dropped off at Veritas Road.
If you are riding the Sta. Cruz-bound bus and already have your food supplies ready, just ask to be dropped off at Veritas Road. Hire a tricycle for P100 to Luan Port, where a boat from your chosen resort will pick you up (round trip boat transfer is P100).
Total travel time: six hours or more.
– Rappler.com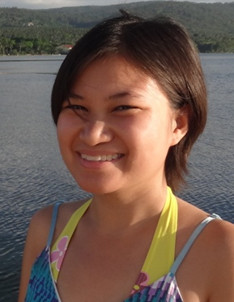 Claire Madarang is a writer, traveler and seeker. Her wanderlust takes her on adventures like backpacking for 7 weeks straight. Her seeking leads her to different wellness practices like meditation and healthy (mostly vegetarian) eating. Follow her adventures, tips and epiphanies at her blog, Traveling Light.
Need more sand and surf? Check out these other beach blogs: