For a different view, head to the falls. Here are a few options just a few hours away from the city, and for less than P2,000 (about US $45) per head
MANILA , Philippines – While beaches are the staple and popular getaway choice for summer, waterfalls are also a great way to cool down and commune with nature.
(READ: Head to 'Borawan' and these 5 unspoiled PH beaches)
Take a dip in one of these waterfalls just 5 hours or less away from Manila. For those who are not seasoned trekkers or mountaineers, you need not worry, as these are accessible by public transportation (and a bit of walking for anywhere from 5-20 minutes). A trip to these falls could cost less than P2,000, whether you are going solo or with a group.
1. Magdapio Falls (a.k.a. Pagsanjan Falls), Cavinti, Laguna
This famous falls is a bucket list item for many a student who first saw it in history or Sibika textbooks. While its name is Magdapio Falls and is not located in the municipality of Pagsanjan but in Cavinti, the falls has become known as Pagsanjan Falls because the usual jump-off point is Pagsanjan.
Explore: From here, you take a scenic boat ride for one hour through lush greenery and craggy rock formations before reaching the falls. You can ride a bamboo raft to take you directly under the falls and to Devil's Cave. The boat ride back to the jump-off point is a must-do, as this is where you will really feel the famous rapids as your boat flows fast with the current.  
Entrance fee: The boat ride costs P1,250 per head, inclusive of helmet, life vests, seat cushions, and a bamboo raft ride to Devil's Cave. A boat can usually accommodate three passengers. According to Pagsanjan tourism staff, though, there is a promotional rate this summer of P750 (minimum of 9 people, with three passengers per boat) from April 9-23 and May 1-15.
According also to the tourism office, there are several jump-off points to the falls and some – especially resorts – would ask for an entrance fee. It is best to ask for assistance from the tourism office in arranging your boat ride. They are open 8 am to 5 pm even on weekends, with contact number (049) 5023544.
How to get there: Take a bus from Buendia-Taft Avenue or EDSA going to Sta. Cruz (fare is P140 up, depending on where you are coming from). Then take the jeep to Pagsanjan (about P12 or more) and ask to be dropped off at the town plaza, where the tourism office is, located at the basement.
Total travel time: 4-5 hours, including boat ride
More tips: On your way to the tourism office or to the jump-off points, some people may quote you inflated rates for the boat ride. Do not entertain them. Be prepared for a big crowd, especially during weekends.
When you reach the falls, there are no food stalls so bring your lunch or buy food from the restaurant which you will pass by on the boat ride. There are also no toilets or showers in the falls, so just wash up when you get back to the jump-off point.
If you are up for a challenging adventure, you can try the Cavinti route to the falls, where you save almost P1,000. You need to trek for 45 minutes or more and rappel down metal ladders, though. Travel blogger Jherson Jaya of Lonely Travelogue also recommends doing warm-up exercises first before starting your trek. 
The entrance fee to Pueblo El Salvador Nature Park and Picnic Grove, where you will be trekking through to get to the falls, is P270, inclusive of guide and rappelling gear.
To get to the park, you just need to take the jeep to Cavinti from Pagsanjan (P15), then hire a tricycle to the nature park (around P20 per head, depending on the size of your group. Best to haggle with the driver).
2. Taytay Falls, Majayjay, Laguna
This waterfall is known to have three names: Majayjay, Taytay, and Imelda, named after the First Lady of former President Marcos, as she was said to have financially assisted in promoting tourism in Majayjay.
Explore: A 10- to 15-minute walk along a cemented path with railing will take you here. Brace yourself before jumping in as the waters here flowing down from Mount Banahaw can be very cold. In fact, Geejay Gelogo of Geejay Travel Log claimed he and his travel companions used the falls as a big ice box for their drinks – but a dip would still be refreshing and relaxing. 
Entrance fee: P35
How to get there:From Buendia-Taft or Edsa, ride a bus going to Sta. Cruz, Laguna (P140 up, depending on where you are coming from). Ask the driver to drop you off where you can ride a jeep to Majayjay (P40).
Then, from Majayjay proper, take a jeep to Taytay/Gagalot (P16), then get off at the barangay hall to register. Entrance fee for the falls is P35. The waterfall is already walking distance from the barangay hall.
(READ: P1500 for 2: 5 budget day trips for the weekend)
Total travel time: 3-4 hours
Additional tips: There are usually locals here selling snacks, but best to bring your lunch. There are toilets which can be used for free; mind the donation box outside.
3. Bunga Falls, Nagcarlan, Laguna
What makes Bunga Falls appealing to visitors is that its supposedly single curtain of waterfall is divided into two by a huge rock, thus earning the name "Twin Falls."
Explore: The more adventurous can actually jump from the rock separating the falls; be prepared for the landing, though, as the waters are quite deep and locals and some visitors attest to a sensation of being pulled down after jumping, probably because of the depth. 
Entrance fee: Usually P5, but fee may increase for maintenance cost during summer
How to get there: From Buendia-Taft or Edsa, take a bus to Lucena and get off at San Pablo (P125 up). Take a tricycle going to the jeepney terminal (around P20), then take a jeep going to Nagcarlan market (P25).
Hire a tricycle to take you to Bunga Falls – rate may be around more or less P100. Haggle with the driver as rate is not fixed. When you get there, a 5- to 10-minute walk down stone stairs will easily take you to the falls.
Total travel time: 3-4 hours
Additional tips: There are simple food stalls around the falls but it is best to bring packed lunch. Cottages can be rented for the day for P200.
4. Daranak Falls, Tanay, Rizal
Daranak Falls is several falling curtains of water spread out on a wide rock. The color of the pool can turn a beautiful clear green or blue green, especially on summer.
Christeen Cereno of Senyorita Lakwachera recommends going to the falls on the front right side of the main falls, as the water here is shallower and perfect for just relaxing.
Explore: While Daranak Falls is better known and more accessible, there is another site, Batlag Falls, which is just a 10- to 15-minute walk via a wooden bridge and a concrete trail. Those using a DSLR camera, though, are asked to pay P150 in Batlag Falls.
Entrance fee: P20 for Daranak. If you also plan to go to the neighboring Batlag Falls, entrance is P50.
How to get there: Take a van from Starmall Edsa-Shaw or Cubao Araneta Center to Tanay (P70 up). Ask to be dropped off at Tanay market.
From there, hire a tricycle that will take you to Daranak Falls and other Tanay attractions, if you're interested (the entire tour back and forth is around P300, good for 4 people). A 5-minute walk will take you to the falls.
Total travel time: 2 ½ to 3 hours 
Additional tips: There are cottages and tables for rent for P100-P300. Snacks are also sold in the area, but it is best to bring your packed lunch. Clean comfort rooms and showers are available for P5 fee.
You can ask your tricycle driver to take a side trip to Calinawan Cave (entrance fee: P20, tour guide for a group: P100), which is just 10-15 minutes away from Daranak Falls. The cave and its limestone stalactites and stalagmites can be explored in as little as 20 minutes. 
5. Kaytitinga Falls, San Jose del Monte, Bulacan
Kaytitinga Falls is still relatively raw and unspoiled, known only mostly among the mountaineering community.  With waters flowing down several levels of rocks, it is beautiful and worth visiting.
Explore: Renante Mina of Manong Unyol recommends climbing up one of the rocks and letting the waters fall on you.
Adventurers up for a trek can actually do river trekking and visit not only Kaytitinga Falls but others flowing on the same route.
Entrance fee: None, but you give a donation of P10 as you will be passing by the house of the land owner to get to Kaytitinga Falls. 
How to get there: Ride a bus or jeep to Tungko (fare depends on where you are coming from – for example, jeep from SM Fairview is P14, while bus may be up to P70 or P80 if you are coming from Baclaran). Then ride a jeep to Licao-licao (P25 up).
Then take a tricycle to the jump-off point to Kaytitinga Falls (may be P80 or up – don't forget to haggle with the driver).
Total travel time: 2 ½ to 3 ½ hours
Additional tips: There are no food stalls in Kaytitinga Falls, so buy your food in Tungko or Licao-licao. There are also no toilets or showers there, but you can request to use the toilet and bathroom at the land owner's house.
If you want to slowly take in the scenery, you can actually trek from the falls back to the house for just 30 minutes or more. – Rappler.com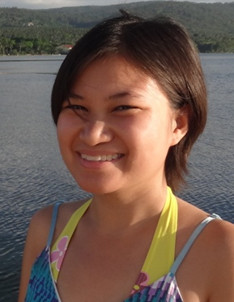 Claire Madarang is a writer, traveler and seeker. Her wanderlust takes her on adventures like backpacking for 7 weeks straight. Her seeking leads her to different wellness practices like meditation and healthy (mostly vegetarian) eating. Follow her adventures, tips and epiphanies at her blog, Traveling Light.