Lakes that change color, water so clear you can see through to the rock formations underneath. If you're looking for a spot for your next vacation, here it is
Our country is blessed with beautiful islands and beaches, some like Palawan and Boracay earning the world's acclaim and a spot on travelers' bucket lists. But do you know that we have breathtakingly beautiful lakes, too, with one recognized as one of the world's most spectacular? 
From Luzon to Mindanao, here are some of the Philippines' most beautiful lakes:
1. Kayangan Lake, Coron, Palawan 
Yes, Palawan does not only have picture-perfect beaches; it has picture-perfect lakes, too. The most popular is Kayangan Lake, recognized by the Huffington Post as one of the most spectacular lakes in the world.
Surrounded by towering limestone cliffs dotted with greenery, Kayangan Lake is one of the cleanest bodies of water in the Philippines. The water is so clear that you can see through to the interesting rock formations beneath the surface. Though the sea is just outside Kayangan's limestone borders, the lake is 70% freshwater, making it ideal for swimming. There are also caves to explore. (READ: Discovering the jewels of Coron) 
How to get there: Take a flight to Busuanga. From the airport, ride a shuttle to Coron town. Take the Coron Island Loop boat tour, which includes Kayangan Lake. An estimated ten-minute climb and descent through steps and a wooden walkway will take you to Kayangan.
2. Taal Crater Lake, Talisay and San Nicolas, Batangas
Taal, the world's smallest active volcano, has a beautiful lake that can turn brilliant blue or silver-gray, depending on the weather. But more than its beauty is its interesting oddity – it is a lake within a volcano on a lake within a volcano.
This is because Taal Volcano is on Taal Lake, which, in turn, is on Taal Caldera. What is also interesting – and to some, mind-blowing – is that there is an island on Taal Crater Lake. This island, Vulcan Point, is the largest island within a lake (Taal Crater Lake) that is on an island (Taal Volcano) on a lake (Taal Lake) on an island (Luzon). Confused? Check the illustrations here to understand better. 
The trek up Taal takes around 30 minutes to one hour. Its occasionally steep terrain can be tiring, particularly for first-timers, so those who would prefer not to trek can go on horseback.
How to get there:  There are several jump-off points to Taal; the most well-known one is Tagaytay. Take a Tagaytay-bound bus and get off at the rotonda. There are boatmen there offering round trip transfers to Taal Volcano.
3. Pinatubo Crater Lake, Botolan, Zambales 
Mt. Pinatubo, site of the second largest eruption of the 20th century, is also the location of this picturesque lake, the country's deepest at 800 meters. Like Taal's crater lake, its colors change, with turquoise its most beautiful. 
The lake can be reached through a sometimes dusty 4×4 ride across lahar fields, with otherworldly views of lahar-carved canyons. Lahar is the mud and debris flow from the volcano. After the 4×4 ride, a trek of around two hours will take you to the lake. You can find a detailed itinerary here. There is also an option of trekking only 15 to 30 minutes, particularly during the summer months, when the river bed is dry.
Swimming is not allowed at Pinatubo. It is also not a good idea to go during the rainy season, due to possible rock falls and landslides.
How to get there: Ride any bus passing by Capas, Tarlac (e.g. Baguio). Get off at Capas Junction and ride a tricycle to the tourism office. Register there and a tour guide will be assigned to your group. Best to contact the tourism office ahead as the lake has a limit of 400 guests per day. You may also book a packaged tour from tour groups.
4. Twin Lakes of Balinsasayao and Danao, Sibulan, Negros Oriental 
These two crater lakes are separated by a narrow mountain ridge, making them twin lakes, especially when viewed from above. These two lakes are surrounded by four mountains. The name "Balinsasayao" is taken from the name of the bird which frequents the lake, and whose nest is also the main ingredient for bird's nest soup. "Danao" means a lake or a lagoon. (READ: Hit the road: Cool off at these 5 PH waterfalls)
Balinsasayao is readily accessible while Danao can be reached by trekking. Visitors can ride a paddle boat to explore Lake Balinsasayao or trek across the forests around it.
How to get there: Take a flight to Dumaguete. Take a tricycle to the bus terminal and ride a bus to San Jose. Ask to be dropped off at the crossing point to the Twin Lakes. Then ask a habal-habal (motorbike) driver there to take you to the lakes.
5. Lake Apo, Valencia, Bukidnon
While the other lakes can be awe-inspiring not only in beauty but also in size, Lake Apo is quite small, with an area of only 24 hectares. And its size is what adds to its charm. 
Encircled by trees, grass, and some hills, Lake Apo's shores are just the perfect place to sit and relax.
Lake Apo is actually a crater lake formed on an old volcanic cone, as it lies on a volcanic area and with Bukidnon's well-known volcanoes like Musuan Peak as its neighbors. 
How to get there: Take a flight to Cagayan de Oro, then a shuttle to the city proper. From Agora terminal, ride a bus bound for Valencia or Davao then get off at Valencia terminal. Take a tricycle to the old terminal then from there, ride a Dologon-bound multicab. Ask to be dropped off at the jump-off point to Lake Apo, where you can find habal-habal drivers to take you there.
6. Lake Sebu, Lake Sebu, South Cotabato
Lake Sebu is like a giant lotus pond with its abundant greenery. Paddling across the lake on a dugout canoe in the early morning while the flowers are in full bloom and the soft sunlight shimmers on the water is an experience like no other. 
What makes this lake beautiful is also the rich culture of the indigenous peoples living around it, majority of them T'bolis. Experience not only the beauty of the lake but also the vibrant culture of its people. Take a look especially at the T'bolis' T'nalak, their traditional hand-woven cloth whose patterns come from the dreams of their weavers.
How to get there:Take a flight to General Santos. From the airport, take a shuttle to the city proper. From Bulaong Terminal, catch a Yellow Bus Line bus to Koronadal, then get off at Marbel Terminal. Ride a Surallah-bound bus, then, from Surallah Terminal, ride a Lake Sebu-bound jeepney or van.  Take a habal-habal to the lake. (READ: Mornings made better at Lake Sebu) 
7. Lake Holon, T'boli, South Cotabato
Lake Holon is clean, clear…and cold. One of the cleanest inland bodies of water in the Philippines, it is located 1,350 meters above sea level, thus the cold waters. It is on the crater of Mt. Melibingoy, a sacred place for the T'boli indigenous people.
You need to trek four hours to get to Holon, so camping is a must for you to maximize your experience. Check out a detailed climbing itinerary here. Get up early to watch the sunrise; when you do, you might just realize why the T'bolis consider this place sacred.
At the moment, though, Lake Holon is being rehabilitated and will re-open to tourists mid-March next year.  
How to get there: Take a flight to General Santos. From the airport, take a shuttle to the city proper. From Bulaong Terminal, catch a Yellow Bus Line bus to Koronadal, then get off at Marbel Terminal. Ride a Surallah-bound bus, then, from Surallah Terminal, ride a T'boli-bound jeepney or van.  Take a habal-habal to Barangay Salacafe, to the jump-off point for trekking.
8. Lake Danao, Ormoc, Leyte
Lake Danao is a guitar-shaped lake fringed by lush forests, just around three hours from Tacloban. The area was very much affected by typhoon Yolanda, but today, locals claim that this place is still beautiful and frequented by visitors.
Watch the sky and the lake change color as the sun sets, and get up early to see and feel the mist rolling across the lake. 
The lake is accessible by jeepney or a private car from Ormoc proper. 
How to get there:Take a flight to Tacloban. Take a taxi or jeepney to the city proper, then take a van to Ormoc. (Note: As of this writing, Tacloban locals the writer talked to claim that transportation is now operational and the city is already being visited by tourists). At Ormoc's market and public terminal, ride a jeepney or multicab bound for Barangay Lake Danao. The lake is just a five-minute walk from there. 
These are only a few of the Philippines' many, many beautiful bodies of water, and naturally beautiful locations worth visiting. Have any stories to share? Let us know in the comments below. – Rappler.com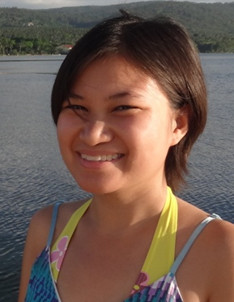 Claire Madarang is a writer, traveler and seeker. Her wanderlust takes her on adventures like backpacking for 7 weeks straight. Her seeking leads her to different wellness practices like meditation and healthy (mostly vegetarian) eating. Follow her adventures, tips and epiphanies at her blog, Traveling Light.