This is AI generated summarization, which may have errors. For context, always refer to the full article.
Zipline fun, the Flying Lizard, Drop Zone Sky Wing, Skytower Base Jump Ride, and more!
MANILA, Philippines – What do screen heartthrob Aga Muhlach, former beauty queen Miriam Quiambao, television personality Donita Rose, and film actress Agot Isidro have in common? They've all taken the challenge of flying the 840-meter zipline in Dahilayan Adventure Park in Manolo Fortich, Bukidnon.
Actors Sam Milby and KC Concepcion also did that for the film Forever and a Day. Marc Nelson and Dyan Castillejo followed suit for a segment in Sports Unlimited.
The 840-meter cable zipline is said to be one of the longest in Asia, and Zip Zone has dual cables which can carry two riders simultaneously. The total length of cables is 2,460 meters.
"I never thought flying would really be this fun. I felt like I was Superman flying on top of the trees," commented Armando A. Mortejo, a professor at the Holy Cross of Davao City who traveled all the way from Davao just to experience the extreme adventure. 
The launch point is 4,500 feet above sea level. The elevation drop is 100 meters with estimated speeds ranging from 60 to 80 kilometers per hour. The riders zoom through lush greenery of pine trees and bushes and stop at the Carrier-type flight deck that uses a special arresting gear system.
The zipline should be safe for most people. For safety reasons, only those between 4'4" and 6'3" are permitted to ride. Those with heart problems and weighing more than 100 kilograms are also not allowed. There is no age limit; the youngest to ride is two years old while the oldest is 77 years old. 
"We are very much concerned with the safety of our customers," says Ravi Michael P. Victorio, a civil engineer who is the flights operations manager of all the rides at the park, which is at the foothills of Mount Kitanglad.
Actually, there are two other dual ziplines – one at 320 meters, the other at 150 meters. These two shorter ziplines are meant to get customers in action and help them lose their fear of this adventure. 
Once ready, a vehicle takes all those who want to take the challenge to the launch point.
The ziplines were launched in 2009.  Since then, a new adventure is being introduced every year. In 2010, the Ropes Course was introduced.  It's a 12-stage high and low wire obstacle course complete with a multisided rockwall.
"Aside from conquering your fear, this course can also build your confidence level," says Victorio.  "If a group will do it, it brings camaraderie, trust and teamwork among those who will do it at our Tower of Power." 
In 2011, Drop Zone Sky Wing came into existence. Here, riders are pulled by a windmill-powered winch up to 120 feet. Once at the top, one of the team pulls the release line located at the back. In a split second, the two drop from the top and then swing like a pendulum. "This is the country's first extreme pendulum swing of its kind," Victorio says.
In 2012, the Flying Lizard was added.  This canopy glider moves through the trees, crawls along vines, and zips between tree trunks while the rider pedals along the high wire.  "It's good exercise," says Mortejo, who pedaled his way around to complete the 400-meter adventure. 
In 2013, another great ride – called Python Roller Zipride – joined the growing list.  Here, a rider zips, rattles, rolls, drops, swings, and bounces over 500 meters.  "This is Asia's first zipline roller coaster," Victorio says.
Last March of this year, the death-defying Skytower Base Jump Ride was launched. "This is faster, better and safer than bungee," Victorio says of the 80-feet tall fall.  Base jumpers climb and walk the see through plank before leaping out. The free fall is only about 30 feet and then after that, the rider goes slowly until he reaches below.
The park is open every day from Monday to Sunday and on holidays from 8 in the morning until 4 in the afternoon. There is no entrance fee and it's on a "first-come, first serve" basis – you pay per ride. Visit the website for more information.
Those who want to spend a night at the park may check in at the Pinegrove Mountain Lodge, a nine-room ski chalet inspired Manor which has a 180 degree view of the Mt. Kitanglad Range Natural Park. 
The rooms are air-conditioned, but the breeze is also often cool enough for you to do without switching on the AC. 
In going to the park, visitors who have no private vehicles can hire a jeepney or van from Cagayan de Oro, or they may hop on the air-conditioned Zip Zone shuttle, straight from the city every Fridays, Saturdays and Sundays! The fare is US$6 per person one way.
The Dahilayan Adventure Park is about 40 kilometers from Cagayan de Oro. Visitors will pass by Camp Phillips and pineapple plantations via Mampayag before reaching the place. – Rappler.com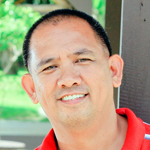 Henrylito D. Tacio is an award-winning journalist based in the southern part of the Philippines. He specializes on reporting science, environment, medicine, agriculture, and travel features.