Fine, fine sand, colors so vivid the place feels unreal. See locations in Siargao, Palawan, Quezon, and more
Aside from enjoying the view and taking a dip in the waters of beautiful beaches, do you like walking barefoot and feeling the sand on your toes? Not all amazing beaches are equally amazing for your feet, so below is a list of some beautiful and barefoot-friendly beaches.
Mahabang Buhangin, Calaguas, Vinzons, Camarines Norte 
Over one kilometer of powder-fine white sand hemmed in by bright green hills, and waters so clear and blues and so vivid they almost look unreal – you have to see it to believe it.
Pitch a tent, dig your toes into the soft sand, and drink in the view of whites, greens, and blues. Walk the entire length of sand barefoot to take in the entire view. And, if you want the beach to yourself or would at least prefer to avoid the crowds, go on a weekday. 
How to get there: Take a bus to Daet from Cubao or Pasay. Get off at Talobatib Junction and take a tricycle to the town of Paracale. Travel time from Manila is 7-8 hours. From Paracale, you can charter a boat to Calaguas, though it is best to make arrangements ahead. Boat ride can take one hour or more.
7 Commandos Beach, Papaya Beach, and Entalula Island, El Nido, Palawan  
These three beaches all have clear waters, and all with a spectacular backdrop of gray limestone cliffs dotted with greenery. 7 Commandos and Entalula have powdery sand with the consistency of polvoron, while Papaya Beach has some parts where the sand is so soft and powdery that, when washed by waves, it becomes like ice cream.
Papaya Beach is just on the other side of 7 Commandos. 7 Commandos is part of El Nido's Tour A of mostly lagoons and beaches, but some tours opt for the neighboring Papaya Beach as a quieter alternative especially when 7 Commandos is crowded.
Entalula Island, meanwhile, is part of Tour B's itinerary of caves and beaches. Entalula's stretch of white sand is framed and walled by limestone cliffs. (READ: El Nido study to unlock value of ecotourism)
How to get there: Take a flight to Puerto Princesa. From the airport, take a tricycle to the van and bus terminal. Ride a van or bus to El Nido (usually 5-6 hours), then take a tricycle to town. You may arrange island hopping Tour A and B with tour agencies in El Nido or with the accommodation where you are checked in.
Malcapuya Island, Coron, Palawan
Malcapuya is an island fringed with powdery white sand, which many attest to be as fine as Boracay's. The island does not have electricity, and there are only basic accommodations like huts and houses for rent, so you can savor some quiet time on Malcapuya's beach and just watch its waters of light blue deepening to dark.
The island also has a hill where you can go up and see the view of the sea and neighboring islands. (READ: Discovering the jewels of Coron)
How to get there: Take a flight to Coron. From the airport, take the 45-minute shuttle to Coron town. Take a tricycle to the jump-off for boats, where the boats for island hopping are. You can also have your tour arranged with the place you are checked in. Malcapuya Island is a 1 ½-hour boat ride from Coron town. It is part of an island hopping itinerary where other islands like Banana and Bulog Dos are included.
Cagbalete Island, Mauban, Quezon
Though its sand is more grainy and not as fine as the sand of the other beaches on this list, what makes Cagbalete especially barefoot-friendly is that a long expanse of sand becomes visible at low tide. It is such a long stretch that you can even walk to a neighboring rock island. While walking, look for Cagbalete's beautiful signature sand ridges shaped by the waves. (READ: Head to 'Borawan' and these 5 unspoiled PH beaches)
How to get there: Take a Lucena-bound bus from Alabang, Buendia-Taft, or Edsa, to Lucena Grand Terminal. Then take an ordinary bus to Mauban. There are also buses going direct to Mauban leaving Edsa-Kamias usually at 5 am and 1 pm, but best to check schedule ahead. At Mauban, take a tricycle to the port.
You can charter a boat directly to the resort you will check in or take a passenger boat to Cagbalete (schedules may vary, but trip is usually 10 am and 3 pm), then trek to the resort. Total travel time from Manila is around 5 hours or more. 
White Beach, Boracay, Aklan
With almost no explanation necessary, Boracay is the most obvious item on this list, and even considered by many as the benchmark for other beaches' whiteness and fineness. The island is widely recognized locally and internationally for its beauty and powder-fine white sand. And, this powdery, barefoot-friendly sand extends for kilometers, from Station 1 to Station 3, and even in beaches beyond Station 1. (READ: First impressions of the Philippines, and why we were sad to leave)
Take time to walk at least one kilometer – but why not from Station 1 to 3, if you can? – and just savor the view of clear waters dotted by the brilliant blue sails of paraws. This is also a great opportunity to people-watch and look out for interesting sights like kids building elaborate sandcastles and locals raking the sand. (READ: Diniwid beach: The quiet side of Boracay)
How to get there: Take a flight to Caticlan or Kalibo. From Kalibo, Caticlan is still two hours away by bus. When you arrive at Caticlan, take a tricycle to the port. Ride the boat, then once you get on the island, take a tricycle to White Beach.Total travel time from Caticlan is less than one hour.
Alona Beach and Dumaluan Beach, Panglao Island, Bohol 
Alona Beach in Panglao also has some of Boracay's conveniences like resorts and restaurants, but is less crowded and more laidback. Its sand is powdery, with some parts grainy. As with Boracay, you can have a long walk along Alona. (READ: Unspoiled white beaches: Visayas)
If you want an even less crowded beach with even fewer establishments, take a 30-minute tricycle ride to Dumaluan, another beach with powdery sand in Panglao. Here you can have your own quiet spot where you can sit and even sleep. And, if you're up for barefoot walking, Dumaluan's stretch of sand is even longer than Alona's.
How to get there: Take a flight to Tagbilaran. From the airport, you can hire a tricycle or van to take you straight to Alona Beach, Panglao. You can also ask to be taken to the terminal, where you can take the bus or multicab to Panglao. Then walk or take a tricycle to Alona Beach. Travel time to Panglao from the airport is around 45 minutes. 
White Beach, Moalboal, Cebu
Along one of Cebu's famous snorkeling and diving spots lies a stretch of compact grainy and powdery sand, White Beach. While part of this beach is lined with accommodations, beyond that area are trees, rocks, and bare sand perfect for walking. (READ: Meet barracuda, a thresher shark, turtles under the sea)
And, as Moalboal is more known for its colorful underwater creatures, just a short swim away from White Beach's shore is a marine sanctuary abundant with corals and fishes. Sometimes, turtles can also be sighted here. Farther beyond by boat are more snorkeling and diving spots where millions of sardines gather in a thick mass, and where whale sharks may occasionally swim by. (READ: Beach and diving time at Moalboal)
How to get there: Take a flight to Cebu. From the airport, take a taxi to the South Bus terminal. (Or, by commute, you can take the yellow jeep from the airport to Lapu-Lapu. Ask the driver to drop you off at the pier. Ride a ferry to the city, then take the jeep to the South Bus terminal). Ride a bus going to Moalboal or passing by Moalboal. From the town proper, take a tricycle or motorbike to White Beach. Travel time from the bus terminal is around 2 ½ to 3 hours.
Malinao Beach, Siargao, Surigao del Norte
Just a few kilometers from Siargao's surf central Cloud 9 is a quiet beach of powdery sand lined with coconut trees. If you want to get away for a bit from the bustle of Cloud 9, Malinao is the perfect spot to just sit, relax, dig your toes into the sand, and simply let time pass. Why not also bring a book and a mat to lie down? Just wake up when night falls, as that's when the fireflies come out. (READ: 14 stunning photos of Siargao, a surfer's paradise)
How to get there: Take a flight to Siargao (with connecting flight in Cebu) via Cebu Pacific. Alternatively, you can take a flight to Surigao City, then ride a tricycle to the port, where you will take a boat (an estimated three-hour trip) to Siargao. From Siargao's airport or port, take a motorbike or tricycle to Malinao. If you are going to Cloud 9 first, Malinao is also accessible from there by motorbike or tricycle. (READ: Get Stoked: 7 lesser-known PH surf spots)
Do you know other beautiful white beaches perfect for barefoot walking? Share in the comments below! – Rappler.com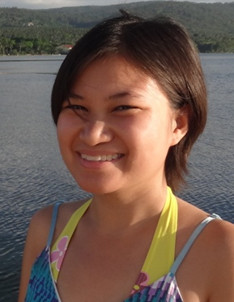 Claire Madarang is a writer, traveler and seeker. Her wanderlust takes her on adventures like backpacking for 7 weeks straight. Her seeking leads her to different wellness practices like meditation and healthy (mostly vegetarian) eating. Follow her adventures, tips and epiphanies at her blog, Traveling Light.