This is AI generated summarization, which may have errors. For context, always refer to the full article.
There's no sand on these beaches – instead, rocks and pebbles dot the spectacular views
When we think of a beautiful beach, the usual image is of powder-fine white sand and clear waters deepening into bright blue. But there are beaches with no white sand, or even no sand at all, that are as breathtaking – perhaps even more breathtaking – than our usual white beach vision of paradise.
Read on and you might just find yourself adding them to your bucket list.
Lantangan Beach, Caramoan, Camarines Sur
From afar, Pitogo Island's lush green hill and gray stretch of beach beckons invitingly. When your boat docks on the island's beach, you will find not sand but smooth, palm-sized stones – mostly gray, some white and some reddish – on the shore. 
As Pitogo Island is not usually included in the typical island hopping tours, you just might have all the island to yourself when you go there. Amid the quiet, you can hear the music of the waves pushing and pulling the stones, and of your footsteps moving the stones. You can also go up the hill and see Lantangan's beach strip – one side facing the open sea, the other side a cove. 
Ask your boatman to include Pitogo in your tour, or go with a tour group that includes this in the tour, like Kaddlagan Tours.
How to get there: Take a flight to Naga, or a bus to Naga from Cubao, Pasay, or Alabang. Travel time by bus is 9 hours. From Naga, take a bus to Caramoan. At Caramoan town, take a tricycle to Paniman, the jump-off point for island hopping. Travel time to Paniman from Naga is around 4-5 hours. 
Alternatively, from Naga, you can take a van to Sabang port, then ride the passenger boat to Guijalo port. From Guijalo port, take a tricycle to Paniman. Travel time is around 3-4 hours.
Mabua Pebble Beach, Surigao City, Surigao del Norte
While the "pebble" in its name connotes a small size, Mabua's stones are similar to Lantangan's usually palm-sized stones. The beach is in the mainland of Surigao, and so is easily accessible.
In summer the waters are clear, calm, and perfect for swimming. In the rainy months Mabua's landscape becomes more dramatic as the waves pound the dark stones. The waves at this time are more suitable for surfing. 
Aside from taking in the beach up close, trek up the hill to see the long stretch of Mabua.
How to get there: Take a flight to Surigao City. From the aiport, take a jeep to the public market. Look for Pantalan 2 near the market then from there then take the tricycle going to Mabua. The beach is at least 30 minutes from the airport.
Valugan Boulder Beach, North Batan, Batanes
Though there are stones the size of Lantangan's and Mabua's on one side of Valugan, the beach is more known for its boulders – rocks the size of backpacks or bigger. Even during summer, the waves slam incessantly against these rocks, making the beach ideal for sightseeing, but not for swimming.
The rocks from the beach come from Mt. Iraya's eruption in 400 AD. The Pacific Ocean's waves polished the rocks over time. 
How to get there: Take a flight to Basco, Batanes. Avail of the North Batan tour from tour groups. Or hire a tricycle to take you to Valugan.
Tulaan Beach, Babatngon, Leyte 
Tulaan is a beach of gray pebbles, though some are bigger. While the pebbles may all seem the same, if you take a close look you will find that most of them are marbled, each with a different pattern. 
The beach is perfect for swimming as it is a cove – in fact, the waters are so still you will think you are in a lake and not near the sea. (READ: IN PHOTOS: 8 PH lakes to add to your travel bucket list)
And, to add to the calm waters is the general quiet of the place, as it is not usually frequented by tourists.
How to get there: Take a flight to Tacloban. From Tacloban, ride a van to Babatngon. Get off at Babatngon's town proper and ask a habal-habal (motorbike) driver to take you to Tulaan Beach. Tulaan is around an hour or so from Tacloban.
Can-uba Beach, Jagna, Bohol
While Tulaan's beach is mostly gray pebbles, Can-uba Beach has mostly white coral polished by waves. Some black and gray stones also pop out among the white.
Can-uba can get noisy with crowds especially on weekends, so walk to the other end of the beach if you want some quiet.
From Can-uba's waters, the island of Camiguin, around three hours away by fastcraft, is already visible. 
How to get there: Take a flight to Tagbilaran. From Tagbiliran, take a van to Jagna. The van will already pass by Can-uba Beach. Travel time from Tagbilaran is around one hour. You can also take a tricycle from Jagna public market to Can-uba Beach.
In case you are coming from Camiguin, take the fastcraft to Jagna, which will dock at Jagna port, where the public market is. From the market take a tricycle to Can-uba. 
Biri, Biri Island, Northern Samar 
While the other beaches have rocks and pebbles, Biri has giant, building-tall rocks on flat rock expanses washed by waves. The waters are not really meant for swmming, but you won't really think it's a shame as you take in the otherworldly landscape.
Some of the massive rocks can even be climbed for you to savor a view of the sea and the other rocks.
How to get there: Take a flight to Catarman. From Catarman, take a tricycle to the terminal then ride a jeep to Lavezares. Take a boat to Biri town. From Biri town, you can easily ask a motorbike driver to take you to the rock formations.Travel time from the airport is around two hours or more.
Enjoy! – Rappler.com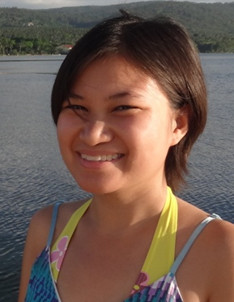 Claire Madarang is a writer, traveler, and seeker who believes in traveling light, particularly in the inner journey. Her wanderlust takes her to adventures like backpacking for seven weeks and exploring remote islands and bustling cities alike. Follow her adventures, travel tips, and epiphanies at Traveling Light.