Over 20 years ago, Mt. Pinatubo spewed out dark clouds of ash that fell on Nagsasa Cove. Today, Nagsasa's shoreline is a beautiful beach, now a popular tourist attraction, particularly for campers
Over 20 years ago, Mt. Pinatubo spewed out dark clouds of ash that fell on Nagsasa Cove and neighboring islands in Zambales. Nagsasa's rocky shore was covered in ash, coral reefs were destroyed, and mountain forests were denuded especially when rain fell and the ash turned to thick, flowing lahar. (READ: 8 beautiful white PH beaches perfect for barefoot walking) 
But, years later, Nagsasa's shoreline is now a beautiful ash-gray beach that turns almost white during noon. From the sand grew rows and rows of agoho trees with their pine-like needles, which the locals said weren't there before the eruption. Bamboo and grass, which turn a beautiful golden brown during summer, thrive in Nagsasa's mountains. (READ: Head to 'Borawan' and these 5 unspoiled PH beaches)
What was once an isolated cove has now become a popular tourist attraction, particularly for campers. And, since Nagsasa is farther and more challenging to get to than its more crowded neighbor, Anawangin, (boat is usually P1,000 more for Nagsasa, depending on the number of people) you can expect a more quiet and laid-back atmosphere here. 
There is really nothing much to do here except to take in Nagsasa's beauty by walking along the shore, leisurely trekking around or up its hills, taking a dip in its clear, calm waters, or simply just savoring the view; there is no mobile signal here too. And these are what makes Nagsasa all the more appealing.
If you take a boat from the jump-off, Pundaquit, in the morning and go island hopping before you go to Nagsasa, you will most likely be at the cove by noon, when you can just sit under the shade of agohos and eat a leisurely lunch cooked on the island. You can buy fresh fish and other food from the public market in Pundaquit and just have them cooked at your campsite, or gather or buy firewood and cook on your own. 
If you can brave the noontime or early afternoon sun, you can already cool off at the cove's clear and calm waters. You can even rent a surfboard and an oar to do stand-up paddleboarding.
When the heat gets to be too much, you can buy cool drinks or even shaved iced from the sari-sari stores along the shore.
You can also sit down under the trees and chat with locals. Many of them are Aetas now earning a living from tourism, especially when their mountains were denuded by the Pinatubo eruption.
Or, you can take a leisurely nap and just wait when the sun has dipped lower into the sky. Time passes more slowly here anyway. 
Late afternoon is when everything turns golden, especially the already golden-brown mountains.
This is also the perfect time to trek inland along the lake and take in the sweeping mountain range. The area here is probably the most peaceful in Nagsasa, so don't miss it if you want some quiet time. (IN PHOTOS: 8 PH lakes to add to your travel bucket list)
Ask a local to guide you. An already leisurely trek would usually take less than an hour. You can easily be back in the beach for the sunset. 
At night, lie down and look up at the night sky, far clearer and starrier, as Nagsasa's darkness and lack of electricity make the stars shine brighter. If it is not cold outside, you can even sleep under the stars.
In the morning, wake up early before sunrise and walk along the beach then trek up the hill at the end of the shoreline. There's a trail, and there will most likely be other trekkers, so you won't get lost. In around 15 minutes you will get to see what is perhaps the best view of Nagsasa – its entire stretch of ash-gray sand and agohos, its mountains, and its calm waters.
From your left to your right, this is what you will see when you trek up the hill in Nagsasa. (Video by Rhea Claire Madarang)
Then as you walk back along the shore, savor the view of agohos punctuated by tents, hammocks, and other structures. Walk to the other end of the beach, where you will see a creek flowing to the lake inland, especially visible during high tide. When you cross the creek, you will find a quieter beach. (READ: First impressions of the Philippines, and why we were sad to leave)
Lie down under the agohos or take a dip. You can spend the rest of your morning here, on your favorite spot before you go back to Pundaquit, or anywhere your feet take you. Just relax and drink in as much of Nagsasa's beauty while you're here.
How to get to Nagsasa:
Take a bus bound to Iba or Sta. Cruz from Cubao, Caloocan, or Pasay. Ask the driver to drop you off at San Antonio. Alternatively, you can also take a bus to Olongapo before taking the bus to Iba or Sta. Cruz then getting off at San Antonio, as there are more buses plying the Olongapo route. Total travel time is around 4 hours, and fare is less than P300.
From San Antonio bus stop, take a 20-minute tricycle to Pundaquit (P100 or more). From there you can easily find a boat to take you to Nagsasa and to neighboring islands (usually P2,000-P2,500 or more per boat, depending on number of people). Travel by boat to Nagsasa usually takes one hour. Camping fee is usually P100 and tent rental is P300. – Rappler.com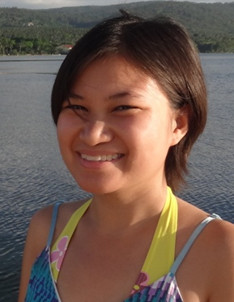 Claire Madarang is a writer, traveler and seeker. Her wanderlust takes her on adventures like backpacking for 7 weeks straight. Her seeking leads her to different wellness practices like meditation and healthy (mostly vegetarian) eating. Follow her adventures, tips and epiphanies at her blog, Traveling Light.