The sale begins on March 3 and ends on March 5
Cebu Pacific will be holding a 3-day piso (P1) sale from March 3 to 5 as it celebrates its 25th anniversary during a pandemic that's crippling the tourism and airline industries.
The tickets can be used from June 1 to December 31, 2021, and includes destinations like Cebu, Puerto Princesa, Bohol, Boracay, Coron, Siargao, Bacolod, Cagayan de Oro, Davao, Iloilo, and General Santos, among others.
In a huddle with media on Tuesday, March 2, Cebu Pacific vice president for marketing and consumer experience Candice Iyog said Filipinos have been looking forward to traveling again, citing internal surveys.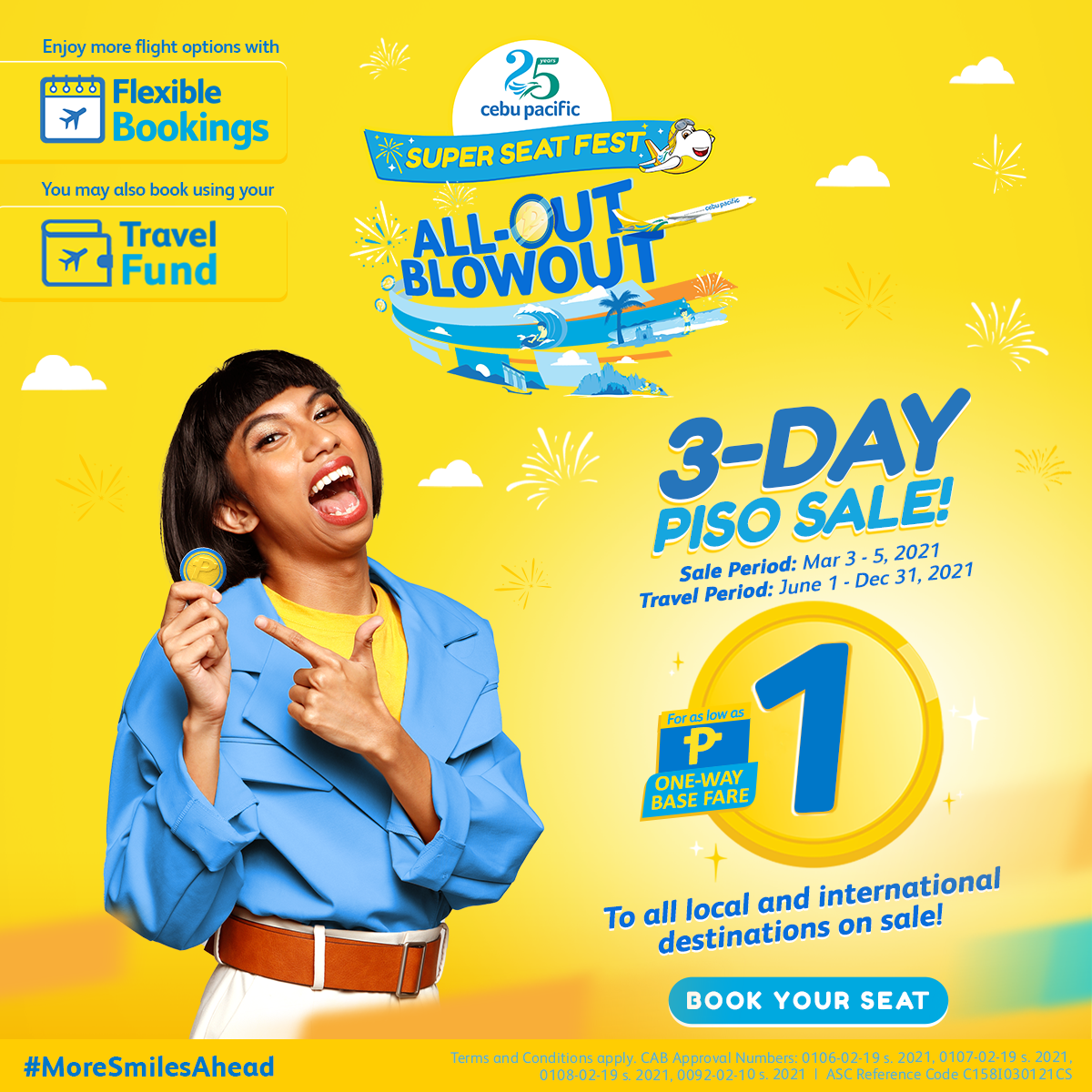 The national government recently stopped requiring negative RT-PCR (reverse transcription polymerase chain reaction) tests prior to travel, blanket quarantines, and several documents such as travel authorities and health certificates. Local governments, however, may still impose requirements as deemed fit.
Prior to the seat sale announcement, Cebu Pacific said it was permanently removing rebooking fees.
Customers' existing travel funds (funds from canceled flights) may be used to book the new flights. Online payments are available from March 3 to 5, while the option to pay via payment centers will only be available beginning March 4.
The piso sale is a promo that Cebu Pacific introduced in 2004. It spurred in budget travel, both for domestic and international destinations.
Iyog said Cebu Pacific continues to follow safety precautions, including contactless procedures, cleaning and disinfection protocols for all planes and facilities, mandatory mask and face shield use, antigen testing for Cebu Pacific frontliners, and HEPA filters inside aircraft. – Rappler.com
Book your future flights today with this Cebu Pacific promo code.