Although Asia as a region has been successful in translating positive economic growth to poverty reduction, Philippine poverty is still increasing despite its GDP growth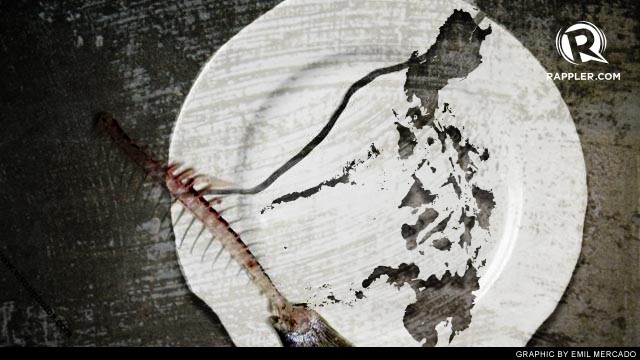 MANILA, Philippines – In parts of Asia and the world, economic growth is leading to poverty reduction but such is not the case in the Philippines, said former socioeconomic planning secretary Cielito Habito.
At the "Towards Zero Poverty" symposium on Wednesday, September 23, Habito contextualized Philippine poverty within the situation of national and regional economic growth and income inequity.
Although Asia has been successful in translating positive economic growth to poverty reduction – with every 1% of its gross domestic product (GDP) growth resulting in 1%-2% poverty reduction – poverty in the Philippines has not been tempered by its GDP growth.
"The Philippines has missed the key Millennium Development Goal's target of halving poverty," said Habito, an economics professor at the Ateneo de Manila University.

The country's GDP from 2004 to 2009 grew by an average of 4.9%, but its poverty incidence increased to 26.5% in 2009. Habito noted that the number of poor families also increased by 185,000 from 2006 to 2009. Meanwhile, the net elementary and high school participation rates also went down.
Good news, but not for all
Using Habito's PiTiK test, which measures the economy using Presyo (Price Stability), Trabaho (Jobs), and Kita (Incomes), he found that the Philippines passes on all 3. "It's all good news on the PiTiK test," he said. However, this growth has been non-inclusive.
The richest 1% controls 60% of the GDP in an economy that is "narrow, shallow, and hollow," explained Habito. Philippine growth has largely been driven by only a few sectors and areas; the bulk of the country's exports, the biggest of which is technology, are not linked to other areas of the economy. The availability of jobs is also lagging behind economic growth.
The service industry is currently driving the economy, but it cannot provide all the jobs needed to address the unemployment rate of 6.5% and the underemployment rate of 21%, according to Rafaelita Aldaba of the Department of Trade and Industry (DTI). (READ: Who are the middle class?)
The lack of sustainable income among several families has then led to the difficulty in reducing poverty. There is a need for sustainable livelihood, said Social Welfare Undersecretary Angelita Gregorio-Medel, adding that "there is no real reduction in poverty if you cannot earn income – and income that is not misleading."
Achieving inclusive growth
Habito proposed 5 areas of improvement for the Philippines to achieve reduced poverty: micro, small, and medium enterprise (MSME) development, competition policy, asset reform, sector or industry inclusive growth, and human development.
MSME development, for Habito, would involve a "government-wide concerted effort" to address the needs of small enterprise. He suggested that MSMEs should be declared "the centerpiece economic program for our government,"  to level the playing field and give the sector a chance to compete.
Among the 3 sectors Habito saw as "inclusive growth drivers," Aldaba and National Economic and Development Authority Director-General Arsenio Balicasan identified the manufacturing industry as needing a structural overhaul.
Aldaba said manufacturing had seen little structural change, as evidenced by its poor performance. It must now be revived, he said, echoing Balisacan's call. 
As an inclusive growth driver, manufacturing is capable of creating positive links with other industries and generating employment. However, the Philippine government must invest in the development of human capital to take full advantage of this. For Aldaba, this means providing access to education that would increase skills.
However, education must also mold graduates who would pursue entrepreneurship. Habito observed that the current model "fosters overseas employment" and "perpetuates [an] oligarchic economy." Along with education, Habito identified universal health care access as another key aspect in developing human capital. 
'Poverty need not be inevitable'
As a postscript to his talk, Habito cited statistics that one in every 5 Filipino families lives in poverty. Solving this involves addressing the greatest needs of the poor as well as "[nurturing] them sustainably out of poverty."
The DTI is attempting to solve this by implementing structural changes in industries to promote job creation. For the DSWD, the focus is on providing equal opportunities, especially for the marginalized poor.
"It's really equality of opportunities, the equalization of opportunities, because poverty is pretty complex and multi-dimensional," said Medel.
For the private sector, poverty reduction involves "sharing and caring," according to Habito. He believes that the Philippines "only [needs] one out of every 4 non-poor Filipino families to 'adopt' one poor family and help nurture them sustainably out of poverty."
Habito shared a story of a woman whose neighbor's children were crying for food, but there was none for them to eat. The woman then brought food to her neighbor's house and shared half of it with them. "If somebody so poor already can still share, what about the rest of us who are so much more comfortable?" said Habito.
"I believe that with caring and sharing, zero poverty and shared prosperity need not just be a dream," he continued. – Rappler.com
Bea Orante is a Rappler intern