The military agents are said to be on an 'authorised operation' to locate a target allegedly on campus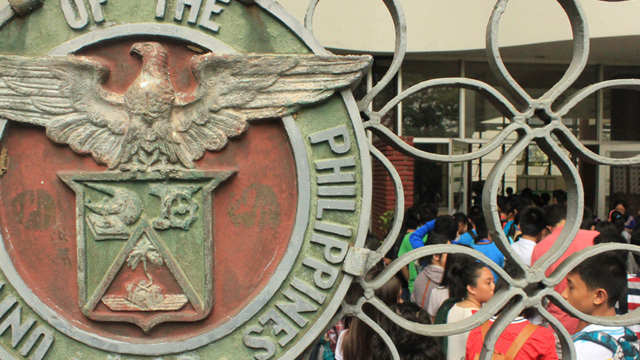 MANILA, Philippines (UPDATED) – Six military agents doing "surveillance work" in the University of the Philippines-Diliman (UPD) were apprehended by the UPD Police (UPDP) and Special Services Brigade, the UP Collegian reported in a Facebook post on Wednesday, October 21.
The military agents were seen riding two motorcycles, a Toyota Innova, and an unidentified vehicle, according to eyewitnesses.
The eyewitnesses are members of a worker's group who are in talks with UPD leaders regarding a solidarity camp dubbed as "Manilakbayan: Kampuhan sa Diliman." The camp will be attended by around 700 Lumads from militarized communities in Mindanao, sectoral groups, UPD students and faculty.
"In a phone interview with SPO2 Pedro Walawala of the Quezon City Police District, the police officer confirmed their station took custody of the agents and verified that they were on an authorized operation to locate a target who was allegedly on campus," the UP Collegian reported.
"Under the Soto-Enrile Accord (sic), however, an agreement between UP and the Department of National Defense, military forces are barred from entering university premises," the campus publication added. The Collegain was referring to a 1989 tripartite agreement between the University of the Philippines, the Department of National Defense, and the Department of the Interior and Local Govenrment that prohibits state security forces from entering the university. The reported agreement, of which Rappler has yet to obtain a copy, was signed to prevent the targeting by the military of student and faculty activists for their political beliefs. 
As of this posting, neither the UP-Diliman or the UPDP has released an official statement on the matter.
'Deep concern'
The UPD administration expresses "deep concern" over the incident, UPD Chancellor Michael Tan said in an official statement.
The incident, according to Tan, violated an agreement between the university and the Department of National Defense (DND) dated June 1989 and signed by then UP President Jose Abueva and then Defense Secretary Fidel Ramos.
The "military agents" involved were accompanied to the Quezon City Police Department (QCPD), with the case now considered under QCPD.
"Our concern is that there has been a violation of a provision in the agreement between the university and the DND, requiring prior notification of the university of any military operations in any of our campuses. No such request was received by UP Diliman," said Tan.
Lumad killings
Reports of Lumad killings have surfaced earlier this year, with testimonies of harassment from indigenous communities across Bukidnon, Davao del Norte, and Surigao del Sur. (TIMELINE: Attacks on Lumads of Mindanao)
Several students were also pulled out of schools as they needed to evacuate. In September, the head of a school catering to Lumad children was killed, alongside two other Lumad leaders.
The series of alleged killings has caused an uproar among many Filipinos. – Rappler.com