This is AI generated summarization, which may have errors. For context, always refer to the full article.
DAR Secretary Rafael 'Ka Paeng' Mariano vows that under his watch, 'no farmer will be evicted from the land that he tills'
MANILA, Philippines – Emily Montemayor, a 52-year-old farmer from Hacienda Luisita, owes a usurer P60,000. She despairs when she remembers her debt. 
She could no longer pay the amount which she used to grow rice and mongo (mung beans) on a small parcel of land within the more than 6,000-hectare estate. She has nothing to harvest and to sell. She often runs out of food to serve on the table. Her family sometimes survives a day on relief goods from advocates who visit their community in Barangay Mapalacsiao in Tarlac City.
Her crops, Montemayor said, were recently destroyed and torched by cops and personnel of the Cojuangco side of former President Benigno Aquino III's family. 
Montemayor's mongo crops were destroyed in March allegedly by Tarlac police and guards hired by the Cojuangco-owned Tarlac Development Corporation (Tadeco). 
The recent spate of crop destruction in Luisita happened in Barangay Mapalacsiao on July 1. Montemayor's parcel of land that was planted with rice was bulldozed along with those of 8 other farmers.
"Nung nakita ko po 'yun, umiyak na lang po ako kasi wala po akong – no choice po ako. Wala akong magagawa kasi po yung mga PNP nakapaligid po sa akin. Ano pong aanuhan ko sa sarili ko? Itataya ko po yung buhay ko?"
(I have seen how they destroyed my ricefield. When I saw it, I just cried because I had no choice. I was helpless because members of the Philippine National Police were around me. What will I do? Sacrifice my life?)
"Wala kayong awa (You're merciless)," she recalled telling the armed men.
The Cojuangco clan has kept the sugar plantation from more than 6,000 farmers for about a quarter of a century despite two agrarian reform laws. Even after the historic Supreme Court decision in 2012 that ordered the total distribution of the estate, farmers said the Cojuangcos continued their firm hold on the hacienda. 
According to High Court, the Cojuangcos had unlawfully retained ownership and control of Hacienda Luisita since 1989, depriving farmer-beneficiaries of economic benefits. (READ: It's final: Hacienda Luisita goes to farmers)
Warm, touching dialogue between DAR Sec Rafael 'Ka Paeng' Mariano and Hacienda Luisita farmers. pic.twitter.com/3AN0UyfnFp

— Voltaire Tupaz (@VoltaireTupaz) July 8, 2016
Ka Paeng's first order
Other farmers wept with Montemayor as she told her story in a dialogue with new Department of Agrarian Reform (DAR) Secretary Rafael "Ka Paeng" Mariano on Friday, July 8. It was Mariano's first meeting with the Hacienda Luisita farmers since he assumed the post.
Mariano knows stories like Montemayor's by heart. From street protests to the halls of Congress, the former leader of the militant Kilusang Magbubukid ng Pilipinas (KMP) and Anakpawis legislator has retold a litany of similar tales of landlessness and oppression. In defiant speeches that would end in chants to end feudalism, he has condemned every regime from the Marcos dictatorship to the Aquino government that failed to distribute Hacienda Luisita.
It still pains him listening to the same stories, he said when it was his turn to speak in front of some 200 farmers. But this time, he ended his speech not only with a slogan but also with a memorandum. 
He read the memorandum aloud, one of his first as agrarian reform chief. It is addressed to DAR officials in Tarlac, ordering them to inform "all parties" to "maintain the status quo that no person should directly or indirectly disposes or abet the dispossession of farmers presently occupying the land or the destruction of any crops" until the issues are resolved.
The order, signed on Mariano's first day at work, has at least given the struggling Luisita farmers a temporary relief from threats of eviction and harassment that have tormented communities in the plantation. 
The farmers gave Mariano a thunderous applause as he translated the order into Filipino. Montemayor's eyes became moist.
Resolving outstanding Luisita issues in 30 days
The stakes are high for Mariano because he has been the face of the militant farmers' movement for "genuine agrarian reform"; and for the new administration because it won on a platform of change.
Mariano intends to prove his mettle by starting off with Hacienda Luisita, the most controversial case study for the state of land reform in the country. (READ: Luisita: A hacienda of memories)
Setting the tone of his agenda, Mariano stressed that he will uphold the constitutional mandate of agrarian reform. 
"The control over agricultural land must always be in the hands of the farmers," he said.
Determined to implement "strict compliance of the Supreme Court" decision on Luisita, Mariano stressed that "within 30 days and not 100," DAR will resolve pending issues that have mired the redistribution of the contested land. 
Under his watch, Mariano vowed that he will protect the Luisita farmers' rights.
"Walang magsasaka na mapapatalsik sa kanyang lupang binubungkal (No farmer will be evicted from the land that he tills)."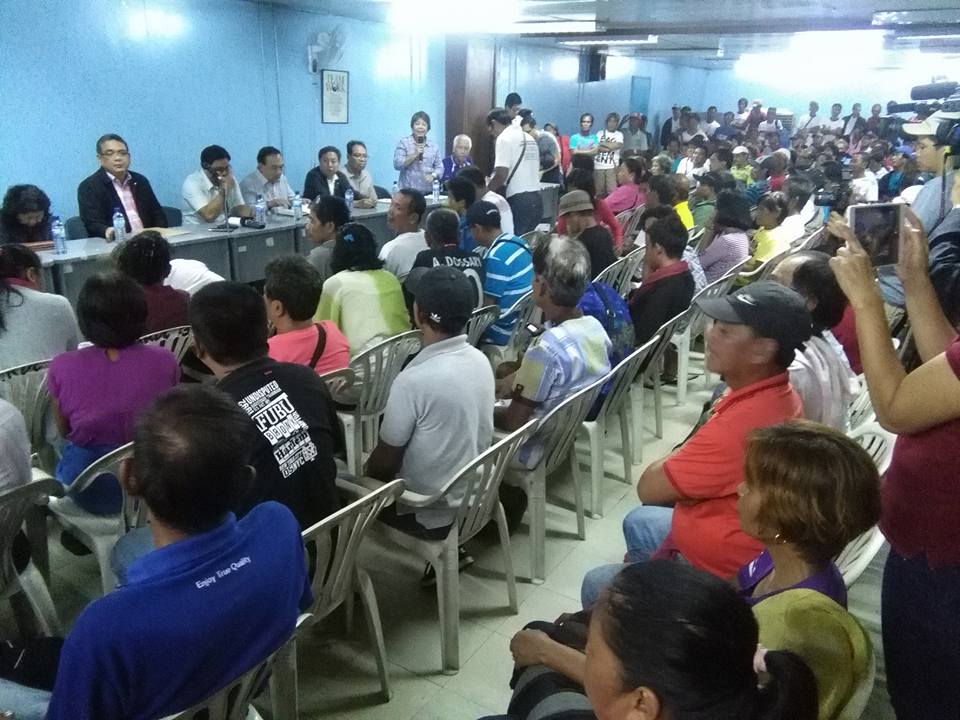 1. On the 'tambiolo' system
Mariano said that he will come up with "operational solutions" to the problems brought about by previous DAR policies on land distribution that caused division among farmers-beneciaries and excluded many others.
DAR is currently implementing the Supreme Court ruling through a "tambiolo" or lottery system. The practice has excluded farmer-benificiairies like Montemayor. She lamented that her name has not yet been picked until now.
In a position paper presented to Mariano during the dialogue, members of the Alyansa ng mga Manggagawang Bukid sa Hacienda Luisita (AMBALA) urged the DAR secretary to nullify the system, calling it "fake land distribution."
Many farmers like Montemayor, who have remained landless despite DAR's distribution of Certificates of Land Ownership Award (CLOA), have occupied parcels of land within the estate, tilling them collectively.  
Other farmer-beneficiaries, Montemayor said, were forced to lease their parcels of land to the Cojuangcos. Mariano said that it is a prohibited practice that he also seeks to end.
2. On the exemption of 500 hectares from agrarian reform
The DAR secretary also said that his agency will act on the petition of AMBALA to revoke the 1996 land-use conversion order that DAR issued on 500 hectares of the estate in favor of the Cojuangco family. He said that DAR will determine if the conversion of the land was illegal and premature.
"The said property was never converted to other purposes for several years until part of which was allocated for a PPP (public-private partnership project) solar power plant approved by former President Aquino," according to AMBALA.
The approval of the conversion of the land into non-agricultural use has exempted it from agrarian reform, another ploy of the Cojuangcos to strengthen its hold on the portion of the estate, AMBALA claimed.
DAR will also immediately resolve cases on other disputed parts of the hacienda that Tadeco is claiming. 
According to AMBALA, family patriarch Jose "Peping" Cojuangco is claiming agricultural land in Barangay Mapalacsiao.
3. On the auditing of the P1.3 billion proceeds 
DAR is already talking to accounting firms that will audit "the P1.3 billion which, according to the Supreme Court, should be given back the original 6,296 farmer-beneficiaries," Mariano said. 
The amount represents proceeds from two transactions that Hacienda Luisita Inc (HLI) made over the years that reduced the land for distribution to about 4,000 hectares. 
In 2011, the Supreme Court ordered DAR "to engage the services of a reputable accounting firm to be approved by the parties to audit the books of HLI to determine if the proceeds of the sale of the 500-hectare land and the 80.51-hectare SCTEX lot were actually used for legitimate corporate purposes." 
The end of landlessness?
Mariano's first month in office will be a test of his leadership and the political will of the Duterte administration to reassert government inertia in land reform which, according to the president during the campaign, was farce under the Aquino administration. 
The former president promised to complete land distribution by 2014, the year when the Comprehensive Agrarian Reform Program Extension with Reforms (CARPER) lapsed. (READ: PNoy promises to complete land distribution by 2014) 
But Aquino failed to achieve his administration's target until his term ended on June 30, leaving at least 621,000 hectares of undistributed agricultural lands.
Aquino did not also convene the Presidential Agrarian Reform Council (PARC), the highest policy-making body in enforcing agrarian reform laws, according to Mariano. 
In the Cabinet meeting on Monday, July 11, Mariano plans to discuss the reactivation of PARC with Cabinet Secretary Leoncio Evasco Jr, who is responsible for streamlining agencies that deal with poverty reduction. The president wants to immediately convene the body, the DAR chief said.
Mariano has not only literally opened DAR's gates which were closed to the public for 18 years. Through his office, he has also given farmers access to Malacañang. 
But under Duterte's rule, will the farmer activist-turned-DAR-chief succeed in ending the decades-old agrarian problem in the Philippines? – Rappler.com