There are 40,000 Filipina domestic helpers in Saudi Arabia. A group wants to slash by half their government mandated rate of SR2,000 (P26,000) to SR1,000 (P13,000), reports the Saudi Gazette.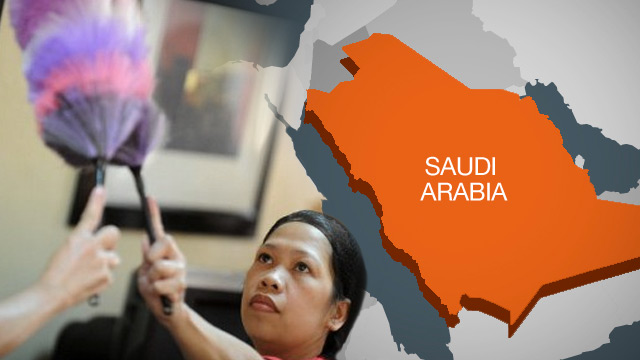 MANILA, Philippines – A group of women in Saudi Arabia has launched a campaign to bring down the wages of domestic helpers, following the Saudi government's austerity measures, according to a media report.
The group is complaining about the domestic helpers' high wages and wants to slash by half the government mandated rate of SR 2,000 (P26,000) to SR 1,000 (P13,000), said the Saudi Gazette.
A bilateral labor agreement signed in 2012 by then Department of Labor and Employment (DOLE) Secretary Rosalinda Baldoz sets the minimum salary of Filipina domestic helpers in Saudi Arabia to US$400 and entitles them to a weekly day off, an annual holiday of at least 30 days, the right to keep their passports, and a strict 9- hours-work-per-day policy.
This agreement led to an increase of deployment of Filipina household workers from 11,000 in 2013 to 30,000 in 2014, and then 70,000 in 2015. The number has gone down to 40,000 after the oil crisis, according to recruitment consultant Emmanuel Geslani.
Geslani said that the crisis forced the Saudi government to perform austerity measures, like cutting back on allowances and benefits for government employees, decreasing the demand for domestic helpers among Saudi households.
He added that the backlog at the Technical Education and Skills Development Authority and other training centers for the assessment and training of household workers also contributed to the decline in demand. 
The price of crude oil plummeted from US$120 per barrel in 2015 to US$30 in 2016, affecting government spending and infrastructure projects. This led to big construction companies, like Saudi Oger and Mojil, being unable to pay the salaries of its workers, including 11,000 Filipino workers. – Rappler.com
*US$1 = P48