How can the public use technology and social media to fight corruption? Find out as the #NotOnMyWatch caravan runs in Cagayan de Oro City from November 25 to 26!
MANILA, Philippines – What would you do to help fight corruption?
Every year, the Philippines loses billions of dollars to corrupt practices. Money lost could have been directed to provide vital basic services, reduce poverty, or build infrastructure. (READ: Impact of corruption on the Philippines)
These practices make it hard for businesses to thrive. They have a grave impact on the economy.
In Cagayan de Oro, about a third of the businessmen know about the red tape happening in their sector according to a Social Weather Stations poll. In 2014 and 2015, these numbers decreased to about 31% of those surveyed from the 2013 figures of 37%.
Many policies and initiatives have been done in the past to prevent corruption but clearly, more has to be done.
#NotOnMyWatch is a campaign that promotes accountability and transparency by organizing reports and visualizing them real-time to show the public where corruption occurs most frequently and what form they usually take.
The aim of the #NotOnMyWatch campaign is to encourage local communities to join the fight against corruption. Rappler has already been to Cebu City and Iloilo City for the anti-corruption caravan. This time, the event will be in Cagayan de Oro on November 25 to 26.
#NotOnMyWatch goes to CDO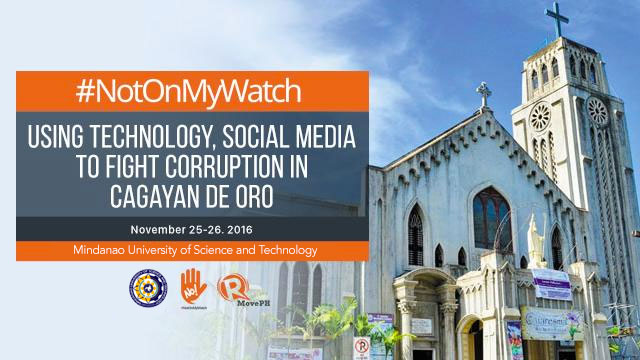 From November 25 to 26, Rappler will be in Cagayan de Oro City to hold the #NotOnMyWatch anti-corruption caravan at the Mindanao University of Science and Technology.
The aim of the campaign is to promote integrity, competence, and accountability in government by encouraging people to report bribery and other grievances against government officials while showcasing honest and commendable service.
It makes real-time reporting on corruption easier by allowing netizens to report for free via Facebook messenger.
Reports submitted to #NotOnMyWatch are published on the platform and submitted to the CSC, the Commission on Audit (COA), the Office of the Ombudsman, and other concerned agencies for action.
On the first day of the caravan, Friday, November 25, a public forum with representatives from the government, civil society groups, and students will be held. The forum aims to tackle local corruption issues in Cagayan de Oro City and what ordinary citizens can do to help solve these with the use of technology and social media.
On the second day, Saturday, November 26, select participants will go through a whole day workshop to be integrity champions. They will be expected to help spread the word on how to report corruption accurately and how to find and validate sources of information.
DATE

TIME

VENUE

DAY 1: Public Forum 
November 25

1 pm – 5 pm

Mindanao University of Science and Technology ICT Laboratory

DAY 2: Workshop for select participants
November 26

8 am – 4 pm

Boy Zugba Confab

 
Public Forum Program 
TIME

ACTIVITY

12:00 – 1:00 pm

Registration

1:00 – 1:15

Opening ceremony

1:15 – 1:25

Welcome remarks

1:25 – 1:55

Keynote Address

Maria A. Ressa
CEO, Rappler

1:55 – 2:10

Presentation of #NotOnMyWatch

Gemma B. Mendoza
Project Lead, #NotOnMyWatch 
Research and Content Strategy, Rappler

2:10 – 2:50

PANEL DISCUSSION

Issues per sector: What types of corruption affect us?

KG Lamaclamac
MUST CSG President
(Student Organization)

Edison Lacea
XU CSG President
(Student Organization)



Gani Capaning

Watchful, Alert, Truthful Citizens of Honor – Defenders of Good Governance

2:50 – 3:30

 

PANEL DISCUSSION

Strategies and Approaches to fight corruption

Dr. Michael Bucag Roa
Senior Human Resource Specialist 
ARTA Coordinator of Region 10 
Civil Service Commission 


Rogelio M. Tero 
Supervising Auditor 
Commission on Audit – Region 10

Atty. Maria Gemma Gavine
Graft Investigation and Prosecution Officer II
Office of the Ombudsman, Region 10

3:30 – 3:50

Q&A

3:50 – 4:00

Closing Remarks
Interested participants can join the forum by registering below:
For the Saturday workshop, limited slots are available for groups or individuals interested in pursuing the anti-corruption advocacy in their own communities or government offices. You can email notonmywatch@rappler.com to reserve a slot.
#NotOnMyWatch works with civil society groups, government agencies, the academe, and ordinary citizens to help build integrity champions around the country. – Rappler.com