This is AI generated summarization, which may have errors. For context, always refer to the full article.
The Bureau of Fire Protection and the Department of the Interior and Local Government urge the public to have the courage to report and file complaints against erring BFP personnel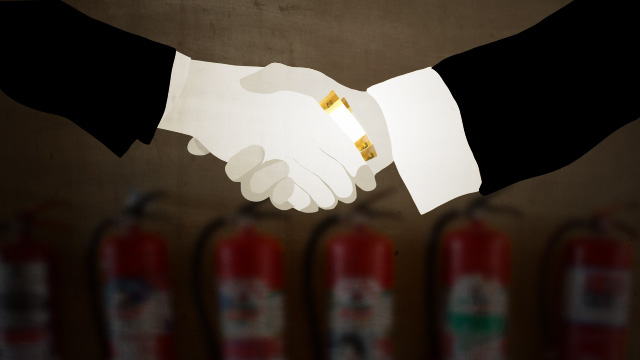 MANILA, Philippines – In 2015, they were told their non-governmental organization needed to refill their fire extinguishers. As the fire safety inspectors made their way out, a calling card was handed out to them. 
"Tawagan 'nyo na lang sila. (Just call them)," the inspectors told the people at the establishment they had just inspected.
To their surprise, the card did not indicate any of the inspectors' contact details.
It was the calling card of a fire extinguisher supplier.
Calling cards and safety permits
The complaint was among the 4,200 reports filed on #NotOnMyWatch, Rappler's anti-corruption platform. The complainant requested to remain unidentified.
According to the report,  fire safety inspectors were endorsing their favored suppliers to establishments. If the latter didn't buy from them, they would not be cleared and issued fire safety inspection certificates – among the requirements for a business permit.
The complainant bought from the referred supplier, fearing difficulties with securing a business permit if they do otherwise.
Stories like this is not new. Some inspectors faced charges before the Office of the Ombudsman for such behevior.
In 2014, the Ombudsman ordered filing criminal charges against Senior Fire Officer Carlos Francisco of the Bureau of Fire Protection (BFP) for extortion and violation of Republic Act Number 3019 or the Anti-Graft and Corrupt Practices Act.
It followed the same script: A private firm applied for a fire safety inspection certificate, and after the inspection, Francisco required the firm to procure the needed fire safety equipment from his preferred supplier.
The law prohibits any public officer from directly or indirectly requesting or receiving any gift, share, or benefit for himself or for any other person in any contract or transaction in his official capacity. Francisco was suspended for 6 months without pay.
Not new
Rappler interviewed Inspector Marlo Serito, BFP National Headquarters (BFP-NHQ) Prevention and Inspection Section chief, whose office oversees fire safety inspections.
Serito shared that complaints like the one reported on #NotOnMyWatch is not new.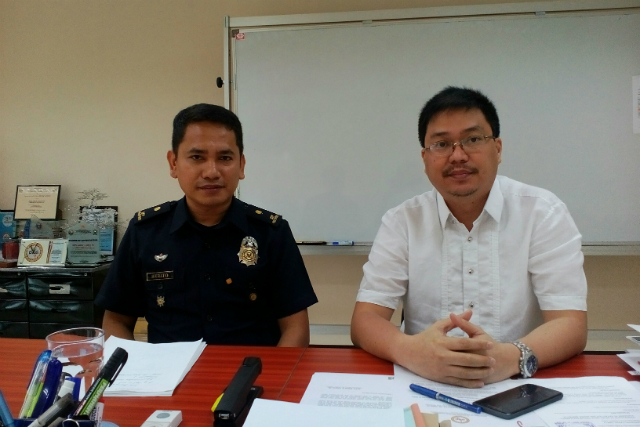 "We have heard complaints from the local level but the problem is, nobody is brave enough to stand as a complainant," he said in a mix of English and Filipino.
Serito said that filing complaints against the erring personnel is important to start proper investigation. "Otherwise, it's simply hearsay," he said.
According to the BFP-NHQ Hearing Office, a total of 14 administrative cases involving referrals to favored suppliers were filed with their office since 2005. Of these 13 were dismissed while the other received a reprimand.
Senior Inspector Rodolfo Pfleider Jr, chief of the BFP Hearing Office, told Rappler that lack of substantial evidence is one of the reasons why some cases were dismissed.
"Before you know he's guilty, strong proof must be satisfied first," he explained.
According to Pfleider, cases against erring fire bureau personnel can also be filed with the Office of the Ombudsman and the Civil Service Commission aside from the BFP. He said this is one of the reasons why such a small number of cases were filed with them.
"When cases are filed with the [Office of the] Ombudsman, for example, we won't hear the case anymore unless it was transmitted to us," he said.
Directive to fight corruption
The Department of the Interior and Local Government (DILG) has repeatedly warned personnel in the BFP, its attached agency, to stop engaging in corrupt practices.
In 2010, then Interior Secretary Jesse Robredo ordered the BFP to stop practices that could become sources of corruption. This order included, in particular, the direct and indirect selling of fire extinguishers.
In August 2016, the BFP issued Memorandum Circular 2016-016 prohibiting its personnel from engaging in any act of corruption pertaining to the implementation of the Fire Code.
Signed by BFP Officer-in-Charge and Deputy Chief for Administration Rodrigo Abrazaldo, Section 2 (b) of MC 2016-06 explicitly states that posing as an agent or endorser of any fire extinguisher manufacturer is abuse of authority.
Any personnel proven guilty will be dismissed from the service after due process.
DILG-BFP Memorandum Circular 2016-016 by Rappler Philippines on Scribd
Memorandum Circular 2016-016 also states that if the two incidents happen in the same city or municipality, the Fire Safety Enforcement unit or branch chief will be relieved from his or her post.
The same will happen to the city or municipal Fire Marshal if 3 prohibited acts happen during his or her tenure.
If the probe's findings show that the fire marshal did not take measures to eradicate corruption or failed to investigate the concerned personnel, he shall also be relieved from his post.
Follow legal processes
If there is a strong directive coming from the DILG, then why does it seem that corruption still prevails in its attached agency?
DILG Public Safety Undersecretary JV Hinlo told Rappler that many private establishments choose to remain silent about the issue.
He shared that some businesses would rather "get over it" by purchasing fire extinguishers from the referred supplier, than be inconvenienced by reporting the erring personnel.
"Even with so many circulars against corruption, without any witness brave enough to fight these practices within the BFP, we will have a hard time fighting this practice," the DILG official said.
Hinlo, a lawyer, emphasized the need to follow legal processes.
"We cannot initiate administrative cases or remove personnel from employment if we do not have evidence on hand. We have to give due process to all our BFP Personnel. Otherwise, the government will be then accused of extrajudicial processes," he said.
Hinlo and Serito said that corrupt practices must be reported to the proper authorities. (READ: IN NUMBERS: Impact of corruption on the Philippines)
"With the campaign of the President and DILG Secretary [Ismael] Sueno to rid corrupt personnel and officials, we are appealling to the public to help us fight corruption by actually filing formal complaints," Hinlo said.
He noted that these complaints must be duly notarized and with certificate against forum shopping. "The DILG and the BFP needs the help of the actual witnesses to the crimes and corruption committed," he said. 
'Don't be afraid'
Hinlo said Filipinos should not be afraid of this battle. "The cry of BFP and the DILG is to help us rid ourselves with corrupt personnel by being witnesses."
Among President Rodrigo Duterte's campaign promises is to rid the government of corruption but even he has acknowledged that it's a fight he can't win alone. 
"One of the promises I made to the people is I will stop corruption in government. I cannot do it alone. You have to be aware of what I'm doing and you have to help me," Duterte told Rappler in December 2016. (WATCH: Duterte: Say 'No' to corruption)
Hinlo reiterated the appeal. "If you want to have a mature democracy, the public must help government also," he said.
Based on the results of a 2013 survey commissioned by the Office of the Ombudsman, only 5% of Filipinos said they would report corrupt officials to proper authorities.
The most cited reason for non-reporting is that the amount involved is too small to report or be bothered about. Others are fear of reprisal and lack of time to report.
With the government's call for help, will Filipinos be braver in reporting corrupt officials? – Rappler.com
Do you have similar experiences with the Bureau of Fire? Do you know any instances of corruption or you want to commend good practices by public officials? You can send us the details by answering the form below or by visiting www.fightcorruption.ph.