The university's student government leads the walk out after an overwhelming majority in the House of Representatives approved the death penalty bill on second reading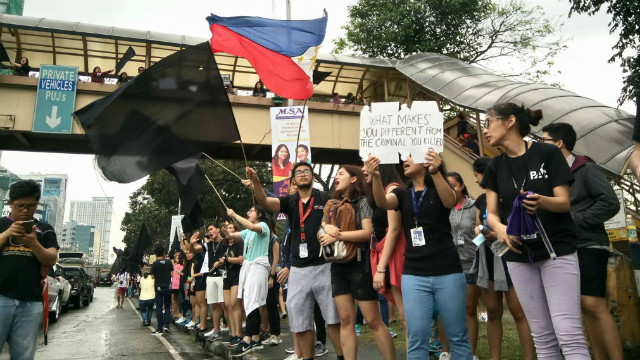 MANILA, Philippines – Hundreds of Ateneo de Manila University (ADMU) students walked out of their classes at 11 am on Thursday, March 2, to protest the approval of House Bill (HB) Number 4727 on second reading in the House of Representatives.
The Sanggunian ng mga Paaralang Loyola ng Ateneo de Manila, the university's student government, organized the protest after a majority in the House passed by a vote of ayes and nays the controversial measure which seeks to reimpose the death penalty for several drug-related crimes.
Legislators gave their nod to House Bill Number 4727 on the same day the Philippines, a predominantly Catholic country, commemorated the start of the Lenten Season on Ash Wednesday.
Students held a short program inside the campus before heading out to Gate 2.5 of the campus to hold a noise barrage and lightning protest.
Ateneo Loyola Schools Walkout currently ongoing! No to the Death Penalty. pic.twitter.com/dxRvRqRqeN

— AteneoDebateSociety (@AteneoDebate) March 2, 2017
Some students also dramatized their protest through a tableau that represented injustices in the country.
Ateneo de Manila University students nag walk out sa kanilang klase para ihayag ang kanilang pagtutol sa Death penalty pic.twitter.com/zN4hVt39cp

— Corazon esguerra (@zony_corazon) March 2, 2017
"Harangan, tutulan, parusang kamatayan" ang sigaw ng mga estudyante ng Ateneo pic.twitter.com/E0t3CvHmuG

— Matanglawin Ateneo (@MatanglawinADMU) March 2, 2017
Community support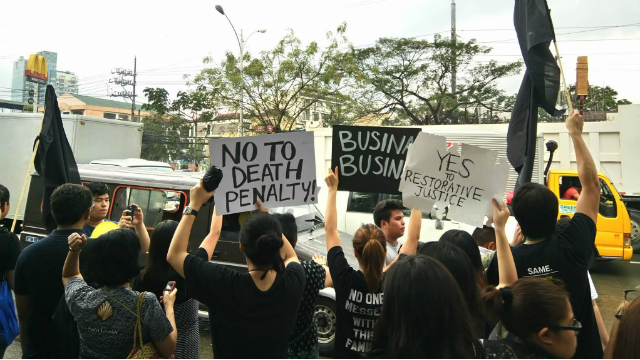 The university's faculty gave their wholehearted support to the walkout. Other alumni, however, asked why the students did not hold the protest when less classes are happening.
Aside from being an alumnus, di na ako affiliated sa ateneo. but why walkout at 11am? why not hold a protest at 5pm when it's activity hour?

— Henson Lee Yu (@incheonleeyu) March 1, 2017
On Wednesday night, netizens also took to Twitter their opposition to the death penalty bill as the hashtag #NoToDeathPenalty trended. 
A priority legislation of President Rodrigo Duterte, the death penalty measure will only need to go through 3rd and final reading before it is transmitted to the Senate. The House is expected to finally approve the contentious bill on Tuesday, March 7. – Rappler.com