On Rappler Talk, 23-year-old Mariel Padilla talks to MovePH's Raisa Serafica about her Pulitzer award and the importance of local reporting. Bookmark this page.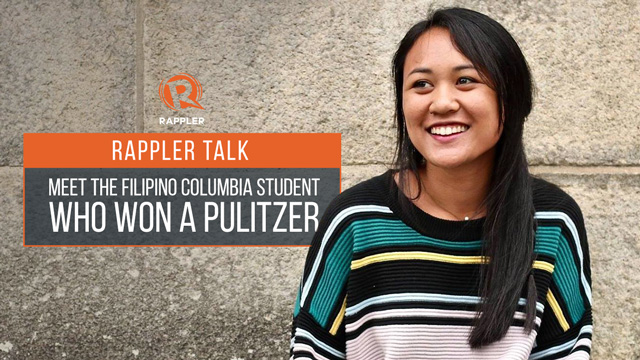 MANILA, Philippines – Columbia Journalism School graduate student Mariel Padilla was in the middle of her class when she learned that she won a Pulitzer Prize on Friday, April 20.  (READ: Reuters journalists win Pulitzer for reporting on Philippine 'drug war') 
The 23-year old student, whose parents are both Filipinos, grew up in Ohio, United States. 
Padilla worked as an intern for The Cincinnati Enquirer during the summer of 2017. In September that year, the local paper published an in-depth report entitled "Seven Days of Heroin," visualizing addiction and detailing the effects of heroin on the community.  
The hard work of the 59-member Cincinnati Enquirer team, including Padilla, earned it the Pulitzer Prize for local reporting. The awarding body described the report as a "riveting and insightful narrative and video documenting seven days of greater Cincinnati's heroin epidemic, revealing how the deadly addiction has ravaged families and communities." 
At 3 pm on Friday, April 27, Padilla will talk to MovePH's Raisa Serafica about the Pulitzer award, her experience as a newsroom intern, and the importance of local reporting. – Rappler.com