Agos integrates crowdsourcing, mapping, social media, and graphical design into a single system that can be used by anyone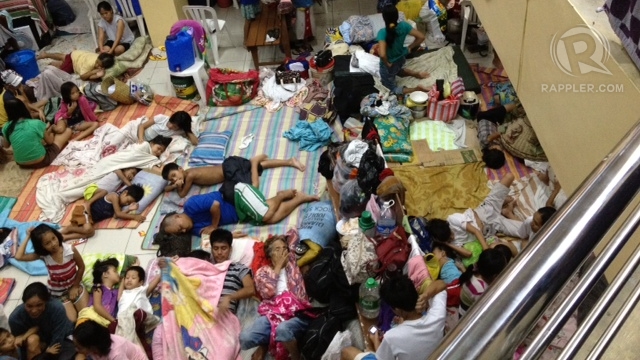 MANILA, Philippines – Typhoon Ondoy, which struck Luzon in 2009, was a wake-up call for the country. Never before had a typhoon caught Metro Manila residents so unprepared and on such a massive scale. 
Local governments were ill equipped to deal with the floods while responders were stretched thin trying to address every call for help. The national government at that time attempted to mobilize its resources but was hampered by poor coordination and a culture of complacency.
Thankfully, volunteers from the academe, the private sector and civil society responded in full force to the crisis. 
Social media's debut
Ondoy was also unique because it signaled the advent of social media as a tool for mass communication and disaster response in the Philippines. 
Similarly, around the world, social media had transformed into a rapid source of credible information, rivaling and surpassing the speed of traditional information channels.
Though still in its infancy, social media's role before, during, and after disasters has rapidly evolved. From being a mere medium of information, social media channels – like Twitter and Facebook – are now spaces for collaboration and catalysts for on-ground action. 
Communication is key
Four years after Ondoy, the country has learned many hard lessons. Chief of which is the criticality of communication to both preparedness and response in times of crisis.
Utilizing existing information both online and offline, we can educate the next generation about how to mitigate the risks due to climate change. And by managing the flow of communication, we are able to effectively channel our energy and resources where they are needed the most at any given time.
Social media and technology can address this communication gap; not tomorrow, but today. 
Introducing Project Agos
At PH+SocialGood: The Manila Social Good Summit on September 21, Rappler introduces Project Agos – an initiative that brings together government, the private sector and citizens to address climate change adaptation and disaster risk reduction.
Agos integrates crowdsourcing, mapping, and social media in a unified information platform that will bridge disaster preparedness and response initiatives of the government, civil society, and the citizens.
The breakthrough technology behind Agos is social media analysis, crowdsourcing coupled with a machine learning classifier. Agos will scan social media, including SMS sent to a unified number, for appeals for help or rescue, appeals for relief aid, and situation reports nationwide. Agos automatically analyzes and plots the data in a single web-based map that is accessible to all.
With Agos, the public – including local government officials and responders – can visually identify areas in need of help or relief and what exactly is needed. In addition, responders will be able to indicate within Agos that help is on the way.
The project will also tap the wisdom of the crowds to help source and curate the streams of data, particularly during disasters. Volunteers will help build the artificial intelligence of the computer so that with each new tweet, Agos becomes more accurate and more reliable. 
Agos can also be used as a policy planning and program setting tool with the addition of data overlays such as geo-hazard maps and population densities/distribution. 
Bridging the gap
Project Agos extends beyond an online platform. It is part of a longer-term effort to synergize the different initiatives of disaster risk reduction and climate change stakeholders.
Rappler is developing Agos together with the Climate Change Commission, the Office of Civil Defense, the United Nations Development Program, the Department of Social Welfare and Development, and other partners from the academe, civil society, the online community, and the private sector.
This is a collaborative and long-term project that marries top-down governance with bottom-up civic engagement. 
PH+SocialGood Program
Rappler invites the public and all stakeholders to be a part of Project Agos as we introduce it on September 21, 2013 during the PH+Social Good Summit in Manila. 
Here is the day's program: 
9:00am

 Intro

 

Overview of the Day

 9:15 a.m

How Technology Can Help Build #2030Now
Toshihiro Tanaka
UNDP Philippines Country Director

 9:25 a.m

 

The Power of Many: Social Media, Crowdsourcing & Big Data 
Maria A. Ressa
CEO, Rappler

 9:45 a.m

Q&A

 

Framing the Problem

 10:10 a.m

Climate Change & Global Warming
Sec. Lucille Sering
Climate Change Commission

 10:25 a.m

From Policy to Reality
Sen. Loren Legarda

 

Technology's Solutions

 11:10 a.m

The Power of Google
Andrew McGlinchey, Google 
Question & Answer

 11:40 p.m

Mapping Disasters & Crisis

Patrick Meier, Digital Humanitarians
Question & Answer

 12:15 p.m

LUNCH

 

Preparedness & Response

 1:25 p.m

Panel Discussion 

Moderated by Chay Hofileña

Edwin Sadang, Office of Civil Defense
Mahar Lagmay, Nababaha.com / Project Noah
Celso Caballero, Weather Philippines
Atty. Maria Jane Paredes, Smart
Bong Esguerra, Globe
Dipayan Bhattacharyya, World Food Programme

 2:15 p.m

DRR: Albay as a Model in Disaster Management
Governor Joey Salceda

 

The Volunteers

 2:55 p.m

Crisis Management Tools for Volunteers
Aileen Apollo, Google

 3:20 p.m

 

Volunteer Panel Discussion
Moderated by Marilen Dañguilan 

Megan Magallona-Montuno, Xavier University – CDO
Ros Juan, RescuePH 
Jane Uymatiao, BlogWatch
Richard Gordon, Red Cross

 4:00 p.m

PROJECT AGOS: One workflow, One platform
Sec. Lucille Sering
Voltaire Tupaz, MovePH

 4:20 p.m

 

Call to Action
Symbolic signing of Unity Statement 

 5:00 p.m

 

Musical Call to Action
Up Dharma Down

Editor's note: Rappler launched Project Agos on September 21 at the Asian Institute of Management. 
– Rappler.com