Philippine Internet Freedom Alliance sets a series of mass actions to support the global 'Day We Fight Back' campaign against mass surveillance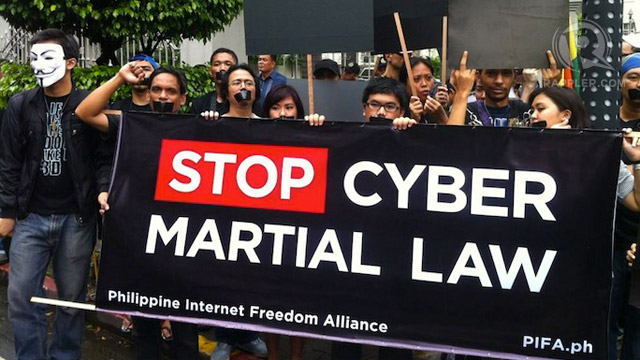 MANILA, Philippines – Big brother is watching, but the Philippine Internet Freedom Alliance (PIFA) is fighting back.
PIFA, a Philippine-based Internet freedom advocacy organization, will be holding a series of mass actions in solidarity with the global "Day We Fight Back" campaign. The campaign is targeted against mass surveillance "inspired" by the successful action against the Stop Online Piracy Act (SOPA) in the US, the death of Internet freedom activist Aaron Swartz, and opposition to NSA surveillance, among other events. This is according to the Electronic Frontier Foundation. (READ: Cybercrime law mars PH net freedom – global report) 
A temporary restraining order was issued against the implementation of the law on Oct 9, 2012, and was extended indefinitely last February of 2013. (READ: The road to the Cybercrime Prevention Act of 2012)
The Supreme Court reportedly deliberated on RA 10175 on Tuesday, February 4, but decided to postpone an earlier plan to issue a verdict. Insiders said voting turned "complicated."
"The Cybercrime Law, once declared to be implemented, will become a tool for the Philippine government's mass surveillance. As defenders of Internet freedom, we will be one with the world in global protest. It is time we fight back," PIFA posted on Facebook.
Viral campaign
On February 10, the group will hold an "Eye Selfie" viral campaign to tell the government that "we are watching them too and that this time we are fighting back" by asking netizens to upload photos of their eye on social media.
The hashtag will be designated at a later date. The following day they will hold a mass protest at the Supreme Court and do "sticker bombing" by giving away anti-Cybercrime Law stickers in Manila's U-Belt.
Various media organizations, including Rappler, along with other sectors, have questioned the law's ambiguous provisions on online libel.
Insiders said on Tuesday, February 4, that the justices needed another week to rule on the law. – with a report from Ryan Macasero/Rappler.com