'If you're going to kill my baby, kill her right away so she wouldn't suffer more. But if you want to keep her alive, save her'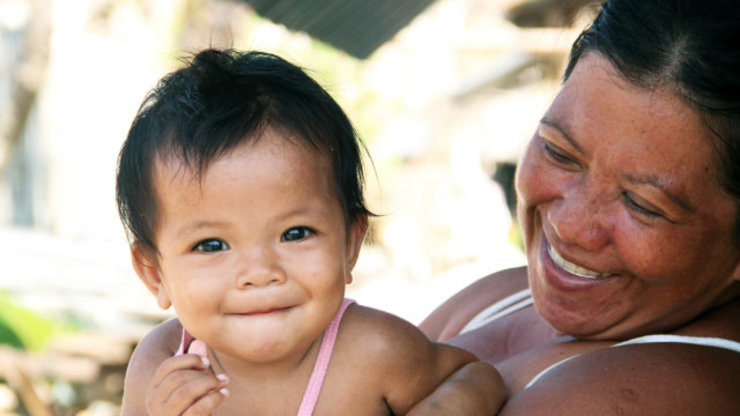 TACLOBAN, Philippines – "I am thankful we survived. I am still holding my baby now," 36-year-old Jennylyn Advincula shares.
They were sitting outside the small makeshift house in the coastal village of Dona Brigida in Tolosa town, Leyte province, when we stopped to ask how they were coping with typhoon Yolanda's (Haiyan) impact. Tolosa is 24 kilometers from Tacloban City.
Jennylyn's family and neighbors evacuated to the daycare center the night before the typhoon made landfall, Friday, November 8.
During Yolanda 
They all had a good sleep that night, but at around 5am, the violent wind and strong rain ripped the roof and knocked down the walls.
All of them huddled in one corner, but as the wind and rain grew more powerful, they decided to move to the house of the village councilor.
"I carried our baby, but the flood water was so strong. I thought we will all die. That was the first time in my entire life that fear gripped my heart," 30-year-old Denmark recalled.
Baby in a bag
Then he saw an object floating towards him. When he realized it was a bag, he immediately grabbed and opened it and threw away the clothes. His neighbor angrily shouted at him.
Before putting Glaeza Mae, who was 7 month old that time inside the bag, Denmark told God, "if you're going to kill my baby, kill her right away so she wouldn't suffer more. But if you want to keep her alive, save her."
Then he put her in the bag as she was shivering and her face was already turning to blue. He know any minute she might die.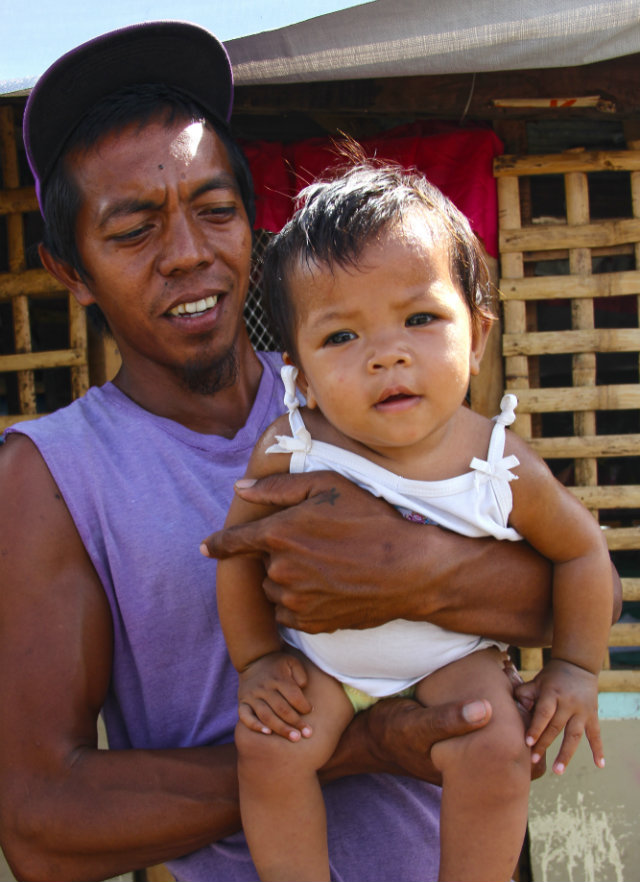 Miracle baby
Finally they reached the village councilor's house, Denmark shouted 'that's my daughter' while throwing the bag to the open hands of the men trying to help them as the current seemed to overtake him.  
That ordeal seemed to be eternity, but Glaiza Mae never cried. When they opened the bag, she was lying peacefully and her right thumb inside her mouth, oblivious that she and her family were unscathed and victoriously escaped Haiyan's wrath.
The community calls Glaiza Mae a miracle baby. They believe an angel was with her inside the bag. 
"The typhoon took everything from us – our house and the variety (sari-sari) store, yet we will be forever grateful God protected our baby and gave us all second life. This gives us hope that we can overcome any hardship," says Denmark.
During the entire time we were listening to the couple, Glaiza Mae was looking at us, smiling, mumbling, and making sounds we can't understand. Perhaps she was sharing her experience while inside the bag. 
Denmark and Jennylyn's was among the 425 families in their village who received rice ration from World Vision and World Food Programme General Food Distribution after typhoon Haiyan. – Rappler.com 
Leoniza O. Morales, is the communication officer of World Vision Haiyan Response and is currently based in Tacloban City.